Supporters of the PKK and its Syrian affiliate, the Democratic Union Party (PYD), staged disruptive protests Sunday that forced the closure of several train stations in Britain.
The rowdy demonstrations against Turkey's Operation Olive Branch in Syria's Afrin led to railway disruptions in Manchester and London, as police were called to the scene to quell the protests.
In the capital, British police massed at the station entrance to prevent the crowd marching on to the concourse or platforms, causing service interruptions.
London's busy King's Cross Station was closed "due to protesters," Virgin Trains said in a tweet, as PKK sympathizers tried to block all entrances and exits of the station.
The National Rail said there was only one exit currently functioning at the station as police were addressing the chaos, announcing on its Twitter page hours later that the station had reopened after police "successfully dealt with a large protest."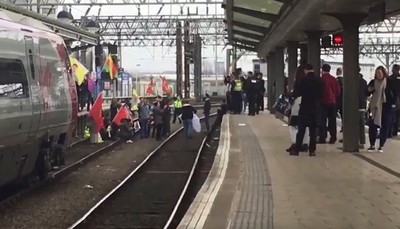 Manchester's central Piccadilly train station was shut down in the afternoon after a group of about 100 protesters stormed the tracks, a spokesman for the British Transport Police said.
Footage carried by local news websites showed protesters climbing onto the tracks. They were shouting anti-Turkey slogans and carrying flags with the colors of the terrorist People's Protection Units (YPG) and the face of Abdullah Öcalan, the jailed leader of the PKK terror group.
The Turkish military and the Free Syrian Army have been carrying out an operation since Jan. 20 to clear Syria's northwest Afrin region of terrorist threats, including the PKK's armed Syrian wing, the YPG.
Travelers across the country were impacted by the disruption, as services could not be resumed until later that evening.
The train services in Stockport and Leeds were also affected due to the protest.
Superintendent Mark Cleland of the British Transport Police said: "Those involved in this afternoon's incident will be subject to intense investigation with a view to arrest and prosecution."
PKK supporters also staged demonstrations in Germany this weekend which turned violent, resulting in injuries at the Duesseldorf airport.
Although the U.K. has listed the PKK as a terrorist organization since 2001, the -- its Syrian offshoots PYD and YPG -- are not on the list.
A report by Henry Jackson Society last year urged the British government to add the PYD/YPG to a list of terror organizations.
In its 30-year terrorist campaign against Turkey, the PKK has taken some 40,000 lives, including thousands of women and children.