After the Turkish military and Free Syrian Army liberated the Afrin town center from YPG/PKK and Daesh terrorists on Sunday, fresh aerial footage showed that the civilians and buildings there remained unharmed.
However, during a U.S.-backed operation in Syria's Raqqa, more than 2,000 civilians had been killed and the city center was turned into ruins when the US-backed forces, mostly YPG/PKK militias, cleared the area from Daesh.
On Oct. 17, 2017, the forces backed by U.S. cleared Daesh terrorists from Raqqa. The footage filmed by Anadolu Agency's correspondent displayed the whole of Raqqa was reduced to ruins.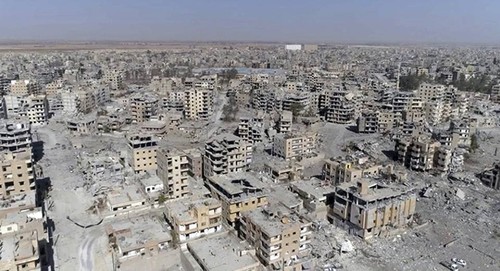 A group of activists called Raqqa is Being Slaughtered Silently reported on Oct. 17, 2017, that 90 percent of the city had been demolished.
On Dec. 14, 2017, Syrian Network for Human Rights said in a report that 2,371 civilians – including 562 children – were killed during the operation and around 450,000 civilians were left displaced.
After taking control, the YPG/PKK terrorists began looting the city and denied entry to civilians who had fled the clashes and wanted to return to their homes.
In Afrin, however, Turkish Armed Forces and Free Syrian Army (FSA) have shown maximum sensitivity for the safety of civilians since Operation Olive Branch was launched on Jan. 20 to clear the area of YPG/PKK and Daesh terrorists.
Footage filmed by Anadolu Agency and the Turkish army's drones revealed that the buildings in Afrin's city center remained undamaged.


The footage also showed that life has returned to normalcy and civilians can be seen on the streets.
Some of the vehicles and buildings in the city center were damaged by the terrorist group in a bid to give an impression that the Turkish military had targeted civilians.
According to the Turkish General Staff, Operation Olive Branch aims to establish security and stability along Turkey's borders and the region as well as protect Syrians from terrorist cruelty and oppression.
The operation is being carried out under the framework of Turkey's rights based on international law, U.N. Security Council resolutions, its self-defense rights under the U.N. charter, and respect for Syria's territorial integrity, it said.
The military has also said that only terrorist targets are being destroyed and "utmost care" is being taken to avoid harming any civilians.
Afrin has been a major hideout for the PYD/PKK since July 2012, when the Assad regime in Syria left the city to the terror group without a fight.