Turkish army and Free Syrian Army (FSA) forces captured Ayn Dera, Burj Abdullah and Basuta villages located in the south of Afrin city Tuesday while the number of terrorists killed has exceeded 3,600.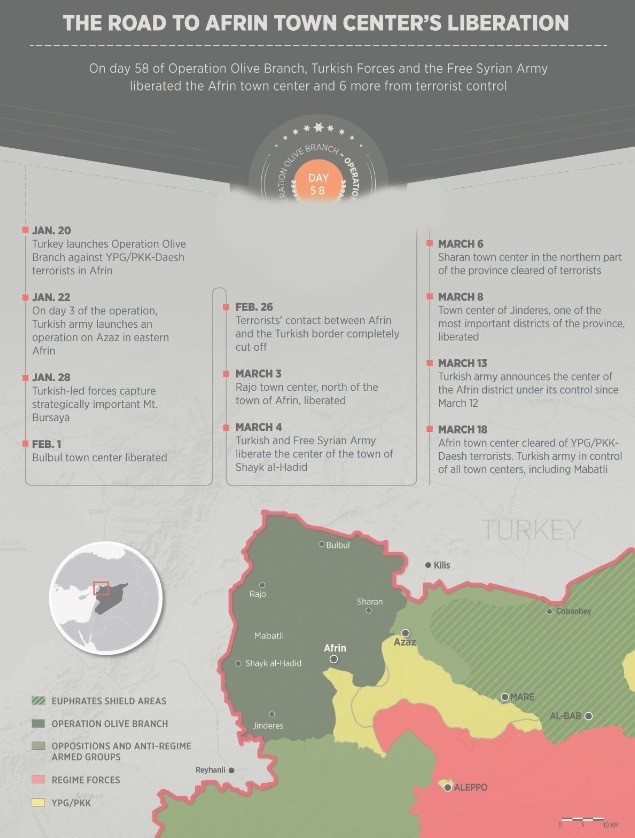 President Recep Tayyip Erdoğan stated the same day during his speech in Ankara that the number of terrorists killed during the Operation Olive Branch stands at 3,655.
On Sunday, the Turkish military and the FSA cleared the Afrin town center, as part of the operation launched on Jan. 20.
Meanwhile, at least 23 terrorists from the PKK and its Syrian affiliate People's Protection Units (YPG) were killed after they attacked a military post in southeastern Şanlıurfa province, according to the Turkish General Staff.
In a statement, the Turkish General Staff said PKK/YPG terrorists launched a gun-and-rocket attack on a Turkish military border post in Şanlıurfa's Ceylanpınar district near the Syrian border to which the Turkish military retaliated.
Also, a YPG/PKK terrorist who escaped from a shelter in Syria surrendered to Turkish authorities in southeastern Mardin's Nusaybin district, the statement added.