The PKK-linked People's Protection Units (YPG)-dominated Syrian Democratic Forces (SDF) have filed a request with the U.S. Justice Department to open an office in Washington, D.C., documents recently made public show.
The initial request to register under the Foreign Agent Registration Act of Department of Justice was filed Jan. 31 by the Syrian Democratic Council (SDC), the political wing of the SDF, a little longer than a week after Turkey launched the Operation Olive Branch in Syria's Afrin. The request was followed by an amendment filed March 16.
The amendment requests says "the U.S. Mission of the SDC "will" serve as a conduit between the U.S. government and the Syrian Democratic Council, for the purpose of educating U.S. policymakers about the democratic struggle in Syria and the work of the SDC to implement a decentralized, secular system of federalism in Syria."
The declaration of an intention to implement a decentralized, federal system in Syria is a departure from the group's earlier rhetoric, which professed support for a unified Syria.
The U.S., which provides military and political support for the SDF, has claimed its support of the group is in line with the goal of a "unified and democratic Syria," despite reports suggesting the U.S. is planning to recognize the SDF as a diplomatic entity that controls vast territories in eastern Syria.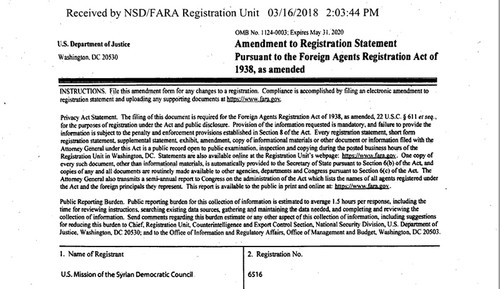 The original request also listed a legislative agenda including additional military support for the group's armed forces and ending Turkish "occupation" of Syria.
Turkey's foreign ministry has said it is aware of the development and plans to take up the issue with the U.S. State Department.
Turkey has long protested U.S. support for the terrorist YPG-stocked SDF group, while Washington insists the terror group is a "reliable partner" in the fight against Daesh in Syria and continues to provide it with arms and equipment.
The YPG is the Syrian offshoot of the PKK, which is listed as a terrorist organization by Turkey, the U.S. and EU.
On Jan 20., Turkey launched Operation Olive Branch in northern Syria to clear Daesh and PKK-linked terrorist groups, including YPG and SDF, from the region. After liberating Syria's Afrin on March 18 alongside Free Syrian Army (FSA), Turkish forces pressed on toward the goal of eliminating all terrorists west of the Euphrates. The U.S., however, along with France, intensified its military presence in Manbij, providing increased support for YPG-stocked SDF forces in northern Syria.