Targeting a mother and her 11-month-old baby with a roadside explosive on Tuesday, as the woman was driving back after visiting her soldier husband in southeastern Yüksekova district, has shown once again that the PKK terrorist group does not differentiate between targets, be it civilians or babies, as the group has a long list of terror attacks that have taken the lives of children.
Nurcan Karakaya, with her baby boy Mustafa Bedirhan, had driven to Yüksekova district of southeastern Hakkari province, where her husband is stationed as a soldier.
After the visit, which was about two hours long, Nurcan, 25, left the military base and drove away. Not long after, an explosive planted by the PKK was detonated remotely.
"I ran to them when the explosion happened, but I couldn't save them. They took my life away from me," said the noncommissioned officer Serkan Karakaya.
Nurcan died on the spot, while baby Mustafa succumbed to his wounds at Yüksekova Public Hospital, where he was rushed to for treatment after the explosion.
Eleven-month-old Mustafa was the latest victim of the PKK, a group which has been listed as a terrorist organization by the United States, Turkey and the European Union. However, he is, unfortunately, not the only one or the first child killed by the PKK in its more than 30-year terror campaign against Turkey.
The image of three-year-old Serkan Erdem, who was killed by the PKK in 1993 in southeastern Siirt province along with 22 people, showed the cruel face of terror to the world.
Jailed ringleader of the PKK, Abdullah Öcalan, was engraved in people's memory as "baby killer" following the release of this image.
In 2017, PKK kills Eren Bülbül
On Aug. 11, 2017, 15-year-old Eren Bülbül died from gunshot wounds sustained as he helped gendarmes track PKK members near his house in Maçka, a town 22 kilometers (14 miles) south of the Black Sea city of Trabzon, on Aug. 11. Gendarmerie Master Sgt. Ferhat Gedik, 41, was injured in the same incident and later died as well.
Some attacks of PKK terrorists
As the PKK does not discriminate between its targets, in many of its attacks against security forces, civilians and children also fall victim to the group's violence.
In 1987-1988, a total of 37 children were killed in attacks across the southeastern Mardin province, six children in southeastern Siirt province, and more than a dozen women and children were killed in southeastern Şırnak province.
On June 22, 1992, the PKK killed 10 people, including eight children, in a raid on the houses of two village guards in southeastern Batman province. In the same year, on Oct. 1, the PKK killed 30 people, including eight children, in southeastern Bitlis province.
The early and mid-1990s witnessed the escalation of PKK terrorism in the eastern and southeastern provinces. PKK terrorists raided houses in Hani district of southeastern Diyarbakir province on Nov. 9, 1992 and 12 people, including four children and four women, were killed.
Between 1993 and 1995 more than two dozens children were killed in addition to scores of elderly civilians.
A total of seven people, including six students, were killed after the PKK detonated a bomb-laden vehicle in front of a private teaching institution as a military vehicle passed by in Diyarbakır on June 3, 2008.
The group, frequently supported by Ankara's Western allies, employs a Marxist-Leninist ideology and has separatist aims in Turkey, northern Syria, northern Iraq and also northwestern Iran. It functions in all these countries under separate names.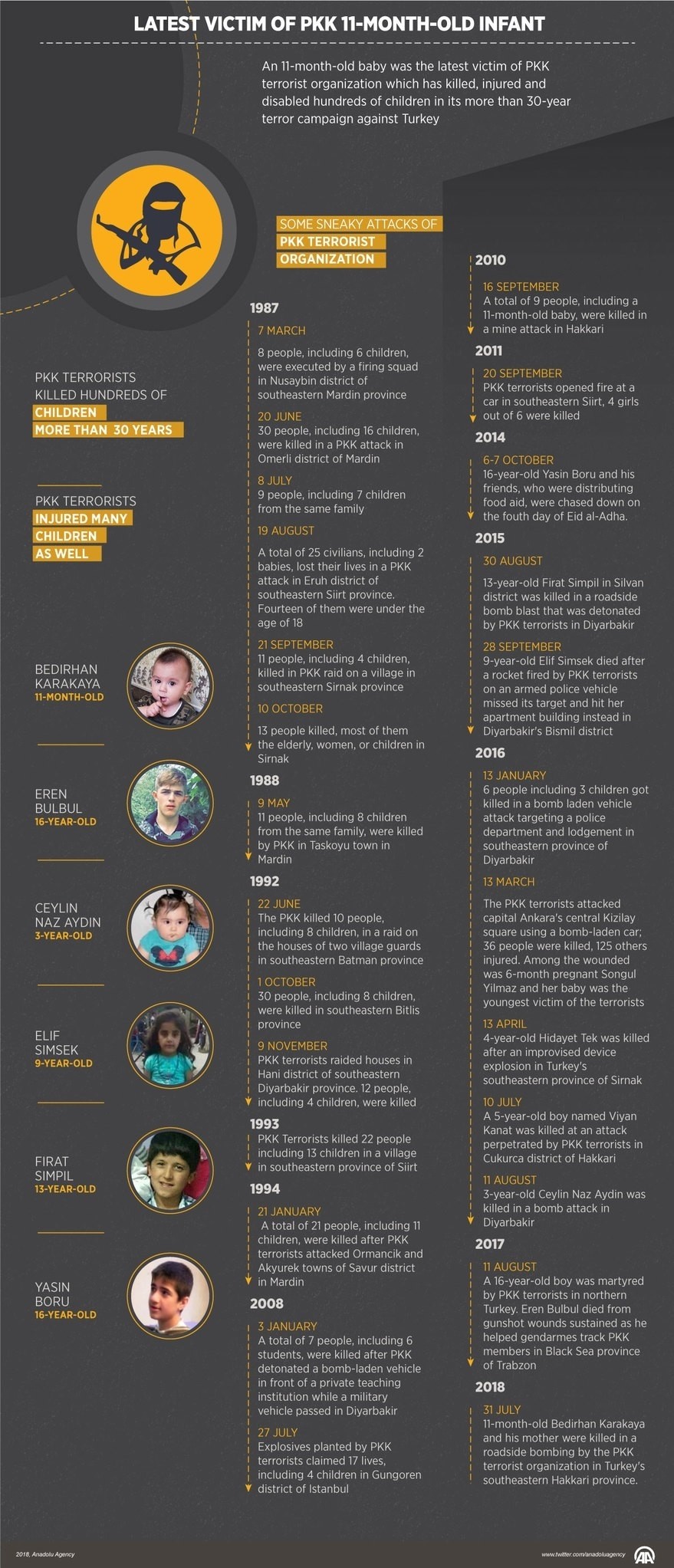 The PKK's Syrian affiliate calls itself the People's Protection Units (YPG), which also function under the umbrella network of the Kurdish Communities Union (KCK). The KCK is led by imprisoned PKK leader Abdullah Öcalan.
Although the PKK was headquartered in Syria until 1998, it is currently controlled from its headquarters in northern Iraq's Qandil mountains. The KCK groups function under the names of the PKK in Turkey, the Kurdistan Democratic Solution Party (PÇDK) in Iraq, the PYD in Syria and the Kurdistan Free Life Party (PJAK) in Iran.
In Syria, the YPG has received immense military support from the U.S. under the pretext of the fight against Daesh.
The PKK has also used EU countries as bases for financial activities and militant recruitment to join its lines. The EU countries tolerance of the group has made PKK followers act freely, despite the group being listed in banned organizations.
Treacherous attacks in cities
On July 27, 2008, two separate explosives planted by PKK terrorists claimed 17 lives, including four children in Güngören district in Istanbul; 154 others were also injured. In 2009, terrorists threw Molotov cocktails at a bus in Bağcılar district of Istanbul. Seventeen-year old Serap Eser succumbed to her wounds at a hospital.
In 2010, a total of nine people, including a two-year-old boy and an 11-month-old baby, were killed in a mine attack in Hakkari. Four people were also injured in the attack.
Newborn dies after mother
In 2011, PKK terrorists opened fire at a car in Batman and a pregnant woman and her daughter died in the attack. The baby was delivered through a C-Section, but only managed to live for another day. The father and one of his daughters were severely injured in the attack.
In eastern Bingöl province, a mother prevented a suicide bomber from blowing up. She could not stop the explosion but managed to prevent a bigger tragedy. The mother and her son died in the incident and a total of 21 people were wounded.
Kids distributing food aid killed
Two police officers and 31 civilians were killed by PKK terrorists following incidents on Oct. 6-7, 2014, which started with the call of the pro-PKK Peoples' Democratic Party (HDP). A total of 221 civilians and 139 police officers were also wounded. Sixteen-year-old Yasin Börü and his two friends, who were distributing food aid, were among those killed on the fourth day of Kurban Bayram.
Teenager killed in PKK attack
On Aug. 30, 2015, 13-year-old Fırat Simpil in Silvan district was killed in a roadside bomb blast blamed on the PKK terror group in Diyarbakır. The explosive device was believed to have been placed to target a military vehicle. A month later, on Sept. 28, nine-year-old Elif Şimşek died after a rocket fired by PKK terrorists on an armed police vehicle missed its target and hit her apartment building instead, in Diyarbakır's Bismil district.
On Sept. 12, the same year, two children were seriously injured in the southeastern province of Mardin after an explosive was left by PKK terrorists on the roof of the children's house; nine-year-old Tahsin Uray, one of the two children injured, succumbed to his injuries at Kiziltepe Hospital later.
PKK kill 5-month-old baby
On Jan. 14, 2016, six people, including a five-month-old baby, were killed in a vehicle bombing in Çınar district of Diyarbakır, where 39 other people were injured.
On March 13, 2016, the PKK terrorists attacked capital Ankara's central Kızılay square using a bomb-laden car; 36 people were killed, 125 others injured. Among the wounded was six-months pregnant Songül Yılmaz, and her baby was the youngest victim of the terrorists.