One of the alleged regional leaders of terrorist group PKK in Sweden was nabbed in a counter-terrorism operation in southeastern Turkey, security sources said on Tuesday.
The suspect, identified by the initials H.B. (46), was held in Diyarbakır province and accused of leading the terrorist group's operations in Sweden, the sources, who wished to remain unnamed due to security reasons, said.
The detention was part of a joint probe launched by Diyarbakir Chief Public Prosecutors' Office, Turkish Intelligence Agency (MIT) and security forces, the sources added.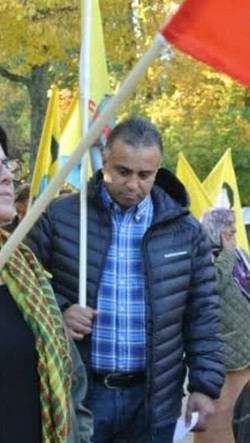 AA Photo
H.B., who had been photographed with a poster of the head of the jailed PKK terror leader Abdullah Öcalan, reportedly came to Turkey to hold a clandestine meetings with PKK affiliates.
The PKK, considered a terrorist organization by the United States, Turkey and the European Union, has waged an insurgency against the Turkish state since 1984.
In its more than 30-year terror campaign against Turkey, the PKK has been responsible for the deaths of some 40,000 people, including women and children.