Western nations have been dramatically overestimating the size and growth of their countries' Muslim populations by "staggering" margins as France leads the way of making wrong projections, a survey released by IPSOS revealed.

"Most countries think their population is much more Muslim than it actually is - and that the Muslim population is increasing at an incredible rate," opinion pollsters Ipsos MORI said following a survey of some 27,000 people in 40 nations.

The average estimate was that Muslims make up 31 per cent of France's population, but the correct figure is only 7.5 per cent.

Estimates by people in the United States, Canada, Germany, Italy and Belgium were also "massively out," the report said.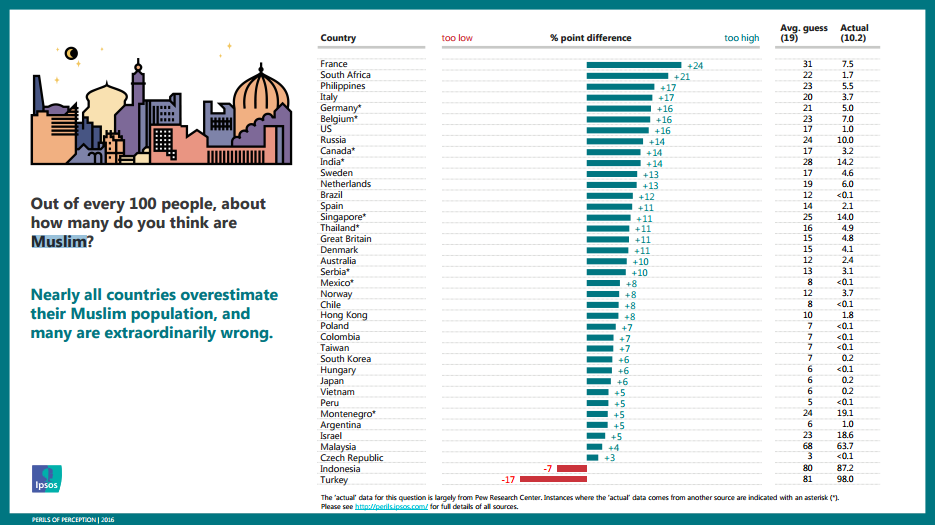 In Britain, the average guess was 15 per cent for the Muslim population, with a forecast rise to 22 per cent by 2020.

But Muslims currently make up only 5 per cent of Britain's 65 million people and experts expect the proportion to increase to 6 per cent in 2020, it said.

In contrast, people in some nations with very high Muslim populations, such as Turkey, underestimated the percentage, the survey found.

The survey examined perceptions of other issues including homosexuality, sex before marriage, abortion, wealth and overall happiness.

It found India and China topped an "index of ignorance" based on overall misperceptions reflected in the survey.

Britain, Germany and other Western nations that fared worst in estimating Muslim populations were among the nations displaying the most accurate perceptions overall.