UKRAINE CRISIS SHOULD TRIGGER RE-EVALUATION OF TURKEY'S ENERGY STRATEGY
Aura Sabadus
Updated :

17.10.2014 21:18:17

Published :

31.03.2014 13:10:50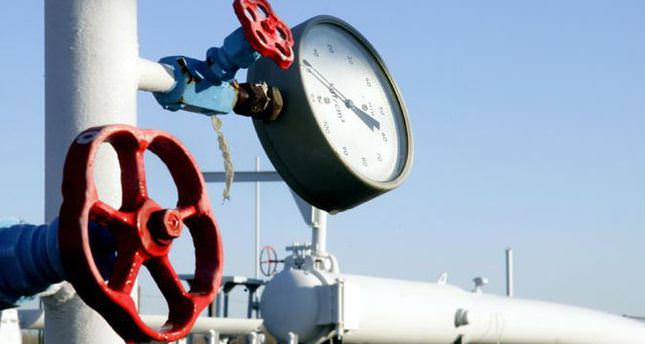 Within less than a month, Russia moved from the lavish displays of the Winter Olympics to a show of military force in the Crimean Peninsula in a show of force reminiscent of the Cold War - both with equally chilling effects. Viewed in the long term, the recent events should ring serious alarm bells among Turkey's energy and foreign policy makers for two reasons.
Firstly, there are strong similarities between Turkey and Ukraine: two countries with heavily subsidized gas sectors and both maintaining important transit routes for gas and oil.
Secondly, there is a palpable risk that the fallout of the Ukrainian political stand-off could jeopardize regional gas projects that aim to bring non-Russian sourced gas to Turkey and Europe.
Transit routes, firm problems Seen from Moscow, Ukraine has been not only a missing piece in Russia's grand strategy of recreating the Soviet Union's former boundaries, but also an important north European buffer designed to shield it against the formation of anti-Russian coalitions.
Viewed from this perspective, as U.S. analyst George Friedman put it in a recent article, Russia's recent deployment of troops in Ukraine was not aggressive but defensive as it sought to protect its strategic hinterland.
Ukraine has, in that sense, provided a political buffer and also an economic grey zone whose heavy malfunctions - a subsidized gas sector, a corrupt regime, an inefficient and energy-intensive industry - represented the ideal market for its gas exports as well as a useful intermediary between Russia's own state sponsored energy sector and the liberalized markets of Europe.
The gas wars of 2006 and 2009 when Gazprom turned the taps off, cutting flows not only to Ukraine but also to all the countries dependent on transit flows, as well as the current crisis that sparked fears of a similar scenario, illustrate the vulnerability of end consumers to political maneuvering.
In order to avoid such events re-occurring, the EU has encouraged the liberalization of markets, the upgrade of the infrastructure that allowed for reverse flows and the creation of a new gas corridor carrying non-Russian volumes to Europe. While the first two points have borne some fruit as the EU's Russian gas volumes now represent less than 30 percent of its total imports, the third point may prove just as problematic.
Turkey, like Ukraine, has an addiction to gas and depends overwhelmingly on existing suppliers as well as expected new producers. But Ankara's relationship with each of these countries - Russia, Azerbaijan, Iran, Iraq, Israel and Cyprus - is fraught with political baggage that could prove a ticking time bomb.
For that reason, the only way to cushion Turkey, as well as all other countries depending on it for transit gas, is to create a liberalized market inside Turkey based on private competition that responds to supply and demand rather than political diktats.
Ukraine's main weaknesses are its generous gas subsidies that, according to the International Monetary Fund, represent 7.5 percent of the country's GDP and a centralized market with a dysfunctional infrastructure. It is telling that amid the political tensions the EU pledged a financial aid package worth 11.175 billion euros with an energy component focusing on modernizing its infrastructure so that it includes reverse gas flows with neighboring Poland, Hungary and Slovakia and diversifying gas supplies to Ukraine.
In order to prevent gas crises from happening on Turkey's borders it is highly important that the country takes similar measures.
More Russian gas


While negotiations are taking place between Russia and Western countries over the future of Ukraine, the outcome of these discussions remains to be seen in the months and years to come.
However, as far as the supply of natural gas is concerned, it is highly possible that Russia, seeing its influence diminished in Ukraine, should insist on the construction of its proposed 63bcm/year South Stream and request the removal of a request previously made by the EU that the project should be subject to third party access (TPA).
If that is the case, Gazprom will not only have full control of the pipeline designed to bypass Ukraine and travel south to Italy via Bulgaria as well as north to Austria, but also jeopardize all other projects that are beginning to emerge in the region and which have Turkey as their centerpiece.
Given the scale of the project, as well as the suppressed demand for natural gas in the region, other rival supply projects - 16bcm/year of Azerbaijani gas, 10bcm/year of Northern Iraq gas, 6bcm/year of Romanian gas and Israeli or Cypriot gas - may struggle to stay afloat in an already tough environment.
While it may not make much commercial sense for these projects to compete, Gazprom itself may not be deterred by low demand, and forge ahead with South Stream as a political rather than economically-viable project. Russia's Nord Stream, a 55bcm/year pipeline designed to bypass Ukraine and carry gas to Germany was equally described as a political project.
The fact that only half of its capacity is being used lends credence to that criticism. As far as Turkey is concerned, the impact of South Stream will be felt indirectly.
Although the emergence of multiple suppliers in the region should be celebrated, the presence of Russia as the largest regional player would continue to give it the upper hand in its relations with neighboring countries, including Turkey, and dictate the terms of the game. In this context it is important that Turkish policy makers adopt at long last more vision and fewer quick fixes in preparation for interesting times ahead.
*
This article first appeared on 6 March 2014 in Turkish Energy Hub Daily, a report by ICIS. The author is the editor of the report
get Daily Sabah in your inbox
| | Price | Change | % Chg |
| --- | --- | --- | --- |
| USD | 2,317 | 0,001 | -0,86 |
| EUR | 2,845 | 0,001 | -1,86 |
| GBP | 3,618 | 0,016 | -0,38 |
| CHF | 2,354 | 0,013 | -1,62 |
| JPY | 1,937 | 0,012 | -1,22 |