When I landed in Namibia, a country with a population of 2.3 million, I did not know what was going to welcome me. After overcoming difficulties entering the country and long procedures at the border, I took my first step into the country's capital, Windhoek. While taking a 40-kilometer-long road to the city center, the first two things that attracted my attention were the well-built road and empty hedged fields. I later learned that the roads and empty hedged fields were crucial to the country, a vestige of the white minority that had dominated people belonging to different tribes by exterminating the population, stealing land and impoverishing the masses.

Although Namibia neighbors South Africa, Botswana and Angola and is not open to the world despite there being no political unrest or oppression, the country's people have their own lives and agendas that are generally not related to the world's complex politics. Being the most silent country I have ever seen, there is almost nothing to do in the evenings as all stores and restaurants close around 5 p.m. except for a few. Even the biggest mall closes at 9 p.m. on weekends. As a well-designed city, Windhoek offers luxurious mansions, the latest car models and resembles a European city. However, that is only one side of the city, as I found out. The country's native inhabitants were forcibly exiled, murdered, impoverished and left to face unending social problems, while the minority, white people of German descent have been enjoying the country's large lands and natural resources in their closed communities.



A picture in the National Museum of Namibia in Windhoek shows a murdered Herero's skull.

One of my motivations to visit the country, besides seeing one of most untouched natural beauties in the world, was to investigate genocide allegations, as ongoing negotiations between the Namibian and German governments were indicating that Berlin was going to apologize for what happened in 1904 and allocate a budget for social development projects in the country. After the first German missionaries arrived in the early 19th century, one of the least developed European country occupied Namibia in search of raw materials and to have a portion of Africa at a time when France, Britain, Italy, the Netherlands and Belgium held various parts of the continent. Unsurprisingly, the colonial power started hedging lands where indigenous Namibians lived to take diamonds, the country has rich diamond resources, to ship them to Europe. When the Herero and Nama people rebelled against the German occupation, the first genocide of the 20th century, which has encouraged Adolf Hitler, took place under the command of Lothar Von Trotha, who ordered the killing of everyone, including women and children, and was honored by German Kaiser Wilhelm II. Although there is no definite number, approximately 100,000 Herero and 10,000 Nama were killed, while thousands of others were forced to leave for the Namib Desert and gathered in concentration camps to be used as slaves. Thousands of women were raped, resulting in "colored" Namibians. Hundreds of skulls were boiled to strip their skins and sent to Germany to research whether Africans were human beings. Moreover, the relatives of the people killed were forced to strip skins from the skulls. Thousands also died of disease on their way to the desert and from water that was poisoned by German soldiers. A few hundred were lucky to survive in the desert and reached Botswana where they were relatively safe.



On the wall of Christ Church in Windhoek's center, the names of German soldiers are written, who are responsible for killing thousands.

On the first morning of my trip, I was at the Hilton Hotel downtown to meet the chairwoman of the Herero Genocide Foundation, Utjiua Muinjangue, and another member of the foundation, Festus Muundjua. The foundation was founded in 2003 by the chief of the Herero tribe to awaken people, to make contact with other Herero in the diaspora and to keep memories alive. "Very bad things happened to our people. Our women were raped repeatedly. Our lands were stolen," Muinjangue said, finding it difficult to conceal her tears, adding: "This hotel's place was a concentration camp." Muundjua, a retired history teacher, said: "All of us carry German blood because of rape. Not only Germans, but also South Africa's apartheid regime oppressed us until independence." Namibia, after Germans left, was controlled by Britain, and then was left to South African control under the apartheid regime until iconic leader Sam Nujoma started a fight, resulting in independence and abolishment of the apartheid administration. "During the apartheid time, we were unable to speak even one word against Germans," he said. When asked about the negotiations and reparations, they said: "The government does not involve all Herero representatives, finding us marginalized. In terms of population, we are less than other tribes, but this is because 85 percent of our population was exterminated."

Germany appears to be the biggest donor to the country, but Muinjangue and Muundjua said the Herero have not benefited from donations and projects as much as other tribes. Their main demand is that after an official apology, they want to receive reparations that will help develop the lives of the Herero. "For instance, we don't have roads, schools, hospitals, a university. We need these facilities to receive education, to stop diseases, to fight ignorance and to have a word in Namibia's future," Muundjua said. They added that they do not trust the German government, as Berlin denies that an apology will lead to legal consequences, as the U.N. Convention on the Prevention and Punishment of the Crime of Genocide was signed in 1948, after the incidents occurred in Namibia. However, Muinjangue said: "What Germany did is considered a war crime, and it was still a crime to exterminate people systematically, rape women, enslave thousands and steal lands."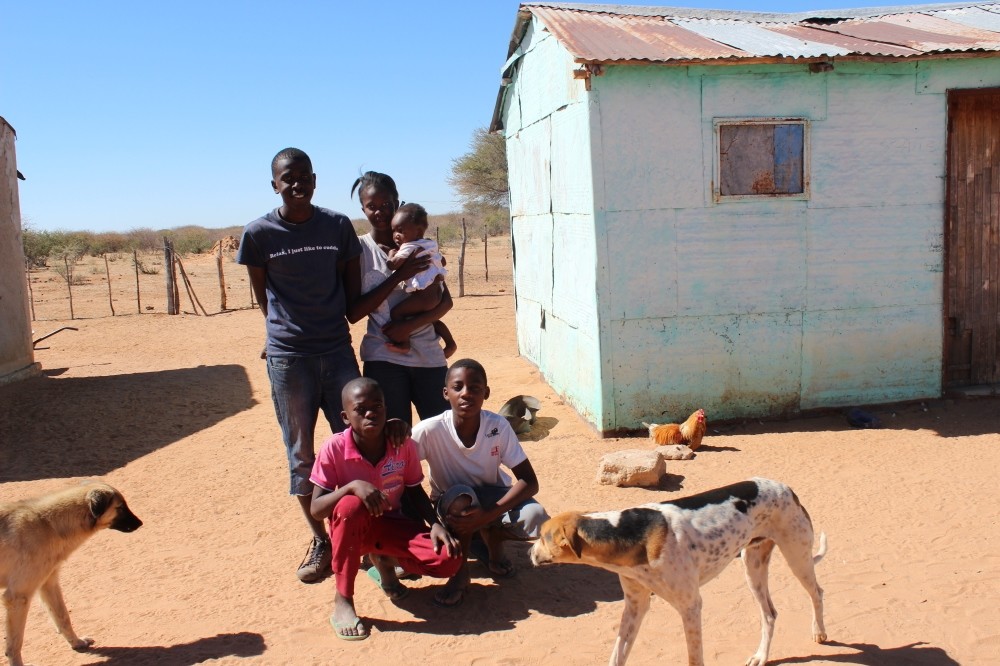 A Herero family, living in semi-desert Okakarara, where their ancestors have been exiled by Germans.

My next stop was Katatura, a large neighborhood where largely people from the Nama and Herero tribes live. The neighborhood was the other face of Windhoek, not safe for foreigners, especially for whites, and had concrete signs of poverty in its streets. A Namibian lawmaker from the Nama tribe, Ida Hoffman, invited me to her home. She was the founder of Nama Genocide Discussion and has been spending her life in the struggle against Germany. She started by saying: "You can see that they have stolen everything, even our names," since her name is German. Aggressively she said: "I have launched talks with Germans, convinced the Namibian assembly to investigate this issue and spent years demanding Germany account for what happened to our people. … Hundreds of people were hanged in the streets, hundreds of people's heads were separated from their bodies, thousands of women were raped and forced to give birth to the children as Germans were seeking answers to the question of whether white-black sexual intercourse would result in the birth of a white baby." She continued: "What is the result? They have erected monuments in Swakopmund for their killed soldiers and a church in Windhoek's heart, written the names of Germans on its wall." Accusing the government of excluding her from the committee, assigned to conduct the negotiations, she said: "We Herero and Nama people, the real victims of the genocide, have been excluded and deprived of taking part in the negotiations. … We do not say that the other tribes, citizens of Namibia, should take their hands off this issue. We have fought together and been victimized together. But you see our streets. We need schools, hospitals and other facilities to bring up our children."

With her, I had the chance to walk around streets, eliciting anxious and menacing glances. Children wearing torn and very old clothes, youngsters carrying penknives, young girls in front of bars, littered streets, jerrybuilt houses, boney street dogs, rattletrap cars and crowds in the streets during work time were concrete signs of poverty and unemployment. Hoffman said: "Besides the genocide issue, we have to tackle social problems. Our young people become easily addicted to drugs and alcohol. Young girls compulsorily start making their lives with prostitution that causes the spread of diseases like HIV." Namibian newspapers say that 127 Namibian girls become pregnant every day, although there are no more than 250,000 adolescent girls in the country. "This all happens because we are impoverished and not provided with sufficient facilities to get an education and better our lives," Hoffman said.



A Herero woman tries to filter milk with a piece of cloth amid sand.

The next day, the head of the negotiation committee for the Namibian government responded positively to my interview request. Zedekia Josef Ngavirue, the special envoy to Germany and a member of the Herero tribe, welcomed me warmly in his office. After reminding me of what happened at the beginning of last century in his country, he said: "Our struggle against Germany as well as apartheid in the past has been based on humanitarian and democratic values. We demand Germany accept that it committed genocide and pay reparations." Germany softened its stance in the last decade after some German ministers visited Namibia and convinced their country to start the talks. In response to allegations that certain groups, including the Herero and Nama, have been excluded, he said: "As the government we try to involve every affected group. However, aid must be distributed across the country. Otherwise, we will have internal problems. Tribes have been mixed and live together anymore. We will work for development, especially in rural areas," he said. When asked what kind of apology Germany will make in an expected statement, he said: "We do not know yet what the statement's tone will be and which words will be used. But we do not accept that the apology will not lead to legal consequences, as our people have been subjected to war crimes and obvious genocide. … The reparation must be genuine." Several Namibians, especially Herero and Nama, believe that the amount will not help their development, as Germany will pay for its own companies to deliver aid. For instance, if roads are built, a German company will do it and take money from the allocated reparation. Seemingly, Namibians had lost trust in Germany already.

On my last day of travel, I visited Okakarara, a two-hour drive from Windhoek, where exiled Herero live in a semi-desert area in hovels. Germany has spent hundreds of thousands of euros for Namibia but, bizarrely, the exiled victims' great grandchildren's living conditions were heartbreaking. I saw no roads, no infrastructure, no wells and no hope for the future. A young man who welcomed me warmly said: "There is no job, no hope for the future. The closest school is hours away." He asked: "What will we do," while showing children playing. An old man, showing the place he lives with his family, said: "Poverty, disease and all bad things are here." When asked about the genocide issue, they said they had awful memories passed down orally to them. "My grandparents' parents forcibly left their lands and came to this desert," the young man said. "We want Germans to build schools and roads," he added while sand flew around. The old man interrupted: "They stole everything we had, the lands, cattle, culture, religion," adding that he is not Christian, but adheres to in his ancestors' religion. Families with at least five members earn around $100 per month.

Namibians expect Germany to make an official apology that will have legal consequences as they have been impoverished and face serious social problems, especially in rural areas. However, their faith in Germany's honesty is weak as Berlin is strong, has been concealing the genocide for decades and white residents of the country have been controlling most business and not paying attention to the common history. A German-Namibian, asking his name remain anonymous, told me: "Something bad happened in the past. But we cannot be held responsible for what our grandfathers did." I might have been the first one to tell him about the problems in rural areas and ghettos of the city. "I will pray for them," he said.