The two principal rivals in conflict-ridden Libya, who are to hold French-brokered talks Tuesday in Paris, are committed to a cease fire and elections "as soon as possible", a draft statement from France's presidency said.
"We are committed to a cease fire" and "We make the solemn commitment to work for the holding of presidential and parliamentary elections as soon as possible," said the presidency, quoting Libya's U.N.-backed Prime Minister Fayez al-Sarraj and Khalifa Haftar, the rival military commander who controls the east.
​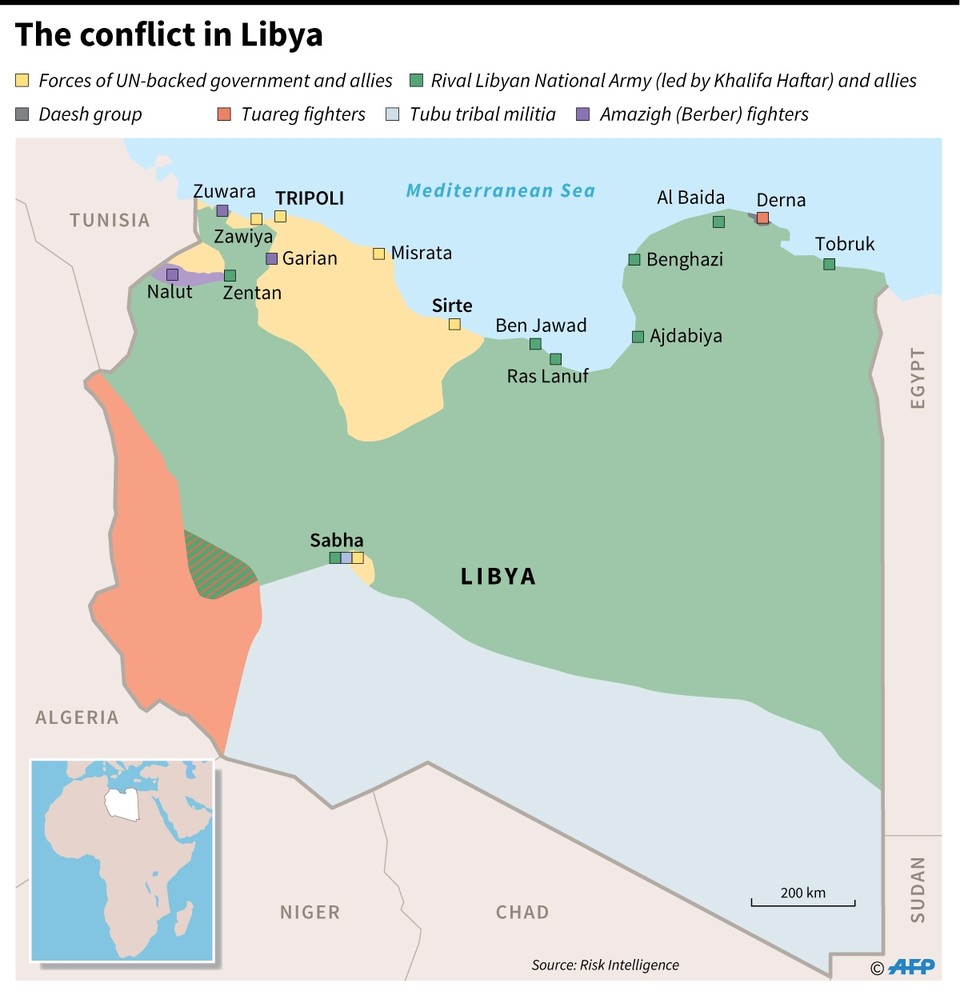 Al-Sarraj and Haftar met near Paris on Tuesday for talks aimed at easing tensions in their violence-wracked country. It is their first encounter since a rare meeting in Abu Dhabi in May.
French officials at the talks stressed that the document was one of several working versions being circulated ahead of the meeting.
The 10-point version seen by AFP also says that only a political solution can end the crisis and it backs the Skhirat Agreement, agreed in 2015 with UN backing, as the basis for a political process in Libya.
The aim of Tuesday's talks is to persuade the two sides to at least outline a roadmap for an end to a conflict that has plunged the oil-rich country into chaos since the 2011 uprising that toppled longtime dictator Moammar Gadhafi.
Here are some of the key challenges facing Libya, also bedeviled by terrorism and people smuggling.
Establishing one central government
Oil-rich Libya has been deeply divided since the 2011 uprising, with a myriad militias holding territory and rival administrations vying for their allegiance in often bloody confrontations.
The UN-backed Government of National Accord (GNA) set up base in the capital Tripoli at the end of March 2016 but is struggling to assert its authority across the country.
It controls most of the west but in the east a rival administration backed by military strongman Haftar holds sway.
Control of the vast desert south is divided between various ethnic and tribal militias, which have nominal alliances with one or other of the rival administrations but which regularly switch allegiances.
The key challenge to restoring stability in Libya is to set up a unified central government with a single army and police force.
Unifying rival militias
Fighters who battled to topple the Gadhafi regime splintered into feuding militias which now number in the hundreds and follow different political and religious lines.
Some of the armed groups are aligned with one or other of the rival administrations. Others are little more than criminal gangs.
Since 2011, successive Libyan administrations have failed to disarm the militias and efforts to integrate them into a national army or police have foundered.
"We are harvesting the fruits of these mistakes," Sarraj said in a July 15 televised speech, admitting that the lack of security was the thorniest issue facing Libya.
Haftar's self-styled Libyan National Army -- backed by Egypt, the United Arab Emirates and Russia -- announced earlier this month that it had captured all of second city Benghazi after a three-year campaign against terrorists.
The powerful militias of third city Misrata, east of Tripoli, were the backbone of a pro-GNA coalition which fought and routed the Daesh group in the coastal city of Sirte in December 2016.
It was a key victory that saw the terrorists, who seized Gadhafi's hometown more than a year earlier, defeated but not totally wiped out of Libya.
Western intelligence services fear the Daesh group is capitalizing on the chaos to set up bases in Libya as they are chased from their former strongholds in Iraq and Syria.
The creation of a unified army could also help Libya stem people smuggling.
Libya has become the main springboard for migrants from sub-Saharan African to reach Europe by sailing to Italy in often flimsy and overloaded boats.
Since January, more than 100,000 migrants have made the perilous voyage, with around 85,000 arriving in Italy, and more than 2,300 drowned in the attempt, the International Organization for Migration says.
Relaunching the economy
With estimated oil reserves of 48 billion barrels, Libya produced 1.6 million barrels per day before the uprising that toppled Gadhafi's regime.
By the end of 2014, the conflict forced the majority of oil fields and terminals to close as warring parties battled for control of Africa's largest crude reserves, costing Libya more than $130 billion in losses.
No oil was exported from Libya's main ports until September 2016 with the reopening of the Ras Lanuf terminal in the country's so-called oil crescent.
Since then production has topped 760,000 bpd and is expected to reach 1.25 million bpd by the end of 2017, according to Libya's National Oil Corporation.
Libya's once vibrant and heavily subsidized economy has been shattered since the end of the revolution.
According to the World Bank, the GDP fell by 2.5 percent in 2016, reaching less than half of its pre-2011 value, while unemployment has risen sharply.
Repairing the economy is the biggest demand of for ordinary Libyans who struggles daily with power and water cuts, a cash crisis, currency devaluations and intermittent violence.
"Living conditions are below zero," shopper Sabri al-Bouechi said in a market in an eastern suburb of Tripoli.
Insecurity means women refrain from going out after dark and even in the day car-jackings are common.
Here are profiles of the two men, whose rivalry has hampered a political solution for the North African country, bedeviled by terrorism and people smuggling.
Sarraj: struggling for authority
Sarraj was a political novice when he took up the premiership of the U.N.-backed Government of National Accord (GNA) and has struggled to assert his authority since it set up base in Tripoli last year.
The 57-year-old was born into a prominent family that owned a bookshop and stationery store in downtown Tripoli as well as swathes of land around the capital.
A trained architect, Sarraj, who has jet black hair and a white mustache, had a long career in the public sector alongside his business interests.
He is married to an architect and they have three daughters.
Sarraj was well into his 50s when he entered politics, following in the footsteps of his father Mostafa al-Sarraj, a member of parliament and cabinet minister under the Western-backed king Idriss, who was deposed in 1969 by Gadhafi.
Sarraj was elected to parliament in June 2014 but he and fellow lawmakers fled to the eastern city of Tobruk after a militia alliance overran Tripoli and established a rival administration.
Two years later and after months of arduous negotiations, the United Nations brokered a power-sharing deal under which Sarraj was designated prime minister.
In March 2016, Sarraj installed the GNA in Tripoli, intending to replace a rival eastern-based administration backed by Haftar.
But his efforts to impose his authority continue to be blocked by his rival.
The UN-backed government was the centerpiece of Western efforts to stem an upsurge of terrorism in Libya and halt people trafficking across the Mediterranean, which has led to thousands of drownings.
From the start of his premiership, analysts said Sarraj's political stature was fragile, but those close to him have described him as "calm and level-headed", saying he is firm and speaks his mind.
In a key victory, GNA forces fought and routed the Daesh group in the coastal city of Sirte in December 2016, more than a year after the terrorists seized Gadhafi's hometown.
In mid-July, Sarraj announced a new political roadmap for Libya with presidential and parliamentary elections to be held in March 2018.
"The time has come for unity and the rescuing of our nation," he said. But he sounded tired and spoke haltingly as he delivered the televised speech.
Haftar: divisive strongman
The 73-year-old Haftar heads the self-proclaimed Libyan National Army, which has been battling terrorists and other groups in Libya since the end of the 2011 uprising.
Backed by Egypt's military chief turned President Abdel-Fattah el-Sissi, Haftar presents himself as Libya's savior in the face of a terrorist threat but is himself a hugely divisive figure.
The white-haired field marshal with striking black eyebrows received military training in the then Soviet Union and took part in the 1969 coup which brought Gadhafi to power.
He served in Gadhafi's armed forces but fell from grace when he was captured by Chadian troops during Libya's ill-fated 1978-1987 war with its neighbor.
Tripoli denied Haftar was part of the Libyan army, and he languished in jail until Washington granted him political asylum.
After more than two decades living in the United States, where it was rumored that he worked for the CIA, in 2011 he returned home to take part in the NATO-backed uprising against Gadhafi.
Three years after the start of the revolution, he declared war on terrorist in second city Benghazi and in July his forces declared victory.
His rivals accuse him of wanting to set up a military government.
He refuses to recognize Sarraj's government and backs the rival administration in the east.
His forces have repeatedly clashed with militias loyal to the Tripoli government, seizing the main eastern oil ports before handing them back to the authorities and overrunning much of the south.