President Robert Mugabe resigned and impeachment debate has been suspended, Parliament Speaker Jacob Mudenda told lawmakers Tuesday, ending the 93-year-old leader's 37-year rule in the southern African nation..
"I Robert Gabriel Mugabe in terms of section 96 of the constitution of Zimbabwe hereby formally tender my resignation... with immediate effect," said speaker Mudenda, reading the letter.
Mugabe, who was under house arrest since the military takeover on Nov. 15, said that he has resigned to allow smooth transfer of power and his decision is voluntary.
The parliament in Zimbabwe had convened earlier on Tuesday for a session earlier on the same day to impeach Mugabe. Mudenda said parliament would adjourn to a hotel to start the impeachment proceedings against the 93-year-old president, who defied his party's Monday noon deadline to resign. Zimbabwean law says a joint sitting can take place anywhere.
Zimbabwe's ruling ZANU-PF party had introduced the motion to impeach Mugabe and opposition party MDC has seconded it. ZANU-PF also sacked Mugabe as the party leader on Sunday. Innocent Gonese, the opposition MDC-T's leader in parliament, told dpa before heading into the building that both parties have agreed to impeach Mugabe.
Gonese said his party has been calling for years on Mugabe to go, adding: "We are glad that our counterparts in Zanu-PF have finally seen the light."
ZANU-PF chief whip Lovemore Matuke told Reuters that Mnangagwa would be sworn in within 48 hours and that he would serve the remainder of Mugabe's term until the next general election, which must be held by September 2018.
Mugabe faces mounting opposition
Mugabe has been trying to cling to power even after the military takeover, however, his chances were very low since ousted vice president Emmerson Mnangagwa, who is backed by the military and could be the country's next leader, told him to step down.
Thousands of protesters gathered near parliament, chanting for Mugabe to resign and brandishing Zimbabwean flags and banners emblazoned with "Mugabe go!".
Further street protests have been called in Harare, raising fears that the political turmoil could spill over into violence.
Amid the turmoil, Angolan President Joao Lourenco said he and South African President Jacob Zuma would fly to Zimbabwe on Wednesday following talks between regional leaders on the crisis engulfing the country.
"(South African) President Jacob Zuma and I have agreed to visit Harare tomorrow," Angolan President Joao Lourenco told journalists Tuesday after a meeting of the southern African regional bloc in Angola.
Mugabe also suffered humiliation on Tuesday when only five cabinet ministers and the attorney general heeded his call for a meeting, whereas 17 others opted to attend the impeachment session.
The cabinet meeting is the first called by Mugabe since a military takeover last Wednesday. Mugabe faced the start of an impeachment process later in the day as his party sought to end his nearly four decades in power.
The snub piled pressure on the embattled president after Emmerson Mnangagwa, the vice president whose removal by Mugabe sparked the military intervention last week, said he would consider returning to Zimbabwe if his safety was guaranteed.
Mnangagwa's intervention is his first public move since the army seized control.
A bubbling factional squabble over the presidential succession erupted two weeks ago when Mugabe fired Mnangagwa.
The dismissal put Mugabe's wife Grace in prime position to succeed her 93-year-old husband, prompting the military to step in to block her path to the presidency.
After Mnangagwa fled abroad, the army took over the country and placed Mugabe under house arrest -- provoking amazement and delight among many Zimbabweans as his autocratic 37-year reign appeared close to an end.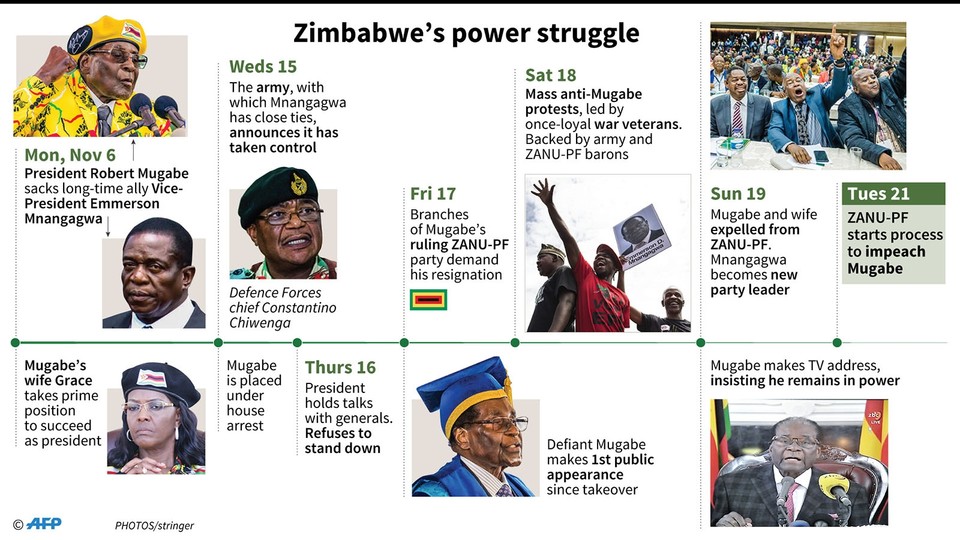 Mnangagwa -- formerly one of Mugabe's closest allies and a regime hardliner -- said in his statement that Zimbabweans had "clearly demonstrated without violence their insatiable desire" for Mugabe to resign.
"It is my appeal to President Mugabe that he should take heed of this clarion call," he said.
On Saturday, Zimbabweans attended huge, peaceful anti-Mugabe marches that would have been brutally repressed just weeks ago.
The influential war veterans' association appeared to pull back from an earlier call for immediate demonstrations at Mugabe's home, instead threatening further protest action if Mugabe clung on.
"Smell the coffee -- your time is gone," War Veterans' association chairman Chris Mutsvangwa said Tuesday.
"Intention and action must coincide now. If he doesn't go, we will be calling on the people of Zimbabwe to come out to show him to go."
On Monday evening, army chief Constantino Chiwenga told reporters that progress had been made in talks towards an apparent exit deal for the world's oldest head of state. He called for patience and calm after elated Zimbabweans were stunned to see the president declaring in a TV address on Sunday that he was still in power.
Mugabe is feted in parts of Africa as the continent's last surviving independence leader. He was a key figure in the war for independence from Britain white-dominated Rhodesia, and took office as prime minister in 1980, riding a wave of goodwill. His reputation was swiftly tarnished, however, by authoritarianism, rights abuses and economic policies. Most Zimbabweans have known life only under his rule, which has been defined by violent suppression, economic collapse and international isolation.
Despite his fragile health, Mugabe had previously said he would stand in elections next year that could have kept him in power until he was nearly 100 years old. Mugabe's wife Grace, 52, has not been seen since the takeover.



Mugabe was thought to be battling to delay his exit in order to secure a deal that would guarantee protection for him and his family.
The army insisted that it has not carried out a coup, but rather an operation to arrest allegedly corrupt supporters around the Mugabe family.