A dam burst its banks in Kenya's Rift Valley, killing at least 44 people and leaving 40 others missing, officials said Thursday. At least 20 of the dead were children, police said.
Water burst through the banks of the Patel Dam in Solai, Nakuru County, on Wednesday night, sweeping away hundreds of homes, including those on the expansive Nyakinyua estate that borders the reservoir.
"Many people are missing. It is a disaster," said Rongai town police chief Joseph Kioko.
"The water has caused huge destruction of both life and property. The extent of the damage has yet to be ascertained," Lee Kinyajui, the governor of Nakuru, said in a statement.
Nearly 170 people have now died since March from floods caused by seasonal rains, according to Kenyan authorities. The floods hit as the East African nation was recovering from a severe drought that affected half of the country.
Almost an entire village was swept away by silt and water from the burst dam, said Gideon Kibunja, the county police chief in charge of criminal investigations. Officials said homes over a radius of nearly 2 kilometers (1.2 miles) were submerged.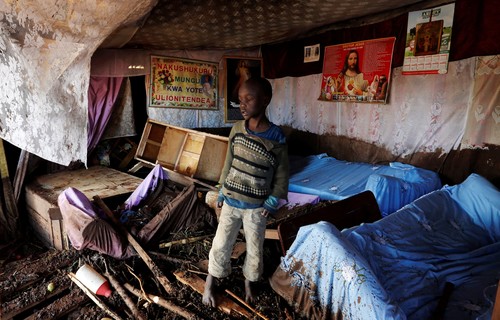 Close to 40 people were rescued from the mud and taken to hospitals on Thursday morning in operations by Kenya Red Cross and Nakuru County disaster management teams.
"The search and rescue exercise is ongoing and more bodies have been retrieved," regional police chief Gideon Kibunjah told AFP.
"It is a disaster because most people were asleep when the tragedy occurred and their houses were swept away."
A senior police officer at the scene, speaking on condition of anonymity, said emergency workers had spent the night combing through engulfed houses to retrieve the bodies of the victims and had only covered about half of the affected area.
"We found 11 of the bodies covered with mud at a coffee plantation and these are people who may have been escaping but could not make it due to the force and speed of the water from the flooded dam," he said.
"Most of them are women and children who could not have been able to run fast, and the elderly."
The Kenyan Red Cross estimates that up to 500 families were affected by the disaster, which took place some 150 kilometers (90 miles) northwest of Nairobi.
"We have set up a center near the scene for families to report missing members to enable us to reunite them," said Nakuru Governor Lee Kinyanjui.
The area has seven dams used by a commercial farm, said Keffa Mageni, an official with an advocacy group that helps to resettle displaced people. With the heavy seasonal rains the dams do not have an outlet, he said.
"There are two other dams which are leaking," one resident, Stephen Nganga, said. He asked the government to investigate them for the residents' safety.
Several villages were affected around Nakuru, Kenya's fourth-largest city, as well as two schools.
Interior Cabinet Secretary Fred Matiangi visited the scene Thursday and said the government had launched investigations to determine the stability of the six other dams.
Deadly rainy season
Kenya, like other countries in East Africa, has experienced heavy rain over the past two months. The government said on Wednesday the rain had killed 132 people and displaced 222,456 in 32 counties since March.
Since March, at least 21,000 acres (8,500 hectares) of farmland have been submerged in water with an estimated 20,000 animals killed, the Red Cross said last week.
The floods have also destroyed road networks in some parts of the East African country and in some cases the military has stepped in to airlift residents from submerged houses.
The Red Cross appealed last week for $5 million (four million euros) to help those affected.
The deluge has affected large parts of East Africa, destroying crops and killing farm animals after a severe drought which had sent food prices and inflation soaring and left millions in need of food aid.
In Rwanda 215 people have died because of floods and landslides since January, according to Philippe Habinshuti of the disaster management ministry.
In Somalia flooding has displaced tens of thousands, while torrential rains have also caused havoc in Tanzania and Uganda.