Mohammed Omar Mukhtar, the son and only descendent of Libyan resistance hero Omar Mukhtar, died on Thursday at the age of 97 in Benghazi, eastern Libya.
Sources from Mukhtar's Menafah tribe told Anadolu Agency that "Haj Mohammed died today at his home in the garden area in the eastern city of Benghazi at the age of 97."
"He was suffering from many diseases because of his age, and received treatment inside and outside the country more than once. The last trip treatment in the UAE lasted three months."
Mohammad Mukhtar was born in 1921 in the Awailiyah area near eastern Libya's El-Merg, and lived with his mother Nizla al-Gilani and some of his relatives.
At the request of his father, Mukhtar left Libya with his mother for Egypt in 1927 to devote himself to fighting the Italian occupation.
Mukhtar spent 18 years in the city of El Hamam (west), traveling between the cities of Sidi Barrani, Matrouh, Alexandria and elsewhere. He was educated at the Shatby School in Alexandria, where he learned of his father's execution.
Mukhtar married twice, first with his cousin Azza al-Fayoumi in 1942, but she died before the couple had any children.
Later in 1964, he married Fatima Ghariani and the couple had children, but they died young.
Mohammad al-Mukhtar was the only one to carry on the line of Omar Mukhtar, after the death of his brother and all his relatives.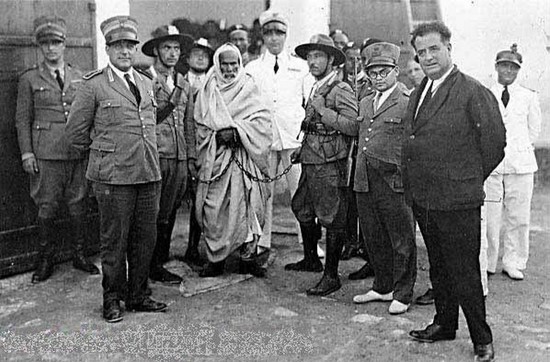 This file photo shows Omar Mukhtar being taken away after he was arrested by occupation powers.

Born in 1862, Omar Mukhtar spent the last 20 years of his life fighting the Italian occupation of his country, thus nicknamed the "Desert Lion" and earning worldwide renown.
A well-educated man and administrator, Mukhtar's armed struggle first began against British forces deployed along Egypt's border with Libya. He also fought French colonial forces who tried to invade southern Sudan and Chad in 1900.
During a war declared by Italy in 1911 against the Ottoman Empire, Mukhtar became known as the "Sheikh of the Mujahideen" after mobilizing 1,000 fighters from Zawiyat al-Qusour before joining the Ottoman army in eastern Benghazi.
In 1912, Rome declared Libya an Italian colony. For the next 20 years, Mukhtar led the Libyan resistance against the Italian occupiers, who suffered heavy losses as a result of his novel hit-and-run tactics.
On Sept. 16, 1931, the 73-year-old resistance leader was hanged by the Fascist Italian occupation authorities after refusing to accept their terms of surrender.
Mukhtar's remarkable life – at least its final phase – was depicted in the 1980 film "Lion of the Desert" starring Anthony Quinn.