French President François Hollande has met with Fidel Castro in Havana, according to the staff at the Elysee Palace.
Hollande met with the 88-year-old former communist ruler of Cuba after a scheduled meeting with his brother, Cuban President Raul Castro.
Both Hollande and Raul Castro went to the residence of Fidel Castro.
Earlier on Monday, the French president bestowed France's highest award, the Legion of Honour, on the head of the Catholic Church in Cuba, Cardinal Jaime Ortega.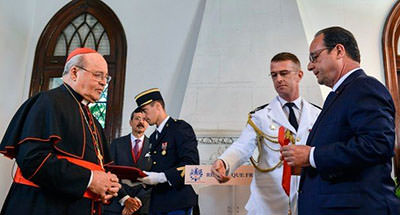 | AP Photo
A number of high-ranking American and European politicians have visited Cuba since 17 December, when the US and Cuba announced they would move towards re-establishing diplomatic ties.