A group of students from University of California, faculty, and Bay Area community members gathered outside the University of California Office of the President on Tuesday to express their objection to the use of U.S. State Department definition of "Anti-Semitism", and its potential adoption by the UC Regents at their meeting later this month. The group collected over 4,000 signatures to say that "The proposed definition of 'Anti-Semitism' does not protect students, and also endangers the capacity of students and faculties to be critical thinkers and speakers."
The State Department definition of anti-Semitism, inspired by a discredited European Union Monitoring Centre definition, includes vague sentences that define "demonizing, delegitimizing, and applying a double-standard" to the State of Israel as anti-Semitic. Critics argue that this is an unenforceable definition that, if applied, would affect academic freedom in a bad way, undermine free speech rights, and dilute the charge of anti-Semitism to name anti-Jewish bigotry.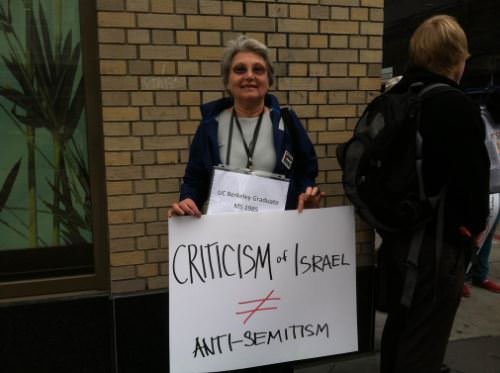 "If implemented, this definition would restrict free speech and academic freedom with regards to criticism of the policies of the State of Israel," warned UC Santa Cruz Professor Nancy Stoller. "In the same year that the University of California celebrates the 50th anniversary of the Free Speech Movement, it is distressing that the current president of the University of California is asking the Regents to adopt this definition that would threaten speech more than it would protect students."
In an interview in May, UC President Janet Napolitano publicly stated that she supports the "State Department definition" and asserted that the UC Regents would consider adoption of this definition at their meeting which will be organized on July 22-23.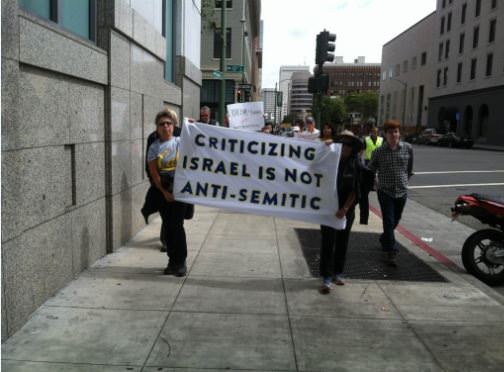 UC students also voiced their concerns: "It is important for the University to take a stand against anti-Semitism and all forms of racism and discrimination, but caving to pressure from right-wing Israel advocacy organizations is not the right way to do that," said UC Berkeley student David McCleary, and further added that supporting the rights of Palestinians to freedom and equality is not anti-Semitic, but he is worried that the adoption of this definition will require him to censor his political views and will impede efforts to demand justice for Palestinians.
Tallie Ben Daniel, the Jewish Voice for Peace Academic Advisory Council organizer also stated: "The UC system is one of the top public university systems in the country, and as such, holds great importance in setting a precedent for other universities in defining the boundaries of free speech and academic freedom. Implementing this misguided definition of anti-Semitism would open the door for other institutions to make false equations between Jews and the State of Israel, and would cheapen the charge of anti-Semitism for identifying anti-Jewish bigotry when it occurs."
Like Jewish Voice for Peace, there are many other non-profit organizations and groups which comprise of ethnically and religiously Jews who are seriously critical of Israel, support the rights of Palestinians and oppose the blockade of Gaza. A prime example for this is the Neturei Karta group, the members of which suggest that "Judaism and Zionism are extreme opposites."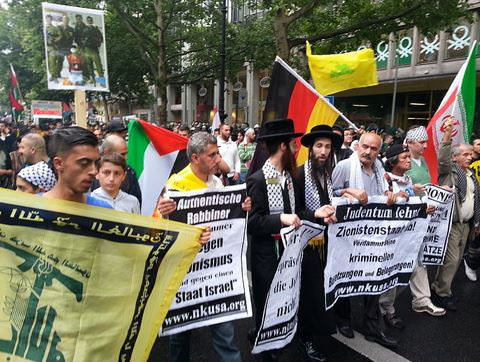 Neturei Karta members at the Quds Day protests in Berlin last year
"Anti-semitism" is a term which in fact means hatred against Semitic people (Arabs and Jews) but de facto refers to the hate speech against ethnically Jews.