A 19-year-old Indiana University student accused of trying to remove a Muslim woman's headscarf and shouting racial slurs says he had been drinking alcohol and hadn't taken his anti-anxiety medication prior to the incident.
Triceten D. Bickford has been charged with multiple felony charges, including intimidation, strangulation and battery, in the attack Saturday evening at a Turkish cafe in Bloomington, Indiana. He was released on $705 bond and other fees, and returned to class Monday.
A probable cause affidavit says officers responded to reports of an assault about 7:30 p.m. Saturday.
The woman was sitting at a table with her 9-year-old daughter when a man emerged from a nearby alley shouting racial slurs, as well as "white power" and "kill the police." According to the affidavit, the man grabbed the woman by the neck and forced her head onto the table, restricting her breathing while trying to remove her headscarf. The woman's husband and a passer-by dragged him off and restrained him on the sidewalk until police arrived.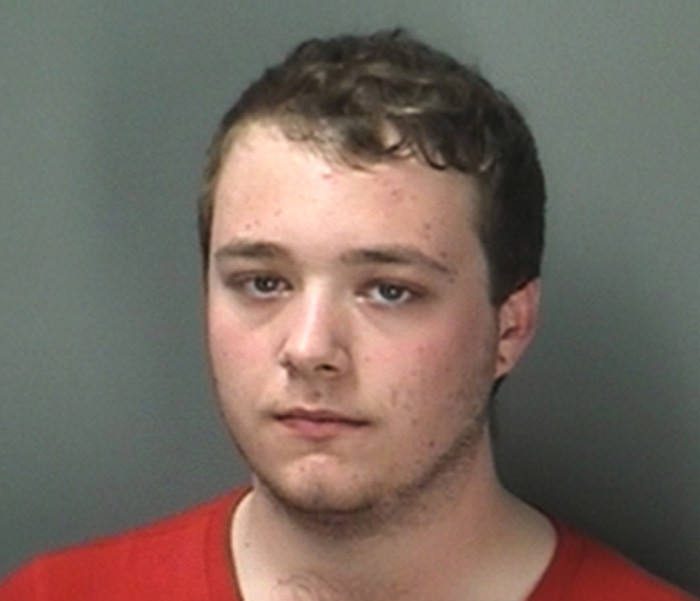 The man spit in the faces of the husband and passers-by, threatened to kill them and arriving officers, tried to kick out the windows of a patrol car and bit an officer on the calf at the jail, the affidavit says.
The woman complained of neck pain following the attack, but declined medical treatment.
Speaking to Anadolu Agency, she said the attack was a "hate crime" and believes she was targeted because of her headscarf. The victim's daughter suffered psychologically after the incident and did not want to go to school Monday because of fear, she said.
Federal authorities could also bring hate crime charges against Bickford.
Bickford told WTHR-TV in Indianapolis he has no memory of the incident and that a combination of drinking alcohol and not taking his anti-anxiety medication caused him to snap. He said he is not a hateful person.
"I am so sorry to that woman," Bickford told the TV station. "I have no idea who she is, but words can't explain how much that ... I've never hurt someone like that before."
The Associated Press sent an email to Bickford and seeking comment Tuesday.
Ibrahim Hooper, a spokesman for the Council on American-Islamic Relations, said the attack fits a nationwide pattern.
"We've seen a tremendous spike in the level of anti-Muslim sentiment in our society and increasingly violent hate rhetoric," in recent years.
"I don't think intoxication is an excuse for violence or bigotry," he said.
Hooper said the low bail set for Bickford suggests authorities aren't taking the assault seriously.
He said CAIR wants prosecutors to consider filing a state bias crime charge against Bickford. That statute is used in cases where the victim was chosen because of their "color, creed, disability, national origin, race, religion, or sexual orientation."
Court records don't list an attorney who could comment for Bickford. Monroe County's chief deputy prosecutor, Robert Miller, said the office hasn't been contacted by any attorney on Bickford's behalf.
In a written statement, Indiana University called the incident "horrifying".
"This type of abhorrent behavior is not representative of our students, nor of the culture of inclusion and tolerance so many people at the university and in the Bloomington community have worked so hard to foster," read the statement.