U.S. Republican front-runner Donald Trump swept three states and drove rival Marco Rubio out of the White House race, but the New York billionaire's loss in the crucial state of Ohio wrought more chaos for a party deeply fractured by his candidacy. While the Republican race remained in turmoil on Tuesday, Hillary Clinton's victories in Florida, Illinois, Ohio and North Carolina cast doubt on U.S. Senator Bernie Sanders's ability to overtake her for the Democratic Party's nomination. Trump's wins in Florida, Illinois and North Carolina brought him closer to the 1,237 delegates he needs to win the nomination and left those in the party trying to stop him with a dilemma. Republicans can either throw their weight behind a candidate who rejects their policy goals or go on trying to stop him in the hope that he falls short of the majority required, enabling them to put forward another candidate at the July convention in Cleveland to formally pick their candidate for the Nov. 8 election. That, however, would risk alienating the millions of Americans who back the real estate developer and former reality TV show host.

Ohio Governor John Kasich's victory in his home state left him as the last establishment Republican candidate standing after Rubio, a U.S. senator, pulled out of the race. Rubio lost in a Trump landside in Rubio's home state of Florida. U.S. Senator Ted Cruz of Texas, who has sought to fashion himself the lead anti-Trump alternative, was outclassed by Trump everywhere on Tuesday except Missouri, where he narrowly trailed Trump. Early on Wednesday, MSNBC projected Trump and Clinton would win Missouri in very tight races. With 100 percent of the votes counted, Clinton led Sanders by about 1,500 votes and Trump led Cruz by about 1,600 votes.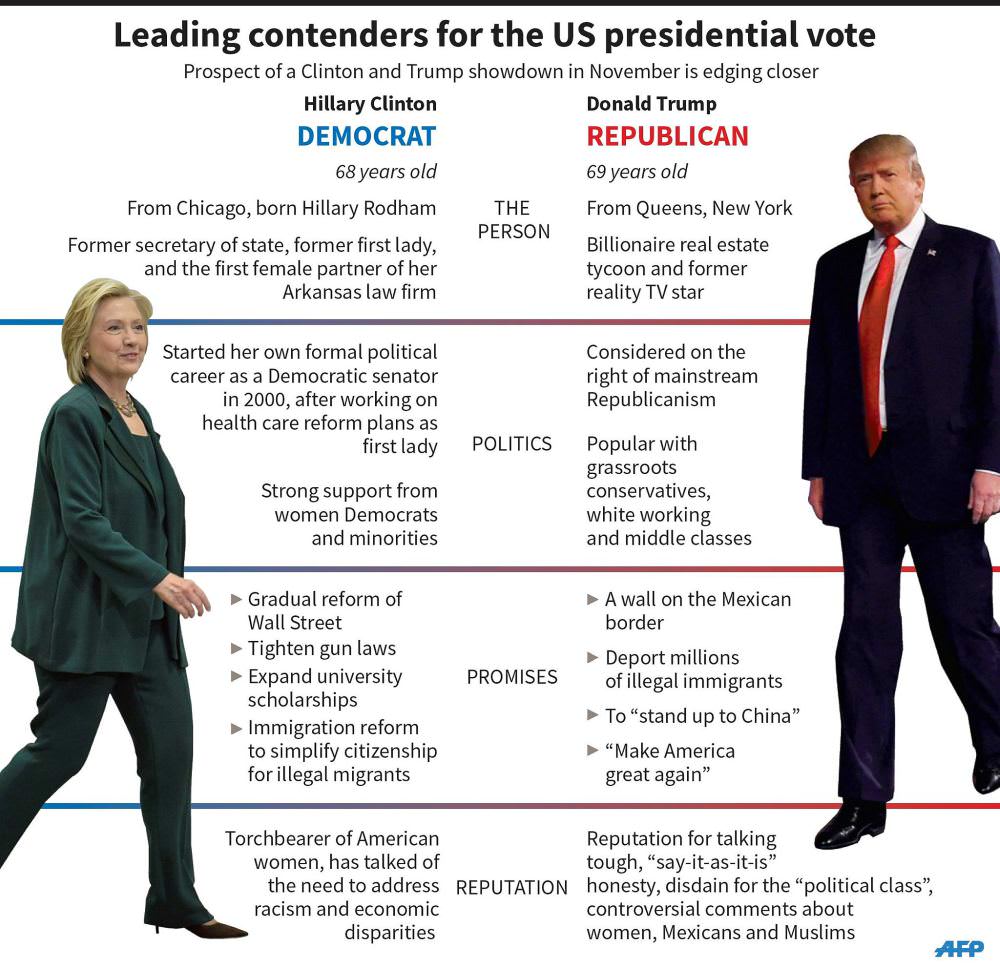 Trump, speaking at his Mar-a-Lago beachfront resort on Florida's Atlantic Ocean coast, called on Republicans to unite behind him and made a point of mentioning that he had spoken to the two top elected Republicans in the United States, House of Representatives Speaker Paul Ryan and Senate Majority Leader Mitch McConnell. "The fact is we have to bring our party together," Trump, more restrained than usual, said at an event that was billed as a news conference but where he took no questions. "We have something happening that actually makes the Republican Party the biggest political story anywhere in the world," he said, referring to what he says are the millions of new voters he has attracted to the Republican Party.

After Tuesday's victories, Trump needs to win about 54 percent of the roughly 1,100 delegates still up for grabs. It's not an insurmountable challenge, especially when factoring in winner-take-all states, like Arizona's 58 delegates and New Jersey's 51 delegates. Next up for Republicans is a debate in Salt Lake City on Monday, although Trump suggested last week that he might not participate. On Tuesday, both parties will have primaries in Arizona and Utah, and Democrats will vote in Idaho.

The wins for former Secretary of State Clinton, 68, added to her lead in pledged delegates over Senator Sanders, 74, of Vermont, and gave her an almost insurmountable edge, burying the memory of her stunning loss in Michigan last week. "With more than half the delegates yet to be chosen and a calendar that favors us in the weeks and months to come, we remain confident that our campaign is on a path to win the nomination," Sanders said in a statement issued in the early hours on Wednesday. As she had after other primary wins, Clinton was thinking on Tuesday about a possible match-up in the Nov. 8 presidential election with Trump. "We can't lose what made America great in the first place, and this isn't just about Donald Trump," Clinton told supporters in West Palm Beach, Florida. "We can't just talk about economic inequality, we have to take on all forms of inequality and discrimination."

In the Democratic race, Clinton's victories in Florida and North Carolina were expected, but Sanders, a Vermont senator and self-described democratic socialist, had hoped to take the industrial states of Ohio and Illinois, both of which Clinton won. He criticized the former secretary of state for her past support for trade deals. Sanders is unlikely to overtake Clinton in the delegate count, but his victory last week in Michigan underscored the unease that many Democratic voters have about her candidacy.

With her wins Tuesday, Clinton put herself in a commanding position to become the first woman in U.S. history to win a major party nomination.

Kasich's win in Ohio, his first in the nominating fight, makes him the candidate of choice for party leaders worried Trump's rowdy campaign will lead Republicans to defeat not only in the presidential race, but also in state and U.S. congressional races. Kasich, who has tried to emphasize the positive in a Republican race dominated by the pugnacious Trump, said his campaign was "about holding us together, not pulling us apart." "I will not take the low road to the highest office in the land," Kasich told supporters in Berea, Ohio. "We are going to go all the way to Cleveland and secure the Republican nomination."