On the site of a long-idle dairy farm, leaders of a local mosque hope to build a final resting place for about 500 Muslim families in central Massachusetts.
In arguments cemetery developers and activists decry as thinly veiled bigotry, neighbors say they fear burial practices could contaminate groundwater because Muslims traditionally do not embalm bodies and bury their dead without coffins. They also cite concerns about noise, vandalism and increased traffic on the narrow road where the cemetery would be built. One resident said he worried he would have to put up with "crazy music" like the Islamic call to prayer.
Similar sentiments have been expressed by people in communities around the country where Muslim cemeteries have been proposed, including Farmervsille, Texas; Walpole, Massachusetts; Carlisle, Pennsylvania; and Farmington, Minnesota.
In some cases, opponents have succeeded in defeating the new cemetery projects, while in others, Muslim groups have appealed and judges have cleared the way.
In Farmersville, near Dallas, some residents were openly hostile during meetings on a proposal to build a Muslim cemetery on a 35-acre site just outside the city. Farmersville is not far from Garland, where police fatally shot two Daesh followers last year after they opened fire outside a cartoon contest lampooning the Prophet Muhammad.
"People don't trust Muslims. Their goal is to populate the United States and take it over," Barbara Ashcraft said during a meeting in August.
"You're not welcome here!" another man yelled, according to news accounts.
City leaders were so bombarded with complaints that they published an informational guide on the city's website, assuring residents that there is "no training facility planned for this site ... no terrorist activity associated with this site ... no plans for a mosque at this site."
Diane Piwko, a Farmersville resident and business owner, said she worries the cemetery — proposed for prime property overlooking a lake — won't be maintained and will become an eyesore at the entrance to the city.
"I am not basing any of my decision on why I'm against the cemetery on religion," she said. "I base it on bad business practices."
Muslim leaders have been taken aback by the level of resistance.
"We were absolutely flabbergasted, to be honest, to see that kind of opposition," said Ismail Fenni, a representative of Al-Marhama Islamic Burial, which wants to build a cemetery in Walpole, south of Boston.
"All we're trying to establish is a place for a final resting place for the loved ones of the Muslim community members," he said. "No other activity is going to be happening in a cemetery except what is customary for a cemetery."
There are relatively few dedicated Muslim cemeteries around the country, so many Muslim communities use sections of other cemeteries to bury their dead.
In Dudley, the proposal from the Islamic Society of Greater Worcester has been met with angry comments at local meetings.
"You want a Muslim cemetery? Fine. Put it in your backyard, not mine," Daniel Grazulis said during a zoning meeting in February, drawing a round of applause.
Jason Talerman, a lawyer for the Islamic Society, said he believes the opposition is rooted in Islamophobia.
"They like to say it under the guise of, 'Oh, we're just trying to protect our water supply,' but it's thinly veiled," he said.
Desiree Moninski, who lives across the street from the site, once farmed by her grandparents, said she and other opponents have legitimate concerns that have nothing to do with Islam.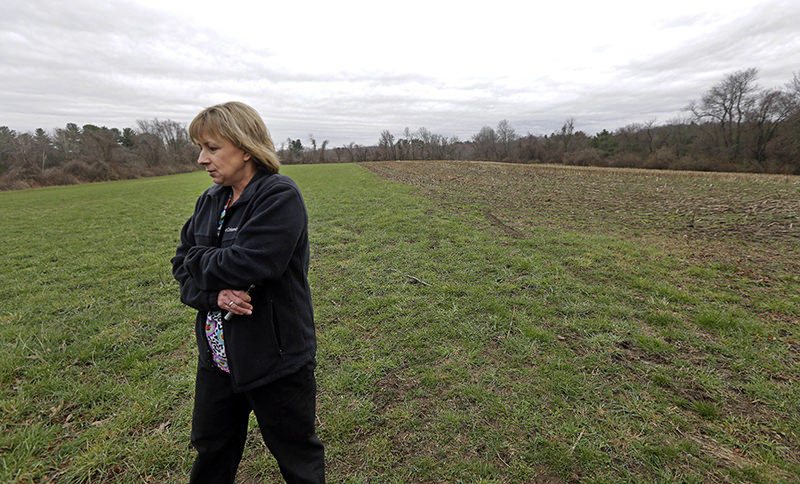 "I grew up here. It's farmland, and I'd like to see it stay that way," she said.
In January, a Minnesota judge overturned a local board's denial of a permit for a cemetery near Farmington. In his written ruling, Judge David Knutson called the denial "arbitrary and capricious." The judge said the proposal was rejected despite a "lack of any justification based on the health, safety and general welfare of the local residents."
In West Pennsboro Township, Pennsylvania, a local board rejected a plan for a cemetery proposed last year by the Bosniak Islamic Cultural Center of Carlisle. A judge quickly overturned that ruling.
Douglas Cwienk, a hydrogeologist who testified for the Muslim group proposing the Pennsylvania cemetery, said that Muslim burial practices are unlikely to contaminate wells or groundwater, and that not embalming is better for local groundwater in most cases. (Jewish tradition also prohibits embalming.)
In Dudley, Muslim leaders have agreed to bury bodies in coffins or concrete vaults to appease residents on contamination concerns. Muslim families in the area currently bury their dead in a cemetery in Enfield, Connecticut — about 60 miles away.
Amjad Bhatti, president of the Islamic Society, said some of the comments have hurt because he considers the U.S. his home after moving from Pakistan 20 years ago and raising his family here.
"They belong to this land now," he said. "This is our country."