The magazine 'Turk of America' has published the most influential Turks under 40 in the USA in their latest special edition.
The magazine, which was established in 2002 by two young Turkish entrepreneurs, ranked the most influential Turks from every area, ranging from Silicon Valley to the New York financial world, sport, and the arts and film industry, as the top '40 under 40'.
Hafize Gaye Erkan, Senior Vice President, Chief Investment Officer and Co-chief Risk Officer of the First Republic Bank, was ranked in first place. She joined the bank in 2014 and has overseen its banking activities in the Boston and Portland regions.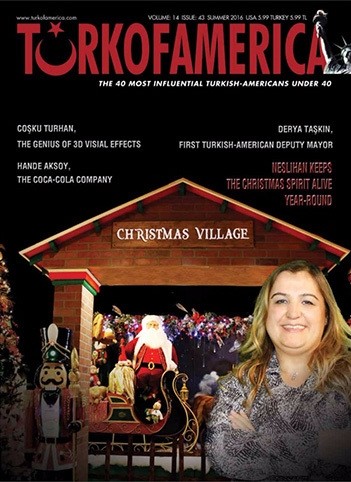 Among the other noted individuals were award winning visual effects supervisor Olçun Tan, who has worked on 66 different Hollywood movies including 'Revenant' (2015) and also contributed to the popular TV-show 'Game of Thrones' and other productions such as 'Shark Tale', 'Kung Fu Panda' and 'Black Hawk Down'.
Producer and editor Ahmet Atalay also made the list, known for his trailers for films such as 'Pirates of the Caribbean', 'Iron Man', 'Transformers', and gaming series 'Assassins Creed' and 'Black Ops'.
The title page of the special edition carries a picture of the owner of the largest all year long Christmas gift stores 'It's Always Christmas', Neslihan Hıdırlıgil.
Another article in the magazine mentions the 30 most influential Turkish-American Women, which includes 13 professional executives, nine academics, seven entrepreneurs and a talk show host.