Canadian Prime Minister Justin Trudeau said on Tuesday he has been questioned by the country's ethics watchdog in an unprecedented probe into a Bahamian holiday he took with the Aga Khan.
The investigation into the vacation over the New Year's holiday could hurt Trudeau, who came to power in 2015 promising accountability and transparency in government.
Trudeau, more popular than any recent prime minister, has taken a hit with the electorate amid allegations he broke official rules by taking a private helicopter ride to Bell Island, a Bahamas resort owned by the Aga Khan.
Trudeau's spokeswoman Andree-Lyne Halle told dpa the prime minister is willing to cooperate in the investigation.
Ministers must clear travel on private planes ahead of time with Mary Dawson, the federal conflict of interest and ethics commissioner. Trudeau admits he did not do so and Dawson is now determining whether the trip contravened the Conflict of Interest Act.
"It was a private vacation with a personal friend," Trudeau told a televised news conference in Fredericton, New Brunswick. "I am answering questions that the ethics commissioner has for us on that."
Trudeau did not elaborate on the discussion with Dawson. If the ethics commissioner rules against him, Trudeau could face a small fine or a written slap on the wrists.
The story has dominated headlines in Canada ever since the National Post newspaper reported last week that Trudeau, his wife Sophie Gregoire Trudeau, and the couple's three children spent their holidays on the exclusive island accompanied by two other politicians and their spouses.
Trudeau has said he has known the Aga Khan, Prince Shah Karim Al Husseini, since childhood. The Aga Khan, the title held by the leader of the Ismaili branch of Shi'ite Islam, was a pallbearer at the funeral of Justin's father, former Prime Minister Pierre Elliott Trudeau.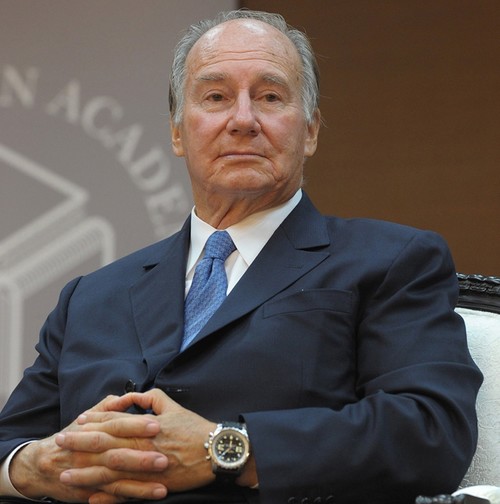 (Reuters Photo)
Ethics rules introduced by Trudeau in 2015 prohibit the use of private flights by government ministers without getting prior approval from the conflict of interest and ethics commissioner.
Trudeau is currently on a cross-country tour, an apparent bid to reconnect with voters amid negative headlines about the vacation as well as his Liberal Party's fund raising activities.
Trudeau though is in no immediate danger since the next election is not until October 2019 and both main opposition parties lack permanent leaders.
A poll released on Tuesday by Nanos Research showed that Trudeau has fallen to a 12-month low when it came to whom voters preferred as prime minister. Even so, he gathered 46.7 percent support, well ahead of his closest rival, interim Conservative leader Rona Ambrose, who had 18.8 percent.
The last Liberal government, ousted in 2006, was tarnished by a sponsorship scandal involving corruption and misdirection of funds to supporters in Quebec.