US President Donald Trump is well known for his explosive Twitter outbursts - and now a comic has opened a satirical exhibition to showcase them.
Trevor Noah, presenter of the late night "Daily Show" opened "The Donald J Trump Presidential Twitter Library" in New York on Friday, just around the corner from Trump Tower.
Long queues formed immediately, as people rushed to "explore the history, science and art of Donald Trump's tweets - from his earliest attempts to put stubby fingers to phone, to his emergence as our era's pre-eminent social media revolutionary," as a press release put it.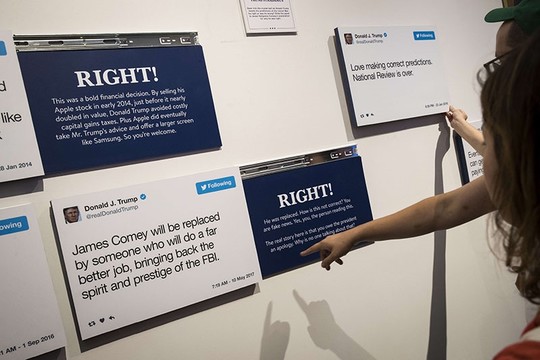 "The library will feature visual installations and a fully interactive experience for hands of all sizes, giving patrons the once-in-a-lifetime opportunity to memorialize and celebrate the many 'unpresidented' moments of President Trump's Twitter history," it continued.
Trump's best tweets have been put in gold frames and arranged according to topic. Visitors can also sit on a gold toilet in an imitation Oval Office and send their own tweets. The exhibition closes on Sunday.