The Category 4 Hurricane Irma has reached the southern U.S. state of Florida Sunday after ravaging the Caribbean islands since Friday and leaving at least 25 dead.
Authorities are urging people who chose to ride out Hurricane Irma in the Florida Keys to remain indoors until the storm passes.
The storm's eyewall reached the chain of islands Sunday morning. The National Weather Service reported wind gusts of 90 mph (145 kph) near its Key West office.
In a Facebook post early Sunday, Key West Police urged people who stayed for the hurricane to remain where they took shelter until the storm had passed completely. They also urged people not to go outside when the eye of the storm is over there area, a time period when conditions can seem deceptively calm.
John Huston, who is riding out the storm from his home in Key Largo in the upper Keys, says the wind gusts are strong in his area.
"Water level is higher today," he said via text message Sunday morning. "Incredible wind that won't stop."
Hundreds of thousands of people are without power in Florida as Hurricane Irma's winds and rain lash the state.
Irma's center was over water off Key West early Sunday, but places including Miami were being hit with strong winds and rain.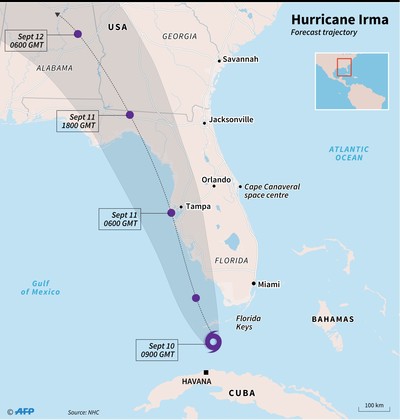 Florida Power & Light Company said that about 430,000 customers were without power Sunday morning. Miami-Dade County had the most outages with about 250,000. Broward County had 130,000 outages. Palm Beach County had more than 40,000 outages.
The utility said that it has mobilized crews and is working to restore power as it can.
The National Weather Service in Miami has issued tornado warnings for a wide swath of Monroe, Miami-Dade and Broward counties in South Florida.
Officials say the band of rain and tornado producing cells is moving quickly.
There have been no reports of tornadoes touching down.
In Key West, Carol Walterson Stroud and her family are huddled in a third floor apartment at a senior center.
Stroud said early Sunday that the wind was blowing hard, but her family was OK. In a text message to a reporter, she said: "We are good so far."
As of 6 a.m. EDT, forecasters say the Category 4 storm is centered about 30 miles (50 kilometers) south of the island.
The 60-year-old is with her husband and granddaughter and their dog. Stroud says she plans to step outside once the "eye" of the hurricane passes over later Sunday.
Meanwhile, to the north, access to all of Pinellas County's barrier islands, including the popular spring break destination of Clearwater Beach, has been shut off.