The residents of tiny Dominica have "lost all what money can buy and replace" after Hurricane Maria pounded the Caribbean island early Tuesday, Prime Minister Roosevelt Skerrit said.
"I am honestly not preoccupied with physical damage at this time, because it is devastating ... indeed, mind boggling. The winds have swept away the roofs of almost every person I have spoken to or otherwise made contact with," Skerrit said in a Facebook post.
He appealed for "help of all kinds" but noted specifically that helicopters will be needed so that authorities can survey the damage.
The storm was on track to move over the northeastern Caribbean Sea and, by Tuesday night or early on Wednesday, approach the Virgin Islands and Puerto Rico, where millions are still reeling from Hurricane Irma earlier this month.
If Maria retains its strength, it would be the most powerful hurricane to hit Puerto Rico in 85 years, since a Category 4 storm swept the U.S. island territory in 1932, Hurricane Center spokesman Dennis Feltgen said. The last major hurricane to strike Puerto Rico directly was Georges, which made landfall there as a Category 3 storm in 1998, he said.
The governor of Puerto Rico, Ricardo Rossello, urged island residents on Twitter to brace for the storm's arrival, saying, "It is time to seek refuge with a family member, friend or head to a state shelter."
Puerto Rico narrowly avoided a direct hit two weeks ago from Hurricane Irma, which reached a rare Category 5 status and ranked as the most powerful Atlantic storm on record before devastating several smaller islands, including the U.S. Virgin Islands of St. Thomas and St. John.
Hurricane Maria grew into a Category 4 storm on Monday as it barreled toward a potentially devastating collision with islands in the eastern Caribbean. Forecasters warned it was likely to grow even stronger.
The National Hurricane Center in Miami said Monday the storm is growing in strength as it approaches land. The eye of the storm is expected to pass near the island of Dominica on Monday evening.
The center called the storm "extremely dangerous," with maximum sustained winds of 130 mph (215 kph).
At 5 p.m. EDT, the storm was centered about 45 miles (70 kilometers) east-southeast of Dominica.
A Hurricane warning was issued for Puerto Rico, Culebra, and Vieques.
Puerto Rico on Monday imposed rationing of basic supplies including water, milk, baby formula, canned foods, batteries, flashlights and other items.
Hurricane warnings were posted for the U.S. and British Virgin Islands, Guadeloupe, Dominica, St. Kitts, Nevis, Montserrat, Martinique and St. Lucia. A tropical storm warning was issued for Antigua and Barbuda, Saba, St. Eustatius, St. Maarten and Anguilla.
Forecasters said hurricane conditions should begin to affect parts of the Leeward Islands by Monday afternoon or evening, with storm surge raising water levels by 4 to 6 feet (1.2 to 1.8 meters) near the storm's center. The storm was predicted to bring 6 to 12 inches (15 to 30 centimeters) of rain across the islands, with more in isolated areas.
Officials in Dominica closed schools and government offices on Monday and urged people to evacuate and seek shelters.
"We should not take this storm lightly," said Prime Minister Roosevelt Skerrit. "Let us continue to pray for our safety."
Officials in Guadeloupe said the French Caribbean island of would experience extremely heavy flooding starting Monday afternoon, and they warned that many communities would be submerged overnight.
In nearby Martinique, authorities ordered people to remain indoors and said they should be prepared for power cuts and disruption in the water supply. All schools and non-essential public services were closed.
On Wednesday, Maria was expected to be near or over Puerto Rico, which was spared the full brunt of Irma, although much of the island had its power knocked out. Nearly 70,000 people remain without power, and Gov. Ricardo Rossello on Monday warned of another widespread outage.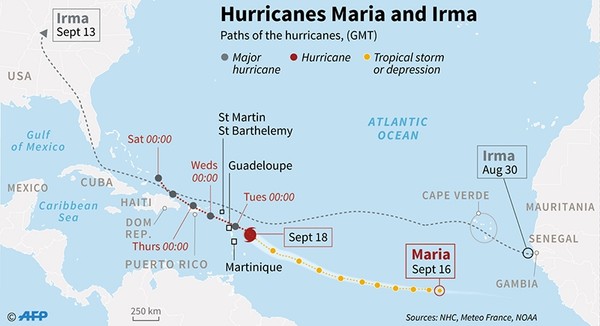 "We have an extremely weak infrastructure that has already been hit by one storm," he said. "This is going to be a catastrophic event."
Forecasters said the storm would dump up to 18 inches (46 centimeters) of rain across Puerto Rico and whip the U.S. territory with heavy winds for 12 to 24 hours.
Officials said the Federal Emergency Management Agency was ready to bring drinking water and help restore power in Puerto Rico immediately after the storm.
Rossello said officials had prepared about 450 shelters with a capacity for nearly 68,000 people — or even 125,000 in an emergency. There are still nearly 200 people in shelters from Hurricane Irma. Schools were cancelled for Monday and government employees would work only a half day.
Officials in the Dominican Republic urged people to leave areas prone to flooding and said fishermen should remain in port.
Farther north, long-lived Hurricane Jose continued to head northward off the U.S. East Coast, causing dangerous surf and rip currents. It wasn't expected to make landfall but tropical storm watches were posted along the coast from Delaware to Massachusetts' Cape Cod.
Jose was centered about 265 miles (430 kilometers) east-southeast of Cape Hatteras, North Carolina, and was moving north at 9 mph (15 kph). It had maximum sustained winds of 75 mph (120 kph).
The ocean washed over parts of North Carolina's Outer Banks as Hurricane Jose passed well to the east, and five people were knocked off a coastal jetty in Rhode Island by high surf caused by the storm. Officials said rescuers had to fight through rough surf to load the injured onto stretchers and get them to shore. All five were taken to a hospital with minor and major injuries.
In the Pacific, Tropical Storm Norma's threat to Mexico's Los Cabos resort area at the southern end of the Baja California Peninsula seemed to ease as forecasters said the storm's center was likely to remain offshore.
Norma had winds of about 50 mph (85 kph) and it was centered about 175 miles (280 kilometers) southwest of Cabo San Lucas. The Baja California Sur state government prepared storm shelters and canceled classes for Monday.
Meanwhile, Tropical Storm Lee weakened into a tropical depression far out in the Atlantic while Hurricane Otis weakened far out in the Pacific. Neither threatened land.