Police, firefighters and ordinary Mexicans dug frantically through the rubble of collapsed schools, homes and apartment buildings early Wednesday, looking for survivors of Mexico's deadliest earthquake in decades as the number of confirmed fatalities climbed to 216.
One of the most desperate rescue efforts was at a primary and secondary school in southern Mexico City, where a wing of the three-story building collapsed into a massive pancake of concrete slabs. Journalists saw rescuers pull at least two small bodies from the rubble, covered in sheets.
A mix of neighborhood volunteers, police and firefighters used trained dogs and their bare hands to search through the school's rubble. The crowd of anxious parents outside the gates shared reports that two families had received Whatsapp messages from girls trapped inside, but that could not be confirmed. The rescue effort was punctuated by cries of "Quiet!" so searchers could listen for any faint calls for help.
"They have heard voices in there," said President Enrique Pena Nieto, who visited the site Tuesday night.
Rescuers brought in wooden beams to shore up the fallen concrete slabs so they wouldn't collapse further and crush whatever airspaces remained.
The federal Education Department reported late Tuesday that 25 bodies had been recovered from the school's wreckage, all but four of them children. It was not clear whether those deaths were included in the overall death toll of 216 reported by the federal civil defense agency. Pena Nieto had earlier reported 22 bodies found and said 30 children and eight adults were reported missing.
Video captures moment 7.1-magnitude earthquake struck Mexico, causing buildings to sway violently https://t.co/QvmlEQraqB pic.twitter.com/OdzseBhwJa

— DAILY SABAH (@DailySabah) September 19, 2017
Mexican President Enrique Pena Nieto said at least 27 buildings had collapsed in the capital, Mexico City.
Rescue workers rushed to the site of damaged or collapsed buildings in the capital, and reporters saw onlookers cheer as a woman was pulled from the rubble.
Rescuers immediately called for silence so that they could listen for others who might be trapped.
Gala Dluzhynska said she was taking a class with 11 other women on the second floor of a building on the trendy Alvaro Obregon street when the quake struck and window and ceiling panels fell as the building began to tear apart.
She said she fell in the stairs and people began to walk over her, before someone finally pulled her up.
"There were no stairs anymore. There were rocks," she said.
They reached the bottom only to find it barred. A security guard finally came and unlocked it.
Powerful quake causes massive fire as blaze engulfs building in Mexico https://t.co/QvmlEQraqB pic.twitter.com/0Pnb1K8cw8

— DAILY SABAH (@DailySabah) September 19, 2017
The quake hit only hours after many people participated in earthquake drills around the nation on the anniversary of the devastating quake that killed thousands in Mexico City in 1985.
The 7.1 quake hit 5 miles (8 km) southeast of Atencingo in the central state of Puebla at a depth of 32 miles (51 km), the U.S. Geological Survey said.
Luis Felipe Puente, the head of Mexico's civil protection agency, said on his Twitter account that there were no immediate reports of damages.
A powerful 8.1 quake hit Mexico earlier this month, killing at least 98 people.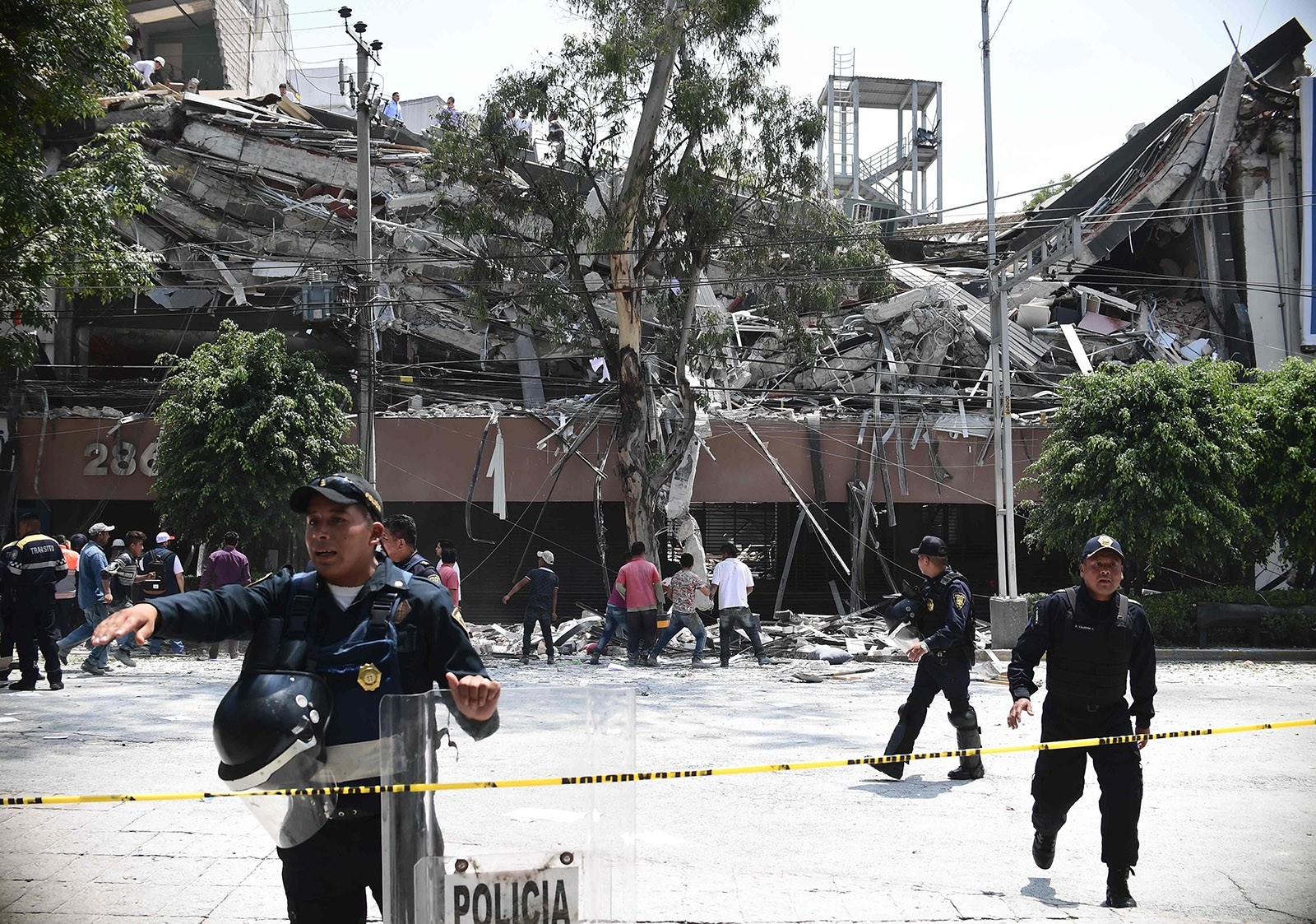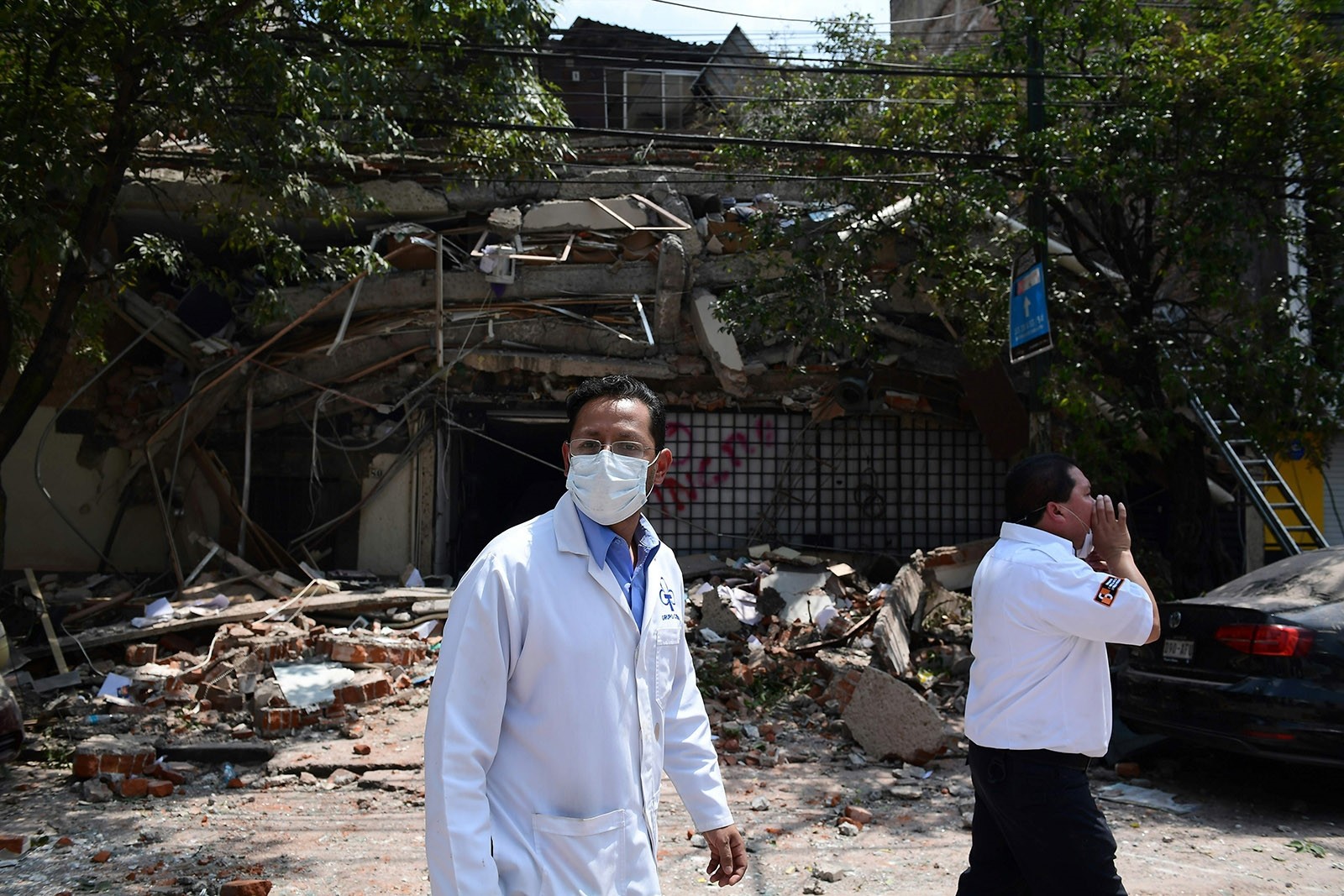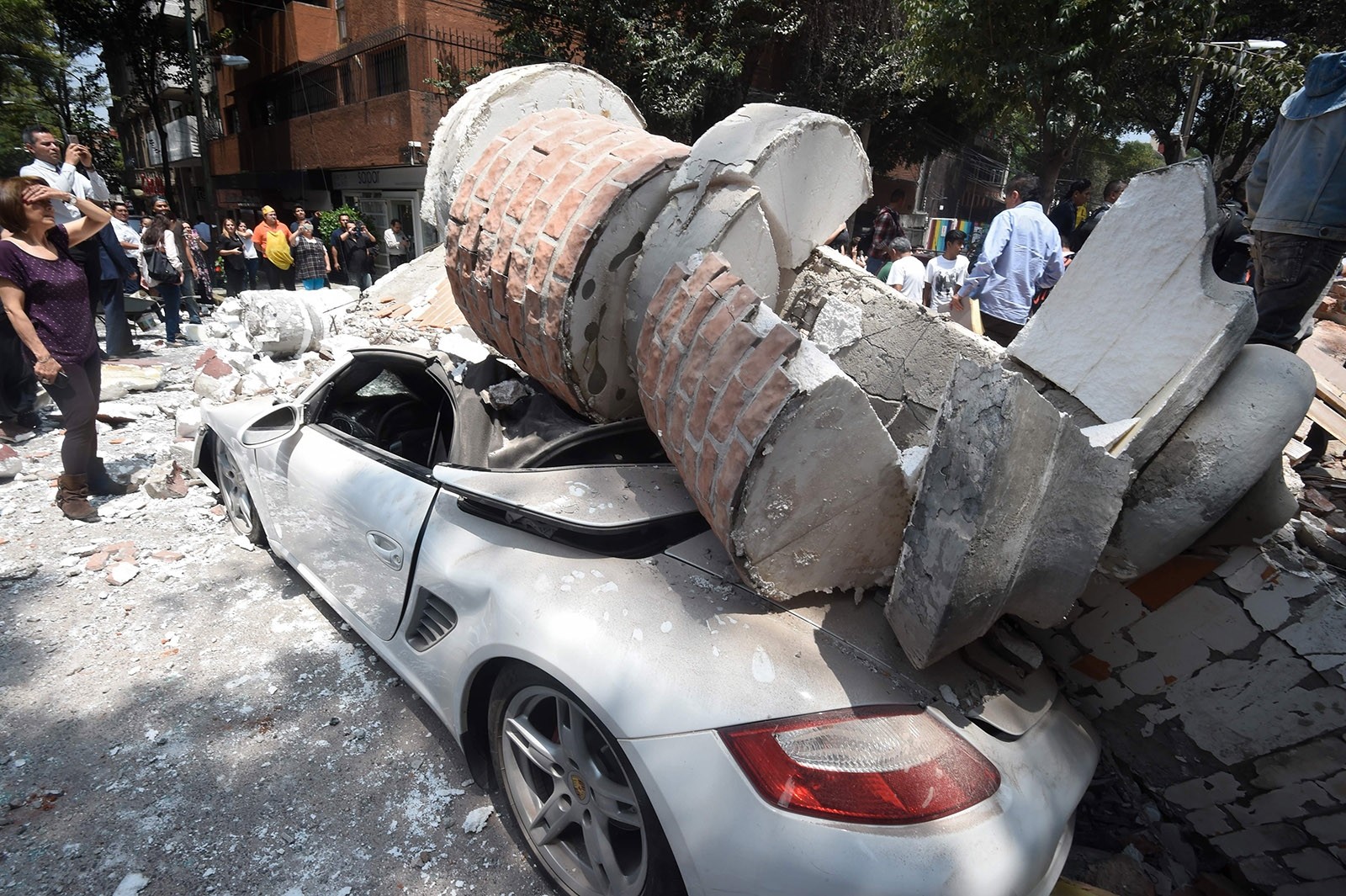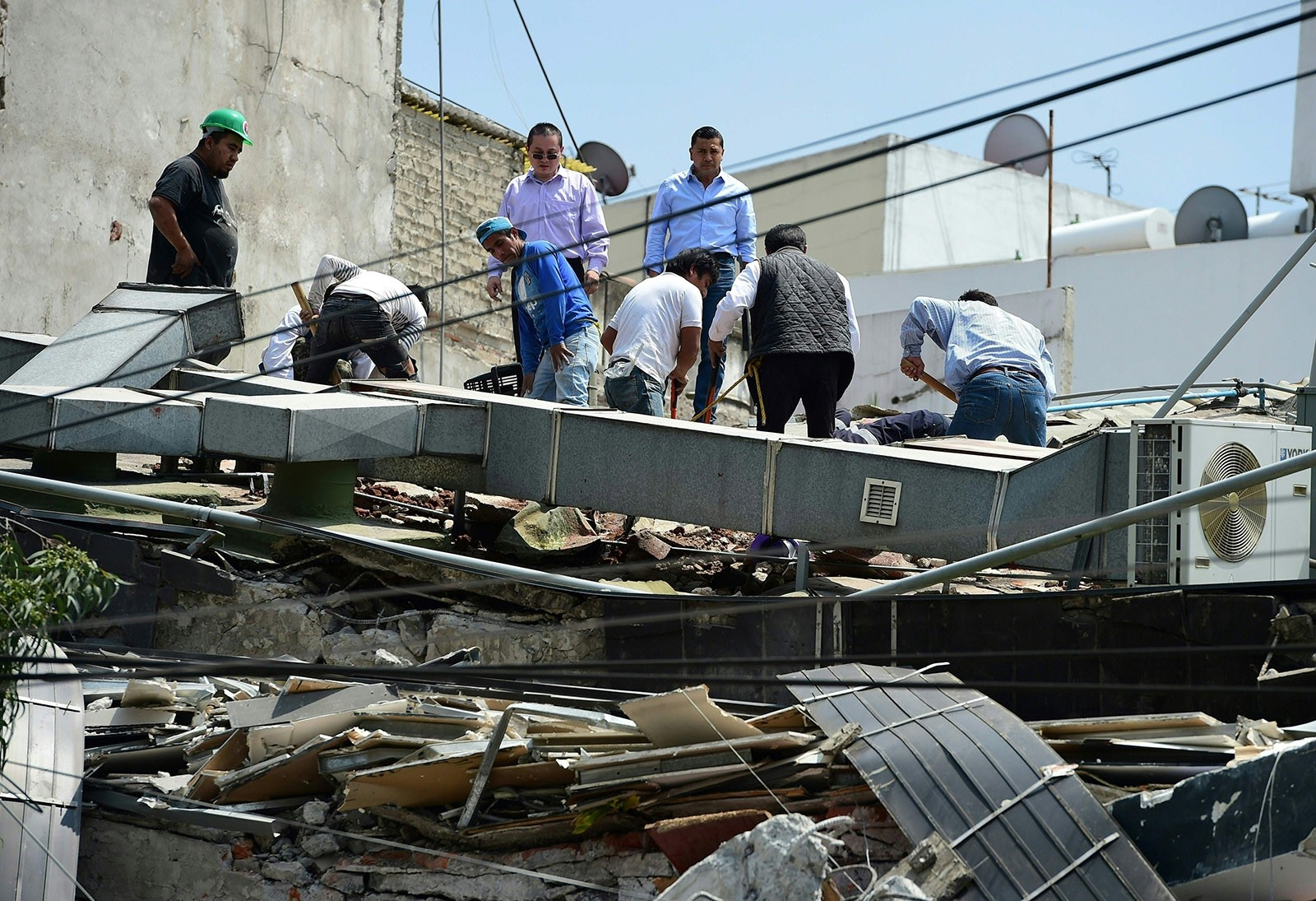 The extent of damage or injuries was not immediately clear, but people fled office buildings along the central Reforma Avenue.
Pictures fell from office building walls, objects were shaken off of flat surfaces and computer monitors toppled over. Some people dove for cover under desks. Local media broadcast video of whitecap waves churning the city's normally placid canals of Xochimilco as boats bobbed up and down.
Smoke billows from buildings, houses collapse and deep cracks appear in roads after Mexico hit by major earthquakehttps://t.co/QvmlEQraqB pic.twitter.com/ysT5P2l0R2

— DAILY SABAH (@DailySabah) September 19, 2017
Mexico City's international airport suspended operations and was checking facilities for any damage.
Much of Mexico City is built on former lakebed, and the soil can amplify the effects of earthquakes centered hundreds of miles away.
The new quake appears to be unrelated to the magnitude 8.1 temblor that hit Sept. 7 off Mexico's southern coast and which also was felt strongly in the capital.
U.S. Geological Survey seismologist Paul Earle noted that the epicenters of the two quakes are 400 miles (650 kilometers) apart and most aftershocks are within 100 kilometers.
There have been 19 earthquakes of magnitude 6.5 or larger within 250 kilometers of Tuesday's quake in the past century, Earle said.
Earth usually has about 15 to 20 earthquakes this size or larger each year, Earle said.
Initial calculations show that more than 30 million people would have felt moderate shaking from Tuesday's quake. The U.S. Geological Survey predicts "significant casualty and damage are likely and the disaster is potentially widespread."