U.S. President Donald Trump greeted Japanese Emperor Akihito and Empress Michiko on Monday with a genteel handshake and nod, but no bow, avoiding the pitfall of U.S. President Barack Obama who was criticized at home for his deep bow to the monarch.
Trump, wearing a suit and tie and his wife, Melania, in a long, dark blue dress, were met at the palace entrance by the royal couple, who were both wearing suits.
Trump smiled, shook hands and gave a definite nod at the 83-year-old emperor before greeting Michiko as well. The four entered the palace where they chatted through interpreters in footage aired live on television, but without sound as is customary.
After the meeting, Trump shook hands again, and tapped the emperor's arm repeatedly with his left hand. "Thank you for the great meeting", he told Akihito. "I'm sure we will meet again".
He seemed happier with the protocol on the golf course though, with pictures emerging of him fist-bumping his "good friend" Abe.
Obama came under fire after meeting the emperor in Tokyo in 2009 for what his critics back home said was bowing too low -almost 90-degrees- to Akihito. Some U.S. commentators said the U.S. president should not lower his head before foreign monarchs.
Akihito has spent much of his reign working to heal the wounds of World War II, which was waged across Asia in his father's name, Emperor Hirohito.
Obama also faced criticism from a different quarter - etiquette experts - who noted he combined a bow with an handshake, which is not done in Japan traditionally, whether meeting the emperor or anyone else.
Japanese guests are not supposed to touch the royal couple or shake hands, but foreign guests often do.
Hillary Clinton shook hands and air-kissed the empress on both cheeks, then took her hand as they entered the palace when she met the royal pair as secretary of state in 2011, a month or so after the triple disasters of an earthquake, tsunami and nuclear meltdown hit northeastern Japan in March of that year.
Traditionalists say that Japan's Chrysanthemum throne dates back more than 2,000 years. Akihito was the first royal heir in the Japanese imperial family to marry a commoner -- a symbol of Japan's new modernity and confidence.
Japan earlier this year enacted a law clearing the way for Akihito, to step down, clearing the way for the first abdication by a Japanese monarch in nearly two centuries and the accession of his son, Crown Prince Naruhito in late 2018 early 2019.
Akihito's father, Emperor Hirohito, was considered divine until after Japan's defeat in World War Two. The current emperor is defined by the constitution as a symbol of the people, and has no political authority although he is widely respected.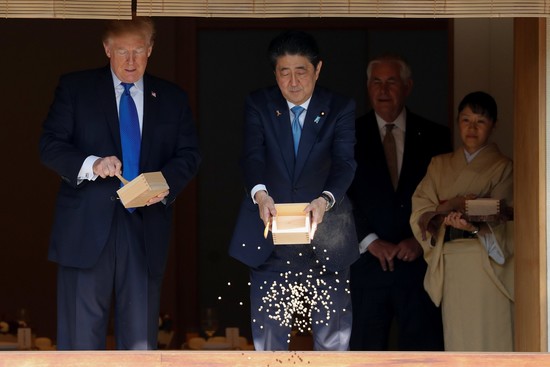 Trump empties his box of koi food while he and Japan's Prime Minister Shinzo Abe feed the pet fish at Akasaka Palace in Tokyo, November 6, 2017. (REUTERS Photo)
Koi-mander in chief
President Donald Trump's visit to Japan briefly took a turn from formal to fishy.
Amid the protocol and pageantry Monday, Trump and Japan's Prime Minister Shinzo Abe paused for a lighter moment — to feed Asian carp fish in a koi pond. Trump concluded the activity by theatrically holding out his wooden box of feed and dumping it into the water packed with bright yellow and orange fish.
On the scene the move drew smiles and chuckles, including from Secretary of State Rex Tillerson. Then as photos circulated, Trump's critics quickly seized on it as an example of his impatient style. But a closer look at the video of the moment shows that both leaders started gently spooning feed into the pond and then Abe lightly tossed the rest of his box in. After that, Trump more dramatically tipped his over.
Finished with the fish, both men smiled and waved.