A powerful flare-up on the western edge of Southern California's largest and most destructive wildfire sent residents fleeing Sunday, as wind-fanned flames churned through old-growth brush in canyons and along hillsides toward coastal towns.
The largest Thomas fire has scorched 930 square kilometers, an area larger than New York City, making it the fifth biggest blaze in modern history.
Firefighters had reported 15 percent containment Sunday, but were forced to downgrade the measure to 10 percent as the fire continued to spread.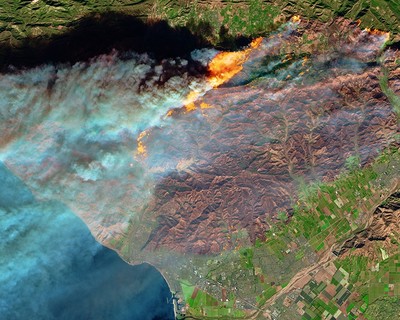 About 200,000 people have been forced to evacuate, with nearly 850 homes and other structures – some multimillion dollar mansions – razed. One death, so far, a 70-year-old woman who crashed her car on an evacuation route, is attributed to the fire in Santa Paula, a small city where the fire began.
Crews with help from a fleet water-dropping planes and helicopters saved homes as unpredictable gusts sent the blaze deeper into residential foothill areas northwest of Los Angeles that haven't burned in decades. New evacuations were ordered as the fire sent up an enormous plume near Montecito and Carpinteria, seaside areas in Santa Barbara County that had been under fire threat for days and were now choked with smoke.
Officials handed out masks to residents who stayed behind in Montecito, the wealthy hillside enclave that's home to celebrities such as Oprah Winfrey, Jeff Bridges and Rob Lowe.
"Praying for my town. Fires closing in. Firefighters making brave stands. Could go either way. Packing to evacuate now," the actor Rob Lowe, who lives in Santa Barbara, wrote on Twitter.
"Our house is under threat of being burned," Ellen DeGeneres tweeted at midday Sunday. "We just had to evacuate our pets. I'm praying for everyone in our community and thankful to all the incredible firefighters."
A few miles to the west, Santa Barbara Zoo was closed to the public and its 500 animals confined to their night quarters all day. The zoo was just outside the evacuation area, but smoke and ash blew through the 30-acre property.
After a five-day siege, some Californians were finally able to return home to inspect the damage wrought by the wildfires.
Cindy Nava, from the town of Sylmar, was one of those returning home -- or to what once was her home.
"Oh, my God, there's nothing, nothing, nothing," she sobbed, according to the Univision website. "What are we going to do?"
Forecasters said Santa Ana winds that whipped fires across the region last week would continue in some areas at least through Monday.
A lack of rain has officials on edge statewide because of parched conditions and no end in sight to the typical fire season.
U.S. President Donald Trump has issued a state of emergency for California, authorizing the release of federal funds.
"This is the new normal," Governor Jerry Brown warned Saturday after surveying damage from the deadly Ventura fire. "We're about ready to have firefighting at Christmas. This is very odd and unusual."
High fire risk is expected to last into January and the governor and experts said climate change is making it a year-round threat.
Brown has been one of the most vocal critics of Trump's decision to pull the United States out of the Paris accord on global warming and has renewed his attacks on the administration over its attitude toward climate change.
"Nature is not a political game. Nature is the ground on which we stand, it's the air which we breathe."