U.S. law enforcement on Wednesday said they were investigating an apparent shooting near the National Security Agency headquarters in Fort Meade, Maryland, with local media reporting at least one person had been wounded and one taken into custody.
Officials said there was no continuing threat after the morning incident, which left a black sport utility vehicle riddled with what appeared to bullet holes, according to video from the scene.
Security officials did not provide details of the incident and it was unclear whether shots had been fired by a suspect or by law enforcement.
"NSA police and local law enforcement are addressing an incident that took place this morning at one of NSA's secure vehicle entry gates," the agency said on Twitter. "The situation is under control and there is no ongoing security of safety threat."
A Fort Meade spokesman confirmed one person had been injured and transported and that a main highway was closed near the facility, a U.S. Army installation about 30 miles (48 km) northeast of Washington.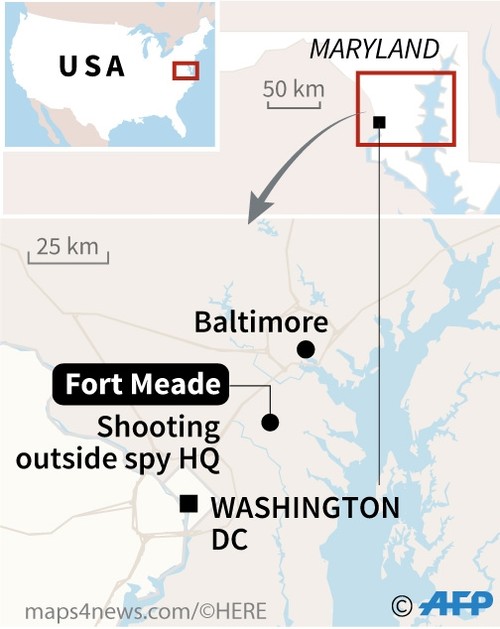 The Federal Bureau of Investigation said it was investigating.
Earlier local media reports said that as many as three people had been wounded.
CBS News broadcast images of a black sport utility vehicle with what appeared to be bullet holes in the front windshield at the gate of Fort Meade, the U.S. Army installation that is the home of the NSA, as well as the U.S. Cyber Command and Defense Information School. The vehicle was at the end of a dead-end lane marked by concrete NSA-stamped barricade blocks on one side and a chain-link fence on the other, near a guard booth and entrance gate, the CBS video showed.
The National Security Agency/Central Security Service is one of the U.S. government's main spy agencies. The secretive agency focuses on using technological tools, including the monitoring of internet traffic, to monitor the government's adversaries.
A White House spokeswoman said President Donald Trump had been briefed on the incident.
In March 2015, two people tried to drive their sports utility vehicle through the NSA's heavily guarded gate. Officers shot at the vehicle when they refused to stop, killing one of the occupants. The people in the vehicle may have taken a wrong turn after partying and taking drugs, according to news reports.