Melania Trump's parents on Thursday received American citizenship under so-called "chain migration" rules her husband, U.S. President Donald Trump, has frequently derided.
The first lady's Slovenian-born parents, Viktor and Amalija Knavs, were sworn in in New York City, their lawyer Michael Wildes said, adding that the couple received no preferential treatment.
Asked by the New York Times if the couple had become citizens through "chain migration," Wildes answered "I suppose."
Wildes said the term was a "dirtier" way of describing "a bedrock of our immigration process when it comes to family reunification," the Times reported.
He did not specify how long it had taken the Knavs to complete the citizenship process, nor whether the 48-year-old First Lady had sponsored their permanent residency.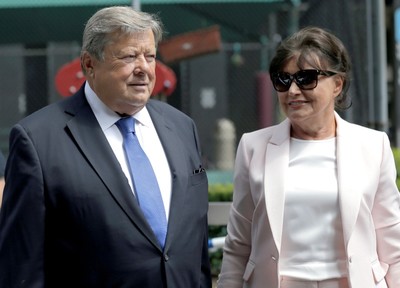 Trump has taken a hardline on immigration policy, criticizing so-called chain migration that allows naturalized US citizens to sponsor close relatives for permanent residency.
The Republican president argues that the system steals jobs from Americans and threatens national security, calling for a merit-based system that preferences more educated, English-speaking professionals.
In November, Trump tweeted that the process "must end now!"
"Some people come in, and they bring their whole family with them, who can be truly evil. NOT ACCEPTABLE!" he wrote.
Melania Trump was born Melania Knavs in what was then the communist country of Yugoslavia and later changed her surname to Knauss.
Viktor Knavs, a car salesman in Slovenia, and Amalija, who worked in a textile factory, are over 70 years old, retired and pass much of the year in the United States, where they regularly spend time with their daughter and grandson Barron.