As white doves flew overhead - each tagged with a name of one of the 58 people killed a year ago on Monday when a sniper opened fire in Las Vegas - loved ones gathered at sunrise to remember victims of the largest mass shooting in modern American history.
Governor Brian Sandoval commended his state for its struggle to heal and recover at the commemoration ceremony held at an outdoor amphitheater.
"From that day of Nevada infamy, we have become #VegasStronger," he tweeted after the ceremony.
Gunman Stephen Paddock, 64, fired over 1,100 rounds from his 32nd floor suite at the Mandalay Bay on 22,000 people at an outdoor festival on Oct. 1, 2017, in the massacre that also injured over 800 people. He then killed himself before police stormed his room.
At the daybreak ceremony one year later, friends and family members bowed their heads for 58 seconds of silence before a choral group sang "You'll Never Walk Alone" and the air filled with the mournful strains of bagpipes.
"On October 1st, our city was jolted into darkness," Mynda Smith, whose sister Neysa Tonks, a 46-year-old mother of three, was among those gunned down in the massacre, told the remembrance ceremony.
"None of us will ever be the same after that night. However, none of us were alone," Smith said, recalling the massive response of citizens donating blood, aiding the injured and feeding families stunned by the violence. "We found love that came from so many that were there to help us."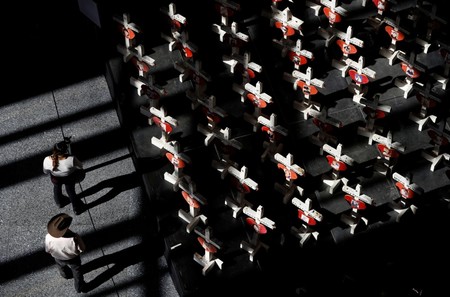 SYMPATHY FROM MGM RESORTS
MGM Resorts International, which owns the Mandalay Bay and drew criticism for counter-suing victims to seek immunity from damage claims, expressed solidarity and sympathy on the first anniversary of the gun violence.
"We share the sorrow of those who mourn and continue to search for meaning in events that lie beyond our understanding," MGM Resorts Chairman and Chief Executive Jim Murren said in a statement.
An investigation into the shooting concluded in August without discovering a motivation for the shooting.
Paddock used "bump stock" devices to accelerate the rate of fire from his semiautomatic rifles, effectively turning them into machine guns, which are legal under U.S. law.
Within days of the shooting, National Rifle Association leaders urged the U.S. government to review the law, drawing criticism from some members who viewed it as a betrayal of the powerful gun lobby's principles.
On Monday, the U.S. Justice Department said it had submitted a proposed ban on bump stocks to the Office of Management and Budget for review.
President Donald Trump, asked about bump stocks at a news conference on Monday, said his administration would try to ensure the devices would be illegal within a matter of weeks.
"We're knocking out bump stocks," Trump said. "Bump stocks are done – I told the NRA."