Despite Mexican efforts to stop them at the border, thousands of Central American migrants swam or rafted across a river separating that country from Guatemala, re-formed their mass caravan in Mexico and vowed to resume their journey toward the United States.
The migrants, who said they gave up trying to enter Mexico legally because the asylum application process was too slow, gathered on Saturday at a park in the border city of Ciudad Hidalgo. They voted by a show of hands to continue north en masse, then marched to the bridge crossing the Suchiate River and urged those still on it to come join them.
Their numbers swelled to about 5,000 overnight and at first light they set out walking toward the Mexican town of Tapachula, 10 abreast in a line stretching approximately a mile (1.5 kilometers).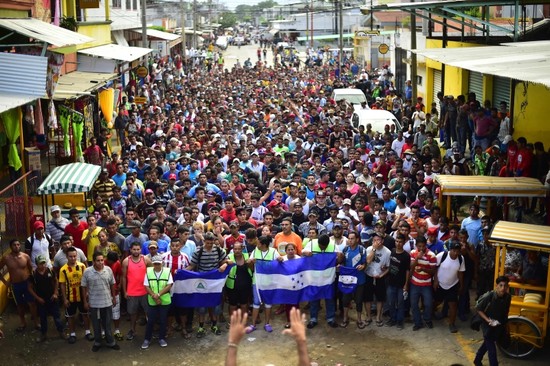 "We are going to reach the United States," said Erasmo Duarte, a migrant from Danli, Honduras, despite warnings to turn back this week from U.S. President Donald Trump, who has sought to make the caravan and border security in general into a campaign issue a little over two weeks before midterm elections.
The decision to re-form the migrant caravan capped a day in which Mexican authorities again refused mass entry to migrants on the bridge, instead accepting small groups for asylum processing and giving out 45-day visitor permits to some of them. Authorities handed out numbers for people to be processed in a strategy seen before at U.S. border posts when dealing with large numbers of migrants.
But many became impatient, and circumventing the border gate, swarmed across the river on rafts, swimming or wading in full view of the hundreds of Mexican police manning the blockade on the bridge. Some paid locals the equivalent of $1.25 to ferry them across the muddy waters. They were not detained on reaching the Mexican bank.
"We couldn't wait because we had already waited too long and they only told us lies," said Duarte, who joined the caravan with his wife and children six days ago.
Sairy Bueso, a 24-year old Honduran mother of two, was another migrant who abandoned the bridge and crossed into Mexico via the river. She clutched her 2-year-old daughter Dayani, who had recently had a heart operation, as she got off a raft.
"The girl suffered greatly because of all the people crowded" on the bridge, Bueso said. "There are risks that we must take for the good of our children."
Group leaders said the caravan, which will be smaller than the original one, would strike out Sunday morning for the city of Tapachula.
Where easily 3,000 people were on the bridge the previous day, the crowd had thinned out considerably by Saturday. In addition to those who crossed the river, immigration agents processed migrants in small groups and then bused them to an open-air, metal-roof fairground in Tapachula, where the Red Cross set up small blue tents on the concrete floor.
Each time a small side gate opened to allow people to pass for processing, there was a crush of bodies as migrants desperately pushed forward.
Scarleth Cruz hoisted a crying, sweat-soaked baby girl above the crowd, crying out: "This girl is suffocating."
Cruz, 20, said she was going to ask for political asylum because of threats and repression she faced back in Honduras from President Juan Orlando Hernandez's governing party.
"Why would I want to go to the United States if I'm going to be persecuted" there as well, she said.
Mexico's Interior Department said in a statement that it had received 640 refugee requests by Hondurans at the border crossing. It released photos of migrants getting off buses at a shelter and receiving food and medical attention.
At least half a dozen migrants fainted.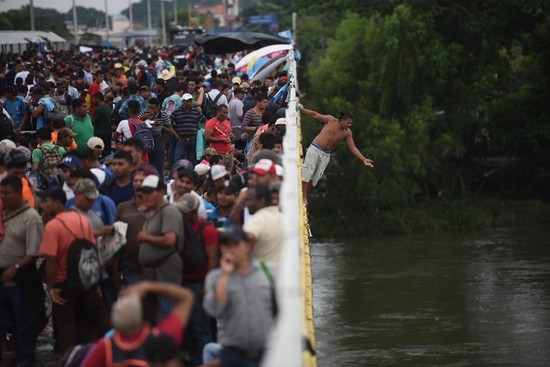 Some tore open a fence on the Guatemala side of the bridge and threw two young children, perhaps age 6 or 7, and their mother into the muddy waters about 40 feet below. They were rafted to safety in on the Mexican bank.
Mexican workers handed food bottled water to the migrants on the bridge. Through the bars, a doctor gave medical attention to a woman who feared her young son was running a fever.
Sustenance also came from Guatemalan locals — for Carlos Martinez, a 24-year-old from Santa Barbara, Honduras, the plate of chicken with rice was the first bite to eat he'd had all day.
"It is a blessing that they have given us food," Martinez said. "It gives me courage to keep waiting, as long as I can."
Migrants cited widespread poverty and gang violence in Honduras, one of the world's deadliest nations by homicide rate, as their reasons for joining the caravan.
"One cannot live back there," said Fidelina Vasquez, a grandmother traveling with her daughter and 2-year-old grandson, standing next to the main border gate.
The caravan elicited a series of angry tweets and warnings from Trump early in the week, but Mexico's no-nonsense handling of the migrants at it southern border seems to have satisfied him more recently.
"So as of this moment, I thank Mexico," Trump said Friday at an event in Scottsdale, Arizona. "I hope they continue. But as of this moment, I thank Mexico. If that doesn't work out, we're calling up the military — not the Guard."
"They're not coming into this country," Trump added.
"The Mexican Government is fully engaged in finding a solution that encourages safe, secure, and orderly migration," State Department Spokeswoman Heather Nauert said Saturday, "and both the United States and Mexico continue to work with Central American governments to address the economic, security, and governance drivers of illegal immigration."
After an emergency meeting in Guatemala, presidents Hernandez of Honduras and Jimmy Morales of Guatemala said an estimated 5,400 migrants had entered Guatemala since the caravan was announced a week ago, and about 2,000 Hondurans have returned voluntarily.
Morales said a Honduran migrant died in the town of Villa Nueva, about 20 miles (30 kilometers) from Guatemala City, when he fell from a truck.
Some Hondurans were weary of the journey and disappointed by the violence at the crossing, and just wanted to head home.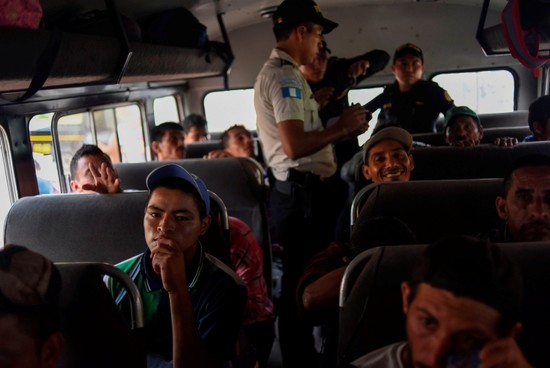 "We thought the caravan was passive but there were unruly people, I was disappointed," said Gonzalo Martinez, a 37-year-old farmer, as he boarded a bus in Tecun Uman, Guatemala to take him back to Honduras.
Trump, speaking at a rally in Elko, Nevada, kept up his rhetoric against the migrants and suggested the caravan was politically motivated.
"The Democrats want caravans, they like the caravans. A lot of people say 'I wonder who started that caravan?'" he said.
He thanked Mexico for blocking the caravan's progress. "Mexico has been so incredible. Thank you Mexico and the leaders of Mexico, thank you. And you know why, because now Mexico respects the leadership of the United States."
Last week, Trump threatened to cut aid to the region, deploy the military and close the U.S.-Mexican border if authorities did not stop them.
Honduran President Hernandez and his Guatemalan counterpart Jimmy Morales continued Trump's theme after they met in Guatemala to discuss the crisis Saturday.
"This migration has political motivations," said Morales, "which is violating the borders and the good faith of the states and of course putting at risk the most important thing, people."
Hernandez also deplored "the abuse of people's needs" for "political reasons."
"Without a doubt, we have a lot to do so that our people can have opportunities in their communities," he said.
The caravan originated in the Honduran town of San Pedro Sula a week ago, with about 2,000 would-be migrants drawn together by social media.
It is notably different from the "Migrant Viacrucis" organized in April every year by NGOs to draw attention to the plight of Central American migrants.
Mexican authorities allowed dozens of women and children from a U.S.-bound Honduran migrant caravan to enter the country Saturday but thousands remain stranded on a border bridge between Guatemala and Mexico where riot police barred their progress.
Mexico's Ambassador to Guatemala Luis Manuel Lopez told AFP the women and children would be processed by immigration authorities and taken to a shelter in the city of Tapachula, 40 kilometers (25 miles) away.
The women ran forward when immigration officers unchained a gate that had been pinning back migrants at the crossing.
"I'm happy, happy! At last!" shouted a relieved Gina Paola Montes, 21, as she ran onto Mexican territory.
The women and children had spent the night on the bridge where hundreds slept in the open, as well as in the main square of the Guatemalan border town of Tecun Uman.
Mexican authorities insisted those on the bridge would have to file asylum claims one at a time in order to enter the country.
Guatemala has organized a fleet of buses to take Hondurans back to their country.
More than 300 people have taken up a government offer of a bus ride home to their country, police said.
The caravan of mainly Honduran migrants had surged through a series of police lines and barricades up to the final fence on Mexico's southern border on Friday.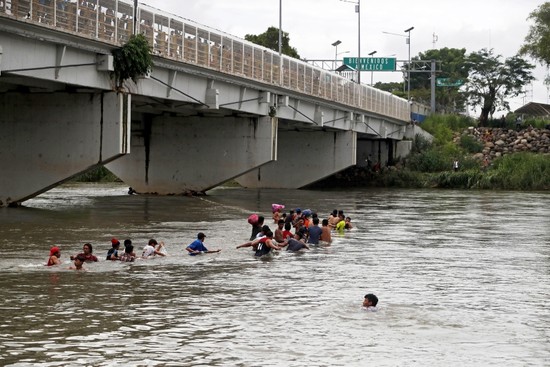 Sections of the crowd hurled rocks and other objects at hundreds of riot police, who responded with rubber bullets and tear gas -- stalling the caravan determined to reach the United States.
Several people were injured. Police used tear gas to drive the migrants back and calm was restored.
Mexican President Enrique Pena Nieto described the situation as "unprecedented."
Organizers of the caravan said a section of the crowd had confronted the police and spoiled what had been an orderly attempt to cross into Mexico.
Some, like 22-year-old Alex Benitez, paid locals to take him across the river border by raft.
"They promised they will give us a visa but the people are there (on the bridge) since yesterday and they have not given us anything," Benitez said as he waited for friends who were crossing on another raft, made from huge truck tires.
Some, like 25-year-old Honduran Bryon Rivera, had decided to give up on a long-held dream of a better life in America.
"It is better to go back. It is very hard. There is a lot of disorder," said Rivera, who was hoping to get on a bus back to Honduras laid on by the Guatemalan government.
The soft-spoken 25-year-old said he was traveling with three friends who decided to remain in the caravan, but that for him, the fear of being deported once he reached Mexico was too much.
The migrants are generally fleeing poverty and insecurity in Honduras, where powerful street gangs rule their turf with brutal violence.
With a homicide rate of 43 per 100,000 citizens, Honduras is one of the most violent countries in the world.