Three more people have died from injuries suffered in a suicide car-bomb attack in the capital, raising the death toll to 37, Health Minister Mehmet Müezzinoğlu said on Monday. The minister added that 71 others, 15 of whom were in intensive care, were still being treated at the hospitals.

Prime Minister Ahmet Davutoğlu later said that 37 people were announced dead after the attack with the bodies of 35 victims handed over to their families. Davutoğlu also noted that one of the two remaining bodies belongs to the identified terrorist and the other is believed to be the co-conspirator of the identified terrorist.

A bomb-laden vehicle exploded between two passenger buses near crowded bus stops located at the heart of the city on Sunday. Many vehicles and buses were completely or seriously burned.
A Turkish official later said that initial findings suggest PKK or a PKK-affiliated terrorist organization carried out the attack.
Speaking after an emergency security meeting, Health Minister Mehmet Müezzinoglu said on Sunday that 125 people were wounded, 19 of which were in serious condition. He said that 30 of the fatalities died at the scene while the other four perished at hospitals.

The health minister however announced on Monday that the death toll has risen to 37, whereas 71 were still being treated at the hospitals.

Interior Minister Efkan Ala said Sunday's attack won't deter the country from its fight against terrorism. He confirmed the blast as a car bomb that targeted civilians at a bus stop.

He said authorities have obtained evidence but won't make an announcement on those responsible until the end of the investigation.
Sunday's bombing in Ankara was the 3rd attack that targeted the Turkish capital in recent months.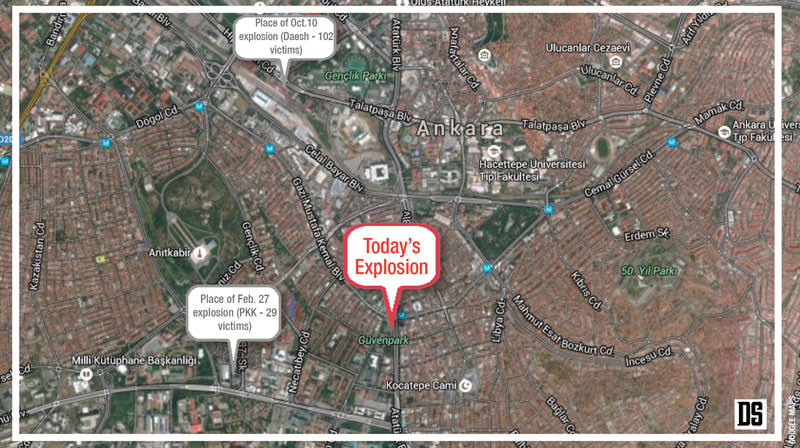 Ankara's Gölbaşı Court ordered a ban on access to Twitter, Facebook and some other social media platforms to prevent images of victims from being shared.
Kızılay Square serves as the city's main square and main transportation terminus and known as the heart of commercial activities and entertainment in the city.
President Recep Tayyip Erdoğan also made a statement after the blast, offering his condolences to the Turkish nation. In his statement, he said Turkey will not give up on its right of self-defense against terror threats and vowed to continue the fight terror groups targeting the country.
Meanwhile on Monday, Turkish security officials reportedly told Reuters that a female member of the PKK terrorist organization was one of two suspected perpetrators of the Ankara attack.

Evidence has been obtained that one of the bombers (named Seher Çağla Demir) was a female member of the PKK who joined the militant group in 2013, the security officials reportedly said. She was born in 1992 and from the eastern Turkish city of Kars, they said.

The names of the people who lost their lives in the attack are as follows: "Bağdat Çermik, Muharrem Çermik, Ayşe Bilgilioğlu, Perihan Çermik, Mehmet Yurtsever, Turgay Bulut, Fehmi Çetinkaya, Murat Gül, Hamide Sibel Çetinkaya, Berkay Baş, Erdem Soydan, Taner Kılıç, Feyza Acısu, Sevinç Gökay, Kerim Sağlam, Ferah Önder, Oğuzhan Dura, Sümeyra Çakmak, Destina Peri Parlak, Cemal Özdiker, Kemal Kalıç, Yaşar Durakoğlu, Kemal Bulut, Elif Gizem Akkaya, Ozan Can Akkuş, Atakan Eray Özyel, Nurettin Can Çalkınsın, Zeynep Başak Gürsoy, Elvin Buğra Arslan, Mehmet Alan, Police Officer Nevzat Alagöz."