The Ankara Metropolitan Municipality Council decided to rename the street where the new U.S. Embassy compound will be located after American Muslim politician and human rights activist Malcolm X.
A written statement by the municipality released Saturday said that a number of issues were discussed in the council meeting, including renaming a street in Çankaya district.
The 1478th Street in Çukurambar neighborhood, where the new U.S. Embassy building will start serving in 2019, was renamed Malcolm X Street by a unanimous vote.
During his visit to New York to attend the United Nations General Assembly meetings in September, President Recep Tayyip Erdoğan met with the daughters of Malcolm X, Qabilah and Ilyasah Shabazz.
Previously in February, the name of the street where the current U.S. embassy building is located was renamed as Olive Branch.
Olive Branch is the name of Turkey's anti-terror operation which targeted U.S.-backed People's Protection Units (YPG) - the Syrian offshoot of the PKK terrorist organization - in Syria's Afrin and liberated the district.
The relations between the two NATO allies have been strained over a number of issues in recent years, including the U.S. support for the YPG in Syria, Gülenist Terror Group's (FETÖ) leader Fetullah Gülen's presence in U.S. state of Pennsylvania and FETÖ activities in the U.S., and the arrest of pastor Andrew Brunson on terror charges.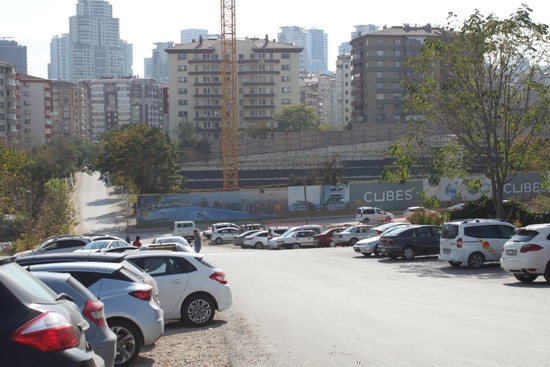 The construction site of the new U.S. embassy in Çukurambar neighborhood. (AA Photo)

The ongoing construction for the new compound, which was launched to move the embassy to a more secure facility that will also house U.S. Marines in a relatively quiet area of the capital, have led to controversy due to the plot allocated to the U.S. mission in Turkey.
After President Donald Trump issued sanctions on Turkey over Brunson's arrest, left-wing groups called for the annulment of the construction permit.
Malcolm X is seen as one of the most influential African Americans who fought against racism in the United States.
He encountered the sect "Nation of Islam" while serving a prison sentence in the 1940s, changing his name from Malcolm Little to Malcolm X. After his release, he went on a pilgrimage to Mecca and converted to Sunni Islam, adopting an egalitarian perspective that empowered him for the rest of his life.
Malcolm X became a champion of civil rights and herald of the true Islam in American society. He visited Africa twice during his lifetime and delivered numerous speeches about the liberalization of black people as well as all oppressed people.
He was killed by three armed attackers while he was giving a speech in New York on Feb. 21, 1965.