Capital Ankara's new theme park, Wonderland Eurasia, formerly known as Ankapark, saw about 980,000 visitors since its inauguration on Wednesday, the ruling Justice and Development Party (AK Party) mayoral candidate for the province Mehmet Özhaseki (pictured right) said on Saturday.
"Despite it being on weekdays, nearly 230,000 people from Ankara visited the Ankapark. As of today, the number has reached 980,000. This is a quite serious number," Özhaseki said during his visit to the park.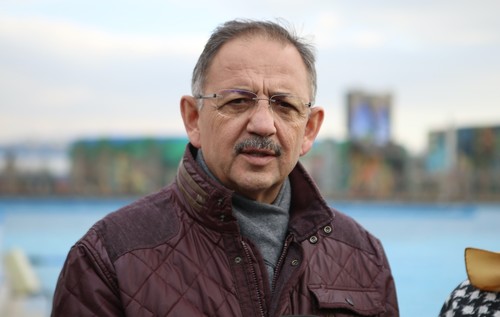 The park is the largest theme park in Turkey and according to its founders, the biggest of its kind in Europe. Built on 1.3 million square meters, the park boasts 26 large rides and 2,117 smaller rides housed in 13 huge tents and a large outdoor area. It also houses a fountain that can sprinkle water 120 meters high, a parking lot for thousands of vehicles, a 5-kilometer long rail network and solar panels generating power for some sections of the park located in the capital's Yenimahalle district.
Özhaseki also expressed gratitude to all those who have taken part in the building of the park, including Ankara Metropolitan Municipality's personnel and the former Mayor Melih Gökçek.
The park was ridiculed once for its strange promotion campaign with statues of dinosaurs and robots placed along the busy roads of the capital.
Rejecting the criticism of the park, "Ankara needs these types of activities. A city must have art, sports and culture. It must also have leisure," Özhaseki said and added that the municipalities must provide these services without expecting a financial interest to address the public's demands.
President Recep Tayyip Erdoğan had attended the inauguration ceremony at the Turkish capital on Wednesday. Erdoğan said during his opening speech that the park, which was leased to a joint Turkish-Chinese venture by the municipality, will generate an income of TL 50 million yearly for the municipality. "It will also contribute to the city's tourism with visitors from other cities and will boost Ankara's brand value," Erdoğan added.
Along with rides, the park boasts more than 2 million species of plants and trees dotting the venue. The main attractions are 14 roller coasters, which park owners say have the sharpest twists in the world, a 75-meter high tower ride, the domestically-made Digital Dark Ride, a huge multidimensional theater, hologram shows and interactive animations.
A canal inside the venue gives visitors a chance to see models of landmarks from around Turkey via boat trips. Another section entitled "Dinosaur Jungle" covers some 20,000 square meters and hosts a 70-meter-long animatronic dinosaur which the park hopes to submit to the Guinness Book of Records as the largest of its kind.