A hilltop city situated in the southeastern region of Turkey, Mardin calls Turkish and international artists to dig into its deep-rooted culture, myths, literature and the everyday life of its people from May 15 to June 15. Previously scheduled to take place last year in October but postponed in response to the Islamic State of Iraq and al-Sham's (ISIS) execution of Iraqi Yazidis and its attacks in the border town of Kobani in Syria, the 3rd International Mardin Biennial will be a collective organization of local people and participant artists. The biennial committee announced that this year's conceptual framework is "mythologies" thriving in the southeastern city and its surrounding area over centuries, which was home to a number of big civilizations including Sumerians, Babylonians, Hittites, Assyrians, Greeks, Abbasids and Safavids.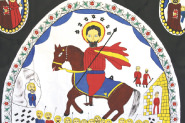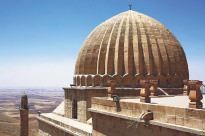 The Assyrian Mor Efrem Monastery, Mardin Museum, local bazaar, Chaldean Church, Kırklar Church, German Headquarters and the city's open air cinema area are among the biennial venues. This year, the event will not be under the supervision of a principal curator, but held with a large voluntary staff of artists and citizens like artisans and craftsmen. This alternative version will also question the regular biennial procedure where a single curator is in charge of everything regarding the organization.
Mardin's authentic cultural heritage and architecture will be turned into art in the hands of artists. Although the exhibition materials are everyday objects, artists will use talismans, icons, traditional carpets, amulets, jewelry, clothing, old photographs and even books and dishware, all of which compose the city's "room of curiosities." Biennial artist will be touring around the whole city to write their own myths, maybe at the counter of a coppersmith, a pigeon-trainer's stall or a church. This cooperation will also help local people become a little more familiar with the world of art. Throughout the biennial, Mardin Museum will be hosting children's activities, while the German High Schools Culture and Education Association will gather with students for different workshops. The students of the Bilkent University Urban Design and Landscape Architecture will be also attending the biennial to work with local students.
The 1st Mardin Biennial was held in 2010 with the aim of transforming the city into a center of contemporary art. Its second edition was curated by Paolo Colombo and organized two years later by the Development Ministry's Southeastern Anatolia Project Department, the Mardin Governorship, Promotion Fund of the Prime Ministry, Mardin Municipality, with the support of the private sector. The event will continue to sustain an art platform in Mardin by gathering students, academics and artists under the same roof. The biennial director is Döne Otyam of Hacettepe University and the committee includes Fırat Arapoğlu, Mehmet Baran, Sait Tunç, Fikret Atay, Hakan Irmak, Hülya Özdemir, Claudia Segura Campins, Canan Budak and Can Bulgu.