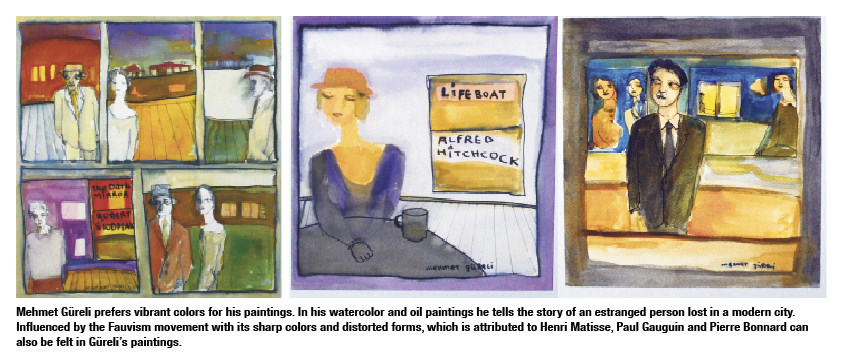 Bringing together the work of artists from more than 20 countries in the world, Carre d'Artistes adds another one of Turkey's most productive and successful artists to its repertoire. Producing artwork in many areas such as movies, music, literature and painting, Mehmet Güreli's art exhibition titled "Alope's Chamber," which opened in May, will meet art lovers in Carre d'Artistes until July 20.
Carre d'Artistes Art Gallery hosts works of more than 500 artists from 20 countries under the slogan "Accessible Art." Featuring original works of many internationally reputable artists, the gallery also presents works of Turkish artists.
Güreli resembles the Dire Straits musically with his rock and blues albums such as "Vapurlar" and "Cihangir'de Bir Gece." With three published books, five albums, four movies, and 20 personal art exhibitions, Güreli's figurative and expressionist style truly shines in his paintings.
Born in 1949 in Istanbul, Güreli prefers vibrant colors for his paintings. In his watercolor and oil paintings, he tells the story of an estranged person lost in a modern city. Made exclusively for Carré d'Artistes in four different sizes, the paintings of trains, streets, windows, rooms, meetings and separations all build up to one theme. Influenced by the "Fauvism" movement with its sharp colors and distorted forms, which is a tribute to Henri Matisse, Paul Gauguin and Pierre Bonnard can also be felt in Güreli's paintings. Güreli's artwork will meet art lovers with affordable prices in Carre d'Artistes Art Gallery located in Galatasaray, Beyoğlu every day except Mondays.