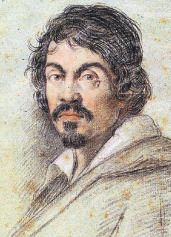 Certain researchers describe Caravaggio as a cursed artist, as he was constantly questioning the notion of justice and murdered a man during a brawl.
The Italian Culture Center in Istanbul will invite Italian modern art historian Francesca Cappelletti for an evening panel session "Caravaggio in Rome: Enemies and Friends" at its Casa d'Italia Theater on June 17. Recent studies have placed particular focus on Baroque painter Michelangelo Merisi da Caravaggio's paintings made for special collections, which directly reflects the renowned Italian artist's style. His masterpieces at the Church of St. Louis of the French (San Luigi dei Francesi), the Basilica of Santa Maria del Popolo (St. Maria del Popolo) and the Basilica of Sant'Agostino and his earlier career in Rome, where he later gained great fame, are the next discussion subjects in these studies. The journey of Caravaggio to Rome, the city of popes, features similarities to many aspects with other period artists that moved there. However, certain researchers describe him as a cursed artist, as he was constantly questioning the notion of justice and murdered a man during a brawl. Similar to his contemporaries who struggled to display their talents in Rome, Caravaggio engaged in conflicts, wanted to get credit from important people and be protected by famous collectors and art devotees. He also sought higher positions in the Italian art scene, established close friendships and found himself in the middle of alliances.
During the panel session, Cappelletti will talk about Caravaggio's success in Rome and the revolution he achieved in the arts as well as the common artistic perception in painting at that time. She will discuss the relations between poets, intellectuals and art entrepreneurs like d'Arpino, who encouraged young painters from Europe, and prestigious collectors like Vincenzo Giustiniani, the owner of "Amore Vincitore" currently on display in Berlin. Turkish translation will be offered during the panel session.
Francesca Cappelletti is a professor at the University of Ferrara's Department of European Art. She published a book on Italian nobleman Ciriaco Mattei's vast art collection. Cappelletti wrote a number of articles on stories about the missing parts of the collection, which helped to find Caravaggio's lost painting "La Cattura di Cristo," which is currently on display at the National Gallery of Ireland. She has given lectures and presented at conferences held at Italian and international research centers as well as Italian and international museums and cultural institutes. Cappelletti has written essays about and curated an international conference on the emergence of landscape painting. Her monograph "Paul Bril e la Pittura di Paesaggio a Roma, 1580-1630" was published in Rome in 2006. Since 2007, she managed the Hermitage Italy Foundation. In 2011, she curated the exhibition "Nature et Idéal. Le Paysage à Rome 1600-1650" held at the Grand Palais in Paris and the Prado Museum in Madrid. Cappelletti has also worked as a project researcher at the Getty Research Institute in Los Angeles. Her latest work "Caravaggio: Un Ritratto Somigliante" was published in 2009. In 2012, she became a member of the Italian Ministry of Cultural Heritage, Activities and Tourism's (MIBACHT) Cultural Heritage High Council. Two years later, she became deputy president of the council.