The new TV series "Zeyrek ile Çeyrek" (Zeyrek and Çeyrek), which depicts the lives of two brothers living in Istanbul during the 1860s, premiered Wednesday on TRT 1, Turkey's national public broadcaster.
Speaking at a press conference held at İzmit Seka Film Studios where the series is shot, the general coordinator of the series, Mehmet Çoban, said the characters of Zeyrek and Çeyrek were created for another series, "Filinta," but they will be the leading characters of a new 29 episode spin-off comedy series. Stressing they are trying to shoot an entertaining series for the Turkish Radio and Television Corporation (TRT), Çoban said: "We are halfway through the shooting as well as the montage. The characters of Zeyrek and Çeyrek are actually a comedy duo that we often see in film and on TV. While creating these characters, we were inspired by the veteran comedy duos of Turkish cinema such as Zeki Alasya and Metin Akpınar." He added that they just finished filming the 15th episode of the series. "You can imagine how hard and intense it is to shoot a daily TV series. We are working intensely. Our actors and technical team work more than 18 hours a day," he said.
Çoban said they are breaking new ground in Turkish television, which always airs series for 90 or 120 minutes. "For the first time, we are filming a series whose episodes last for 45 minutes. If we become successful and this kind of shorter series becomes popular, we will be the pioneers of the sector," he said.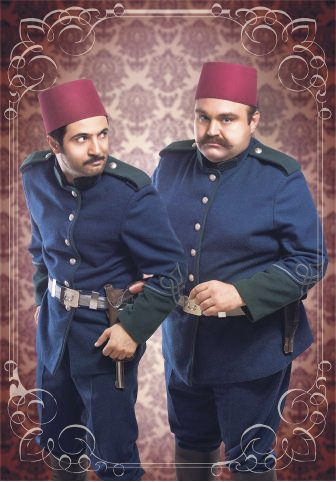 Sami Saydan, the director of the series, said this is the first time he is shooting a comedy even though he has been in the sector for the last 20 years. He said this often saddened him and he aims to make people laugh with this new project. Asserting his belief that the series will be a success, Saydan said: "Everyone working with us and touring the film studio is having a great time. I have received great feedback. I hope that I am not wrong." He said there are great and interesting TV series in Turkey such as "Leyla ile Mecnun," "Kardeş Payı" and "İşler Güçler," but stressed he envisions that "Zeyrek ile Çeyrek" will be more successful.
The series stars Serhan Ernak as Çeyrek and Kemal Zeydan as Zeyrek, supported by İsmail Hacıoğlu, Ceyda Olguner, Mine Teber, Suat Sungur, Zeyno Eracar, Toygun Ateş, Hakan Bilgin, Pelin Öztekin, Ayşen Batıgün Bulut, Ali İhsan Bozdemir, Yavuz Topoyan, Onur Yaprakçı, Kıvanç Baran Aslan, Funda Bostanlık and Eda Akkaya. The comedy will air throughout Ramadan with its theme: "A Ramadan Spectacle."
The show will present Ottoman neighborhood tradition and social life where people help each other. The main aim of the show is to make people feel how plentiful Ramadan is in every aspect of life and help people see new things using an entertaining approach. Furthermore, the TV series will display the comedy sensibilities of the period while emphasizing the unique features of iftar and sahur. "Zeyrek ile Çeyrek" is being filmed by Es Film and is produced by Yusuf Esenkal and Serdar Öğretici.