On a hot, humid and horribly busy day last week, I took refuge in the superbly cooled interior of Kuad Gallery, an Istanbul home of modern and conceptual art. Thanks to its strongly air-conditioned space, the gallery provided me with an almost perfect hour. I looked at art work created by 24 artists, many of whom I have not heard of before. The title of the exhibition, "Fine Tuned and Multiple," promised a careful selection by Kuad's curators. However, as I learned more about the show, I realized there was not much material available to read about its concept - no exhibition catalogue, let alone an introductory text, was on offer. The viewer had to make his or her own mind up about what "Fine Tuned and Multiple" means and connect the dots between the artwork.
"This exhibition is a little different from our previous conceptual exhibitions," Kuad Gallery's Erke Tiryakioğlu explained. "Normally our gallery was kept closed during this time of the year. But this year we wanted to change things a bit and try something different. We came up with the idea of exhibiting valuable artists with their 'affordable' artworks. So the title 'Fine-tuned and multiple' explains our detailed work behind the scenes, and our struggle to bring important artists together while keeping the prices reasonably low."
An artist whose work I am already familiar with that is featured in the Kuad exhibition is Çağrı Saray, represented with his light box "15 Degree Left." Saray's characteristically sketchy and incomplete image shows a man in a shirt standing in the process of turning to his left, and Saray has captured this movement in a curious way that forces the subject to be deconstructed, atomized and appear naked to the observing eye.
Fulya Çetin's "Untitled," which depicts two sunbathing figures, reflects a similarly uneasy mood. The pose of the couple suggests sexual tension as well as emotional distance. The possible affection between those figures is heightened thanks to their environment and the heat that we attribute to it. Çetin's oil painting also introduces viewers to the gallery of strong female figures, which seems like a central component of "Fine Tuned and Multiple."
Sıtkı Kösemen's photographs, "Sunday Market, Treviso: Artwork to Go," are among the highlights of the show. Kösemen's previous works were selected by Leica Camera and included in the company's Leica Diary 2002. Here, he presents his photographs taken in the northern Italian city of Treviso. They depict ancient-looking paintings sold in golden frames at Treviso's Sunday Market. The paintings seem strongly out of place and not a little kitsch. The radically different approach to the human figures' representation is argued in a tongue-in-cheek and subtly comic way.
Neriman Polat's "Private Security" and "Belt," two photographs that depict female figures in a very post-modern outlook, provide an interesting contrast to classic paintings in Kösemen's photographs. In the former, Polat's security guard resembles a reclining bacchante, except she is accompanied by a truncheon and handcuffs we associate with the security personnel of shopping malls. She becomes a metonym of her profession. Polat, who had represented Turkey in the 50th Venice Biennial, produced a paradoxical image: An authority figure stripped from her tools with which she maintains discipline.
Özge Topçu's "Inked" series make equally interesting use of its material. Produced after an interactive project called "Locality and Global Discourses" with the California College of the Arts, Topçu's work uses the chromatography on blotting paper technique to depict façades of houses and public buildings. Those images are accompanied by haiku-like instructions that give a particular picture book-quality to the series.
"Chromatography is a very toilsome chemical process that keeps continuing for days after first applied," Tiryakioğlu explained. "This is the first time Topçu has used this technique. She depicts avant-garde government buildings from Ankara from the time when the capital of Turkey was constructed. She drew their surfaces after letting the ink remain broken on purpose, hence the title 'Inked.' She makes a pun here; instead of calling the work 'Mürekkep' (ink) with a 'p' she chose to call the work 'Mürekkeb,' which is an Arabic word roughly meaning 'consists of.' "
Topçu herself describes the work: "The 'facialization' of Turkey's new regime are shown by these drawings. They present the decadence of national doctrine through buildings facades. Texts on the drawings are ironic quotes from 'life doctrines' published in the weekly magazines of the era."
Özge Enginöz's "Orplid" is the main sculpture featured at the Kuad show. This sculpture, which consists of polyurethane foam, silicon paint, paper, spray paint, ready-made plastic and plant pieces, depicts a faux-mythic scene of a congregation of animals whose heads seem to come from a horror film. Installed inside a little room and hung from the ceiling, the sculpture seems to invite you inside while at the same time reveals its fragile, easily destructible material.
Mary Moon's pastel painting, "Vienna: From the 'City' Series" offers a sobering contrast to the more conceptual works on display.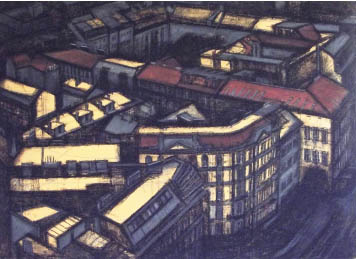 Moon's view of Viennese buildings produces an impression of security and order that find their polar opposites in the darker, more mysterious parts of the painting. Yeşim Ağaoğlu's six piece "Trace of Time" photography series is an equally strange combination of opposites. These images depict nature: Plants, trees, the sky and water. But with Ağaoğlu's choice to use a diasec printing technique while producing them, the images appear as artificial as cans of Coca-Cola or the latest smartphone model on sale at your local phone shop. Here, nature has been transformed into an object; Ağaoğlu's photographs record the trace of time and nature in such a way that the meaning of those thoroughly change.
Other artists whose works are on display at the Kuad show include: Ahmet Vehbi Doğramacı, Ardan Özmenoğlu, Bahadır Yıldız, Burcu Aksoy, Dilara Akay, Eda Gecikmez, Esra Carus, Funda Alkan, Gülçin Aksoy, Kaan Kızılgün, Melike Kılıç, Meltem Sırtıkara, Mustafa Pancar, Nilhan Sesalan, Seçil Erel and Zuhal Aktan.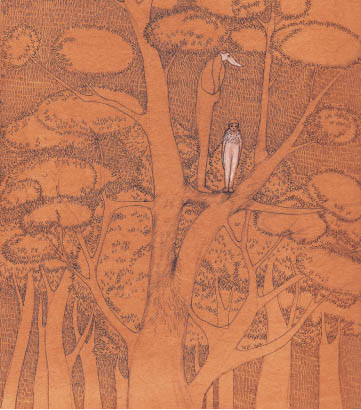 "Birthchild" by Melike Kılıç
"This isn't a conceptual exhibition, so it is hard to classify all the works under one roof," Tiryakioğlu said. "There are numerous techniques and statements in those works; we see feminist approaches as well as works critiquing politics. While some of our artists deal with urban issues, others refer to art history. We tried to make the artwork speak to each other."
"Fine Tuned and Multiple" runs until Aug. 1, but keep in mind that the gallery will be closed from July 12 to July 20 for Eid al-Fitr.