Gallery İlayda will be hosting a group exhibition titled "SUMMER COLLECTIVE" until Sept. 4. The exhibition includes artists that the gallery has displayed solo exhibitions from throughout the season. The latest work by Barış Cihanoğlu, Damla Özdemir, Atilla Galip Pınar, Ardan Özmenoğlu, Kerim Yetkin, Gazi Sansoy, Nurdan Likos, Özcan Uzkur, Aysel Alver, Caner Şengünalp and Derya Özparlak are on display. If you are interested in the recent work of these artists or missed their solo exhibitions, İlayda invites you to visit the gallery, which will be open throughout the summer.
Cihanoğlu is an artist who likes to shock his viewers by exploring universal themes through his own style and is constantly innovating in his artistic practice as well as his prolificacy and creativity. He debuted his absorbing works created on something other than canvas for the first time this year. In his latest work, the artist worked with burned wood to create the black spaces of his figures and oil-painting techniques to draw the colorful parts of the figures. However, it is again possible to follow the traces of "shifts" and unusual "stretches" that he has been using with his canvas painting in the past few years. As only the heads of the figures are pulled and stretched, it might point out to the incapability of a person to stay the same as time passes, and the mental transformation that takes place.
Özdemir will be featured at the exhibition with her "Minor Sabotage" series that contains traditional and three-dimensional collages and assemblages. Artist Marcus Graf interprets Özdemir as well as her work: "Damla Özdemir's work is a great example of a contemporary artist who manages to balance form and content in order to create beautiful and intellectually sophisticated pieces, in which she successfully merges personal stories with socio-political issues. Moreover, another powerful side of her works is her masterly use of the art of collage as a proper artistic method for reacting to today's complexity."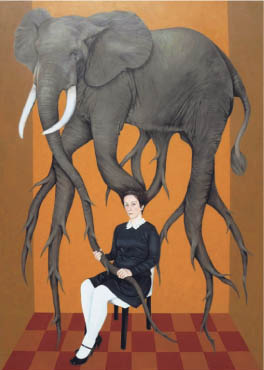 Pınar usually shares his own inner journey and his questions on existence with his audience. His work is based on human and nature relations and they can be characterized as gloomy in emotional content but not completely pessimist.
Özmenoğu is one of the out-of-the-box artists who stands out for her original ideas and techniques. She is renowned for her work that combines printing techniques with post-it notes as well as for her installations. The artist, who created her exhibition titled "Down in the Sewer Series," which is a multi-layered, mixed-media work that appears three-dimensional and captivates viewers and re-interprets ordinary objects that we get accustomed to seeing every day as we walk on the streets. She defines herself as well as the audience by using these symbols, distancing them from their traditional forms and meanings and giving them geometric shapes. As well as "New York Down in the Sewer" artwork, glass statues can be seen at the exhibition.
Yetkin achieves transitions in texture by utilizing unusual techniques such as cuts, cracks and wipes instead of brush strokes by rebelling against the status quo of painting in his works. From time to time, he wishes to pull the viewer deeper to help them to find the essence of everything though his simple narration. These reflections emerge in magnificent harmony; this sometimes happens to be on the surfaces of large works, and other times in compositions made of many small works in which the relationship between the pieces and the whole is investigated.
Sansoy has been working on two parallel exhibitions titled "Miniatures" and "Faceless" which has different visual narrations and constructions for years now. It is easy to see that Sansoy is trying to tell something to the audience through his works, which resemble a circus mixing the figures of the West as well as the East. In the core of his works, the artist tries to tell that our society is awry and filled with contrasts as we have been re-constructed by an extremely hypocritical administration following the loss of the war and the feeling of inferiority dating back to the siege of Vienna or Westernization or modernization starting with Tanzimat, which rose to the highest level through the Republic and revolutions. According to Sansoy, we have turned our face back to the East in the last 10 years but turned "our interests" to the West and more so to the U.S. for profit. In his "Miniature" series, Gazi Sansoy gives political messages related with animals killed for their fur, bull fighting and freedom for Palestinian people or injustice. His "Faceless" series include the works featuring Renaissance period paintings on which human bodies are first deleted and then painted in "pop" colors. They create a color and composition contrast between classic and modern.
Hülya Küpçüoğlu described Likos's work as follows: "In the exhibition, the artist brings out the reality and perception. There is not just one perception, because everyone perceives the reality in a different way. Likos departs from women's stories. She does not have a feminist perspective, yet tries to get viewers' attention on women and life to create self-consciousness. She emphasizes and brings them out with an effective presentation. Likos reminds viewers of the solutions to their problems and presents her stance toward them. For Likos, female figures also represent geography. The artist keeps the light and dark balance in her paintings. Black and white represents yin and yang. Good and bad that follow each - also represent balance in life. This rhythm is not merely about the colors but also about the rhythm of life."
Uzkur reveals the drama of human beings. The anonymous human bodies created by the artist introduce viewers with some scenes from people who fought each other. In Uzkur's work viewers can see fiber and blood, which come together in order to compose the body, but then instantly break up. The bodies, which are built up again and again, represent not only the body itself, but also something beyond it. It is the wild nature of man, which tries to become a whole while breaking into pieces. The body, which begins to dismantle while becoming a whole, shows that human beings become alien to their own bodies and can never be whole again.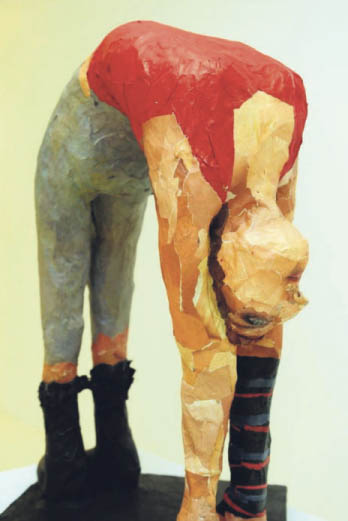 Alver departs from the question of when and how ethical corruption begins and interprets this corruption process as an agony period of time in terms of human beings and their values in her work. Alver describes the interrupted modernization and enlightenment process over unbalanced perception of humanism and deformed moral and ethical values. Since childhood, pressured or intervened psychosexual development process and deprivation of universal ethics accelerated the above-mentioned deformations. It is required to give attention to personalities that might be called "pathologic," emerging from the deformation of such kinds of interventions. They have also become a social issue. Similarly, strengthening these sanctions in public and private areas deepens this distortion. Alver asks viewers to experience loss of these moral and ethical values from a psychological perspective in her work.
Şengünalp designs sculptures to change human life and to convey knowledge rather than to embellish it. He especially produces sculptures as a founding element and pays attention to making viewers an active component of his work. Scale model figures take place on a big stage as the actors of Istanbul, the city that grows and transforms every day.
Özparlak said the following for her sculpture at the exhibition: "I came up with the figures holding balloons in 2010, following a breaking point in my life. I was inspired from thought bubbles. Then these figures in the thought bubbles expressed themselves by flying against gravity with these balloons. I caught lightness both technically and conceptually by creating a contrast between coldness and the weight of the metal and the colorful and light world of balloons. I create an illusion for viewers while taking the sculpture's feet off the ground."