Russia's prestigious Bolshoi Theater closed its season with "Carmen," featuring Turkish tenor Murat Karahan in the lead role. Appearing as Don Jose in the famous play, Karahan is an operatic tenor with the Ankara State Opera and Ballet. Sharing his experiences in Russia and discussing his colleagues and stage preparations with Anadolu Agency (AA), Karahan said he previously performed roles in "La Boheme" and "La Traviata" at the Bolshoi Theater. "I am not new here and recently appeared in the premier of "Carmen" in Russia," he said, adding that it was a dream of his to perform at this theater during the earlier stages of his career. "Bolshoi Theater is an important place and of historical significance. There is an amazing atmosphere and influential ambiance. The theater has always been the place for high-quality operatic voices," he said. Karahan also said that when he was very young, he watched an opera performance at the Bolshoi Theater. "I am proud to be on its stage now. I cannot express my feelings with words. I cannot describe it, as I wanted to come here as part of the audience but now I perform. People come here to watch [us perform]. What I feel is beyond words. The Bolshoi Theater is a very professional environment. I work with good people and have good friendships," he said.
Karahan continued, adding: "Director Alexei Bogdanov and conductor Tugan Sohiyev are both important and prestigious names. It is very beneficial to work with them and exchange views. It is great training for me. My colleagues are also very successful; all of them have made a name for themselves in the opera world and have appeared in many important productions. Bolshoi Theater offers a great atmosphere with people who have performed in Europe and other countries. Everyone is focused on art, and we have a joint objective. This is because we present high-quality work. It was the same in 'La Traviata' and 'La Boheme,' and now with 'Carmen,' we have achieved the same success."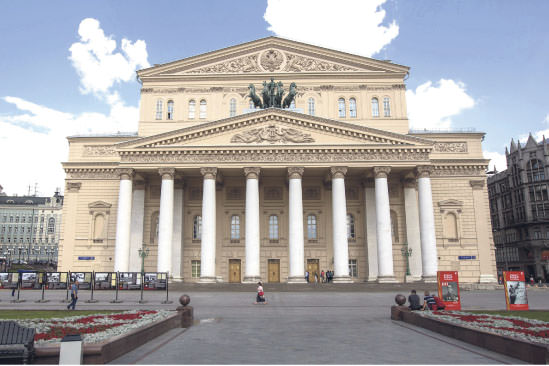 The operatic tenor also revealed he received martial arts training before he performed the role of Don Jose. "Each role has a unique character. No matter where you perform, you embrace your role. I have appeared as Don Jose in Turkey, Europe and Russia. Production directors may have different requests. For example, I took martial arts courses to successfully perform my role. We also show affective scenes on stage. I feel happy for myself and am very satisfied. It is a great feeling to take the lead role in 'Carmen' at the Bolshoi Theater," he said.
Discussing about how he was accepted for this role, Karahan said, "Following 'La Traviata,' conductor Sohiyev asked whether or not I had performed 'Carmen' before. I said yes, and later they asked me to play Don Jose. I happily accepted their offer." Karahan emphasized that he respects all performers at the theater. He also formed a close friendship with Anna Necayeva, who portrays Micaele in the play. Karahan added that another performer, Elcin Azizov, is also a great artist, stressing that he is happy to establish good relationships with all performers.
Karahan underscored that he loves Russia, Moscow and the Russian people. "Moscow is one of the biggest cities in the world. I've been here before and think June and July are the best times to visit. The weather is fine and you can tour the city. When I first came to Russia, the weather was cold, but now the weather is much better. As I said, I love Russia, and it always has a special place in my heart," he said. "Moscow has a very entertaining and enjoyable atmosphere," he added. "I perform in one of the most prestigious halls in the world and am proud to be on stage as a Turkish artist. I will be in a Paris-based opera and in Covent Garden in London, where the Royal Opera House is situated," Karahan concluded.