Hardly a day goes by without a Turkish restaurant opening in some corner of the world. From the United States to Australia, Turkish tastes and catering abound. New York City residents can dine at 30 Turkish restaurants. Besides entrepreneurs running Turkish restaurants in the U.S. under a variety of concepts - such as Orhan Yeğen's Şip Şak and Francela restaurant brands or Hüseyin Özer's Sofra in London - Turkish food resonates well with European taste buds. Not all restaurant chains represent Turkish cuisine as well as those two. Operating a Turkish restaurant abroad means conducting the brand ambassadorship of Turkey. Köşebaşı is a Turkish restaurant chain that takes on this responsibility. Celebrating the 20th anniversary of its opening, Köşebaşı made a pleasant surprise for its Turkish customers. The restaurant's superstar Italian chef, Dante Boccuzzi, created a menu uniting Turkish and Mediterranean cuisine. I especially loved the salad with purple plum marinated in cherry sauce and cheese. In addition, the chicken with crispy chickpeas and coconut was indeed among the most creative tastes. You are going to see some of these recipes on the menu soon. The spinach meze with grapes and the pumpkin desert with sesame paste caught my attention on the current menu. I say try them out!
What is more important than all these tastes is Köşebaşı's new generation executives' decision to start expanding operations. With 11 branches in Turkey and 17 branches abroad, Köşebaşı will soon open a new branch in London. I dined with the young and visionary CEO of Köşebaşı, Hasan Yeşilyurt, the previous week and listened to his goals for the brand. Hasan Yeşilyurt struck me as a modernist yet avant-garde executive with a global view.
He's no stranger to the business; his father was one of the shareholders of Köşebaşı. Yeşilyurt has already begun distinguishing himself with the changes he oversaw during a very short time. During my conversation with Yeşilyurt, his idea of expanding in Europe caught my attention. I learned that they are going to open a branch in London in 2016 and continue with another one in Amsterdam after that. They had franchise branches in Europe previously; however, all of them were closed down by the owners. Hence, the London branch of the brand will be the very first restaurant that belongs to the group. When I asked what kind of novelties the restaurant will offer locals in London, the answers I got pleased me. Stating that representing Turkish cuisine in the right way is their priority, Yeşilyurt also said they are going to create interesting menus by infusing international inspiration with local tastes.
Likewise, he adds that they are going to meet the taste standards of locals with their meat cooking techniques. As far as I understand, they are going to adjust Turkish food according to the European palate. Stating that they have made the motto "Think Local, Act Global" a principle for themselves, Yeşilyurt added that Köşebaşı will distinguish itself from traditional Turkish restaurants with its modern decoration.
Congratulations to Köşebaşı for expanding in Europe, making brave investments even in a time of crisis and for their efforts to represent Turkey as well as their brand of Turkish cuisine. Best of luck in London!
We are from Turkey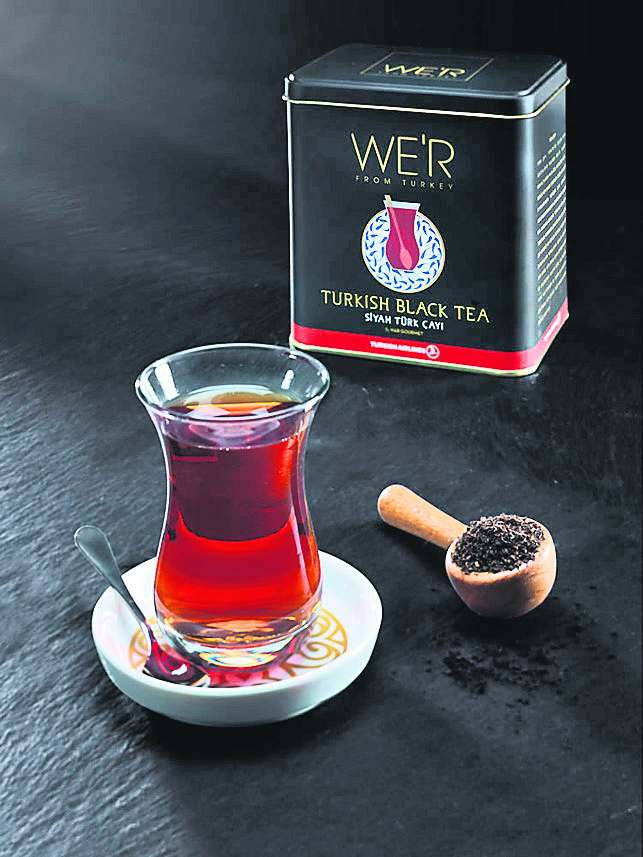 WE'R caught my attention due to its global ambitions. WE'R products exemplify Turkish Airlines' understanding of quality and originality. Turkish Airlines, a Star Alliance member, has also been deemed worthy of many awards for its economy and business class treats. WE'R successfully meets every requirement in areas of brand localization with all of its features. Offering traditional Turkish products to its customers, ranging from coffee to Turkish delight, the brand is especially visually appealing with its sleek black and gold packaging. Offering outstanding and qualified products unique to Turkey, WE'R draws inspiration from its Anatolian roots when visualizing the designs of its packages. Leaf, flower and fruit motives are painted by fine brush strokes, each of which turns into a modern interpretation of the art of Şukufe, which means flower miniatures. Rumi motives, on the other hand, are prevalent in products such as coffee cups and tea glasses. I recommend trying the products of the brand that promotes Turkey with its "We are from Turkey" message and give those products as a gift to the people you love, especially your foreign friends.
Top 3 Restaurants of The Week
Mükellef / Karaköy
Aysel / Alaçatı
Bu Teras / Bodrum
Top 3 Hotels of The Week
Capari / Alaçatı
Museum / Kapadokya
Sub Otel / Karaköy
Top 3 Venues of The Week
Page / Moda
Post Office / Cihangir
Zeplin / Kadıköy
Top 3 People of The Week
Şebnem İşgör / PR Person
Gülşen Aybaba / Director
Melike Bahçeci / Chef