A total of 37 works by well-known painter and photographer Burhan Doğançay will be displayed for collectors at Special Sale Event today at Soho House Istanbul. The event which will be organized by IEG Turkey with the kind contributions of TEB Exclusive Banking will put a selection of Doğançay's photograph works, which were taken all around the world from New York to Togo and were displayed at Burhan Doğançay Museum, on sale. The contemporary and modern selection which was chosen from "Picture the World: Burhan Doğançay as Photographer" exhibition will be put on the art market for the first time. The revenue of the sale will be donated to the pre-school centers that were established in cooperation with TEB and UNICEF. The pre-school centers were founded in order to help women to participate workforce. The special sale event aims to open more pre-school centers and develop the current ones.
Among the selection which examines the social and psychological states of the cities as well as their residents, Doğançay's photos taken in New York have a special place. Doğançay who was the only artist allowed on Brooklyn Bridge during its first extensive maintenance work between 1986 and 1987 focused on Brooklyn instead of the familiar Manhattan view which made his New York photos extraordinary. While the artist's work observes New York's ironworkers, also known as "Sky Cowboys," during their dangerous occupation, the photos also tell the stories of these workers whom Doğançay became friends with in time.
Following the sales event, the entire works featured in "Picture the World: Burhan Doğançay as Photographer" exhibition will visit Ankara until the end of March and travel to Taiwan, the U.S. and Portugal.
ABOUT BURHAN DOĞANÇAY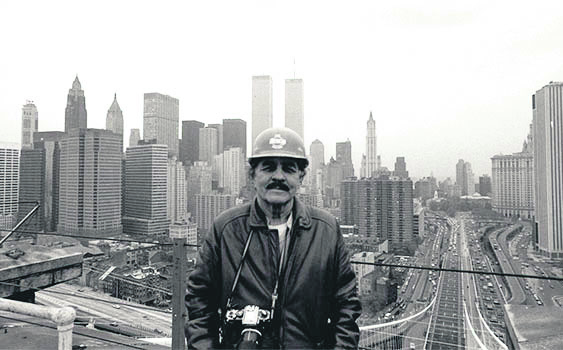 Doğançay, who was the only artist allowed on the Brooklyn Bridge during its first extensive maintenance work between 1986 and 1987, focused on photographing the bridge construction instead of the familiar Manhattan view, making his photographs of New York extraordinary.

Burhan Doğançay whose works are features at the permanent collections of the world's top 81 museums was born on Sept. 11, 1929 in Istanbul. Following his graduation from Ankara University's Faculty of Law in 1950, the artist enrolled in art courses of Académie de la GrandeChaumière in France between 1950 and 1955. During his art education, Doğançay produce painting continuously and held joint exhibitions at Sanatseverler Klübü (Art lovers Club) in Ankara with her father Ail Doğançay. In 1962, he was assigned to New York on a diplomatic mission. Starting from 1964, Doğançay dedicated himself entirely to art and began photography in 1970. He photographed cities during his travels to over 100 countries in a 50 year period. The artist was seen worthy of numerous awards including National Medal for the Arts for Lifetime Achievement & Cultural Contribution given by the President of the Republic of Turkey, Art Honor Award given by the Art Forum Plastic Arts Fair and Honorary doctorate from Hacettepe University as well as Certificate of Appreciation by the City of New York and Medal of Appreciation given by the Ministry of Culture of Russia. According to Doğançay, his photographs which showcase the social, political and economic changes and witness the damages of cities caused by nature and human beings are the monuments of human experience and an archive of our time.