A young boy sits inside a cardboard box on the street, surrounded by a blanket and pairs of shoes, he seems extremely fragile as the "fragile" sign on the box reminds us. Four men spend the day sitting on stools, a huge, kitsch painting depicting a waterfall in the background. Kürşat Bayhan's photographs, all in black and white, bring us into the lives of immigrants. They are part of Istanbul Modern's latest photography exhibition, "Habitat," which focuses on the relationship between people's place in their settings.
"The mass of people, which we can call the fourth generation after the waves of migration in the 1960s, 1980s, and 1990s, mostly work as day laborers because they have no professional training," Bayhan is quoted as saying in the exhibition catalogue. "They live in these single-room houses with limited water and electricity. If those who come with hopes of a better life can make their dreams come true, they also bring their families to Istanbul, but few are able to achieve this."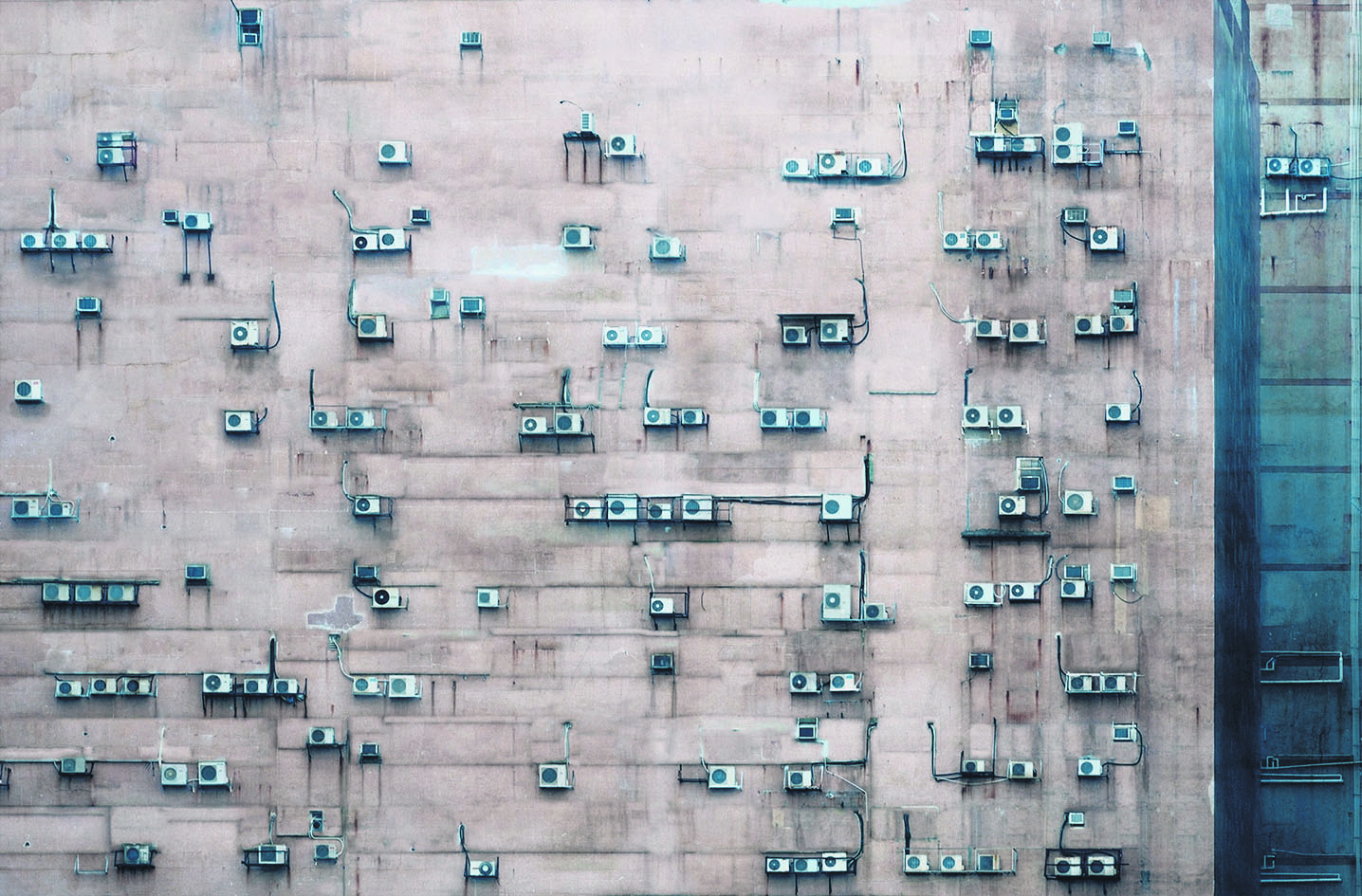 Kerem Ozan Bayraktar - "Air Conditioners," 2015

His photographs, titled "Away From Home," were produced over a period of five years. Shot in the Küçükpazar district of Eminönü, a place that attracts most of Istanbul's migrants, they show the lives of migrants who stay in in little flats rented to bachelors. Bayhan has also visited Anatolian towns from where these people migrated and captured the lives in their hometowns to explore the city's relationship with the individual.
"Habitat, the place where an organism lives and grows, is sometimes used to define the setting for life's basic motion and conflict," the show's curator Sena Çakırkaya writes in the catalogue. "All living creatures have to adapt to their environment or relocate in order to survive and continue their bloodlines. Their habitats are physically redesigned and restructured under the pressure of daily conditions. The borders that are drawn to determine biological, personal or political spaces usually give rise to contradictions and conflict."
Çağlar Kanzık's "Penalty" series offers one of the most moving depictions of this conflict. Kanzık has used goalposts drawn on the walls by inmates from Istanbul's Bayrampaşa Penitentiary. After photographing walls covered with their drawings he transported the images to those he took in the vast plains of Anatolia.
"What sets nomads apart from immigrants is that nomads consider moving an indispensable part of life, the main condition of life," Kanzık says. "'The call of the outside 'always rings in nomads' ears. Being on the move is the nomads' strength, not their tribulation." In their efforts to get beyond the walls of a prison, those inmates also dream to go beyond borders. Seeing those goalposts removed from the prison's inner life and placed in beautiful landscapes helps us get inside the inmates' imaginations.
In Barbaros Kayan's "Ayazma Project" we are offered a glimpse of the lives of 15 families who had migrated from eastern Turkey to Istanbul's Ayazma neighborhood. "My desire to document the change experienced with urban transformation took me to Ayazma," Kayan writes. "I remember my first day there very vividly. I recall the long bus journey I made to the area, which was as far from the city as an industrial zone, and the two massive green hills I saw upon my arrival. I also remember the construction waste, a mound of white and grey rubble atop the hill. It was almost impossible to find a single trace relating to time or space." The families photographed by Kayan live in shanties, and when those are demolished, they build them again using rubble.
Neslihan Koyuncu's subject for her "Fingerwill" project is someone much closer to her. In 2013 she had learned about her mother's cancer when the idea of making an artistic project about it emerged. While her mother received treatment, Koyuncu visited their childhood home and laid on her mother's bed to look at the sky from her perspective. But there was a problem: a new, large concrete building was blocking her view. Then she started thinking about ways to delete that building form her view.
"In the homes where I live, I always place my bed by the window so that I can make contact with the sky as I fall asleep and as I wake up," Koyuncu writes in the catalogue. "When my face touches the sky, it reminds me that we do not belong to these concrete blocks we call 'home.' This way of looking at the sky liberates you from the body in which you are trapped." With the feeling of control back in her life Koyuncu had started "sticking her finger" into all the scenes she had observed and photographed using her camera.
Beril Gür's "Street photos from home" series is another highlight of the exhibition. Those pictures, taken in 2011 and 2012, depict one of the most popular streets in Istanbul's Cihangir neighborhood. The defining quality of these pictures, which are all about street life, is the location of the photographer while taking them.
"After moving into my fifth floor flat overlooking different streets from more than one façade, I realized that it was encouraging me to keep a visual record," Gür says. "During this journey 'between windows' inspired by Voyage Around My Room, I tried to experience my city with an open mind, as if I were seeing it for the first time."
Following the example of French writer Xavier de Maistre's 1794 book "Voyage Around My Room," Gür has tracked different hours of the day and the year with those pictures, turning "the voyeuristic qualities of photography inside out by observing the street and public domain from the perspective of a private domain," according to the show's curator Sena Çakırkaya.
"Inspired by the book written by Xavier de Maistre about a 'voyage' he took between pieces of furniture in his home during a forty-two day sentence of house arrest, this series appropriates existing architectural elements and the flat's bird's eye view to create its visual language. Through the observations she makes from the privacy of her home, Beril Gür assumes the role of narrator while expressing the ordinary, and just as often absurd, flow of everyday life around her."