Every story, poem and melody creates a different image in the mind. Every image also creates a new story and melody. The soul consists of many colors; the colors in our soul paint the paintings in our dreams. All colors carry a meaning and a message within them. Cemal Toy is a man who can resolve these messages in the best way possible. He is a man who best understands the language of the colors red and turquoise (Turkish blue). Toy paints the lost Turkish motifs in his workshop in Küçük Ayasofya (Little Hagia Sophia), a place that his students refer to as "a dervish lodge."
Toy has worked for 16 years in his workshop, hidden in the backstreets of Istanbul's Sultanahmet district. With 90 percent of his works displayed abroad, Toy's works have also been exhibited in many joint and solo exhibitions around Europe. We had the chance to chat with Toy in his small "dervish lodge," which reflects the tranquility of his character.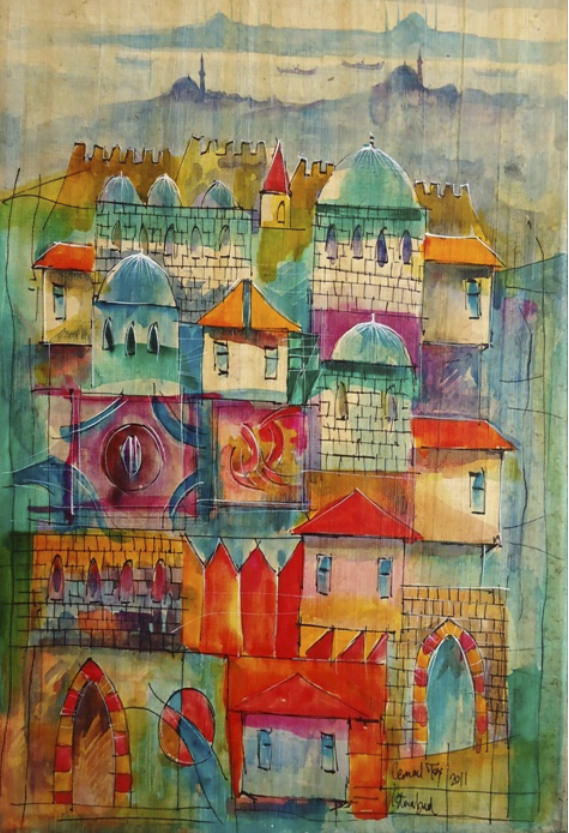 Toy has worked for 16 years in his workshop hidden in the backstreets of Istanbul's Sultanahmet district. With 90 percent of his work displayed abroad, Toy's pieces have also been exhibited in many joint and solo exhibitions around Europe.

With the support of his family and his curiosity for paintings, which started at a very young age, Toy was able to receive a beneficial art education. The doors to the artistic world first opened when he saw a self-portrait that was placed on the edge of a mirror at the home of one of his elementary school teachers. Toy then started to paint portraits of his friends and family. He became better acquainted with paintings and colors when he traveled to Germany due to his father's job. Recognizing his talent for painting, one of Toy's high school teachers offered advice and direction, and suggested that he study art. When he returned to Istanbul, Toy began his studies at the studio of İlhami Atalay, which continued for 11 years. At the same time, Toy also studied at Mimar Sinan Fine Arts University.
Toy describes himself as "a person who puts effort into being an artist of Istanbul." Istanbul is reflected in his work "as a city that has been home to three major civilizations as well as both modern and historical texture." Toy sees his works as the answer to the question: "how must artists living in the 21st century depict Istanbul?" "An artist must draw what they think and not what they see," he said.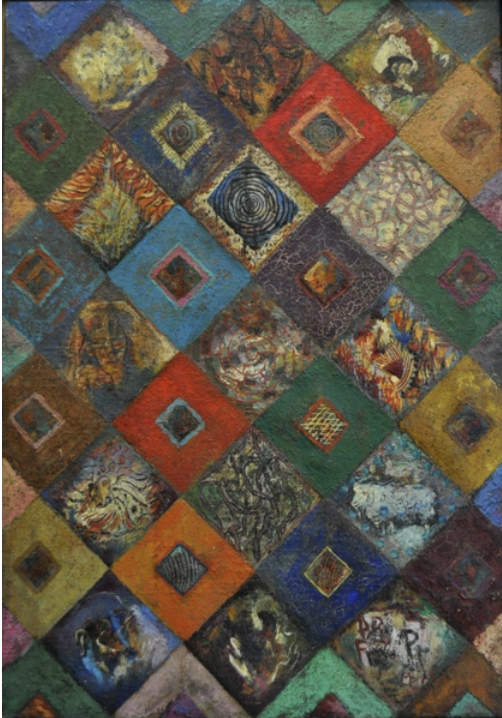 When we look at the colors Toy uses in his works, we mostly see either a red flame color or the vivid turquoise he uses to depict the Bosporus. When we asked him about this preference, he said: "The fact that I'm from the western city of Kütahya, a city known for its porcelain, is the reason for this." Toy added that where a person is born and breathes for the first time affects them throughout their life. Given the famous painter's background, using the colors of porcelain tiles might be the reason he took his first breath. Moreover, Toy said Turkish miniature art and rugs are also a source of inspiration, as well as Ottoman miniature artists.
Trying to revive the loss of cultural values in his paintings, Toy especially focuses on the subject of "neighborhood culture." His most extensive exhibition called "Türk Evleri" (Turkish Homes) serves as proof of how much he cares for the issue. "The heart of the neighborhood is formed with a mosque; the neighborhood grows around this mosque. Next to the mosque is the old Ottoman hammam (Turkish bath). The neighborhood is a living organism in a way. The old Ottoman houses reflect the people. Balconied, wooden houses are built with the lady of the house in mind. The lady can see the children playing on the streets from every angle. There are two different types of door knockers at the entrance. One of them has a deep sound suggesting a male visitor and the other has a more fine sound suggesting a female visitor. Breathable materials are used because just like the people inside the house, the house itself should also breathe. When you enter through the entrance, there is a large area that is called 'life,'" he said. He added that the doors of old houses would open to life. "After researching the structure of old Turkish homes, a Japanese researcher called it 'justice.' No one covers another person's view and light source. Although the houses rise toward the hills, the front of the homes always remain open," Toy said. As Toy talks about his life, we can vividly imagine his depiction of Turkish homes that rise toward the hills.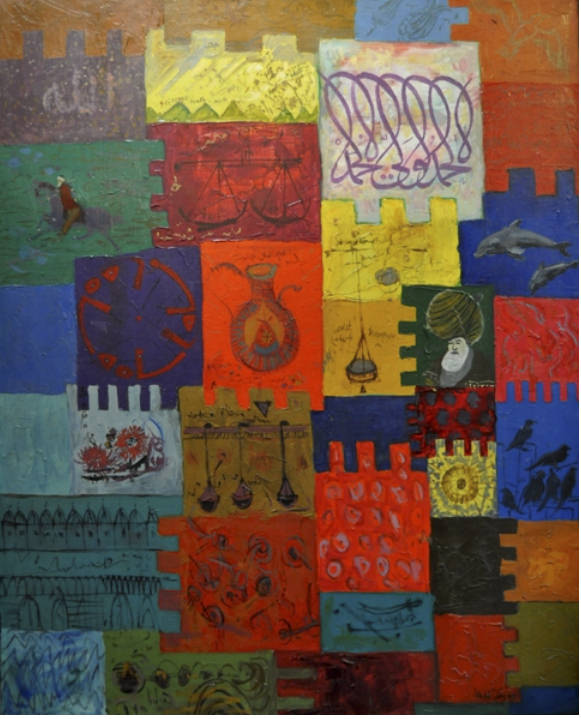 Another lost culture that Toy is trying to revive is the relationship between master and apprentice. "In our cultural tradition, the relationship between master and apprentice is of great importance. The master instructs his apprentice starting from childhood. The master is responsible for the apprentice's education, nursing and morality," he said. Before sitting across the canvas to begin painting, Toy said a prayer for all his teachers and the people who inspired him.
Toy's perspective toward the language of art shows us his inner world. "Every painting has a secret," he said. "Everyone looking at a painting sees something different. You might be a great poet, however, when a poem is translated into a different language, it loses part of its aesthetic value. To fully understand the meaning, it must be translated back into the language in which it was originally written. But a painting does not have a language. Whichever nation a person may be from, anyone who looks at my painting will understand what I'm trying to say and will feel the colors of Istanbul."
An artist, who finds human spirit in the home, cannot be expected to be soulless. When we asked Toy if he ever gets upset when selling his works or if he ever worries if the person buying his paintings will treat it how it deserves to be treated, he said: "Instead of working with big galleries, I prefer to work in places where people can reach me. Because when a collector buys your painting, it could be locked away in a dark room. But when an art lover picks and chooses a painting to hang on a wall inside their home, that painting will continue to live." If you visit Toy's workshop in Küçük Ayasofya, you will feel the paintings breathing on the walls.
At the end of our conversation, Toy's message to art lovers was touching. "My inner journey has always been important to me," he said. "Mevlana [Jalal al-Din Rumi] said people resemble a 'reed flute.' Just like a reed flute, the human head also has seven holes: The eye sockets, ears, nostrils and mouth. Rumi said, 'If you clean the inside of yourself, beautiful sounds will emerge from you.' Our journey must be the journey toward ourselves. When people discover the beauty of the spirit, they will realize how rich they are."
With quite a large gallery, Toy has a series of paintings called "Istanbul Panorama," "Anadolu Kadinlari" (Anatolian Women), "Türk Evleri" (Turkish Homes) and "Dervişler" (Dervishes). We can feel Pablo Picasso's cubism and Matrakçı Nasuh's miniatures in his paintings as well. The strokes of Western techniques form a Turkish rug. Istanbul's colors and spirit are told in every language with the use of history and modern lines; in Toy's works, it is possible to hear the stories and music of Istanbul. Wherever in the world, one of Toy's paintings hanging on a wall at an exhibition or in a house is a window into Istanbul.
Toy is currently preparing for an exhibition called "Spring of Artists: Le Printemps des Artites," organized by the Istanbul Accueil Foundation, to benefit Lape Hospital and the Tarlabaşı Street Children Association. The exhibition will start on April 8 and continue through April 18. The artists participating alongside Toy in the exhibition, which is being held in Istanbul's Beyoğlu district, are Camille Lebras, Işıl Arısoy, Marie Agnes Annic, Ceylan İnsel, Sabine Buchman, Ursula Katipoğlu, Martine Nicoulaud, Ammar Assali and Nadia Arditi.