French photography artist Jean-François Rauzier' second solo exhibition in Turkey will be on display at Gallery Nev until March 5. Known as a pioneer of hyper-photography, Rauzier encourages viewers to get lost in the details of his photographs. He stitches images together digitally and lets the details in his work breathe. At first glance, Rauzier's work might seem a little bit chaotic and eye-straining due to the recurrence of the images. However, when studied in detail, the gigapixel world that the artist created fascinates the viewer with their internal harmony. To understand Rauzier's art, one must first grasp the importance and the effect of hyper-photography. Rauzier considered that viewers spend less time looking at photos than videos, and decided to take advantage of digital photography. He dissolves images and copies them to create his own chaotic scenery. He has been using this technique since 2002 to create a work using as many as 5,000 photographs, and they have 10,000 times more resolution than a standard photograph.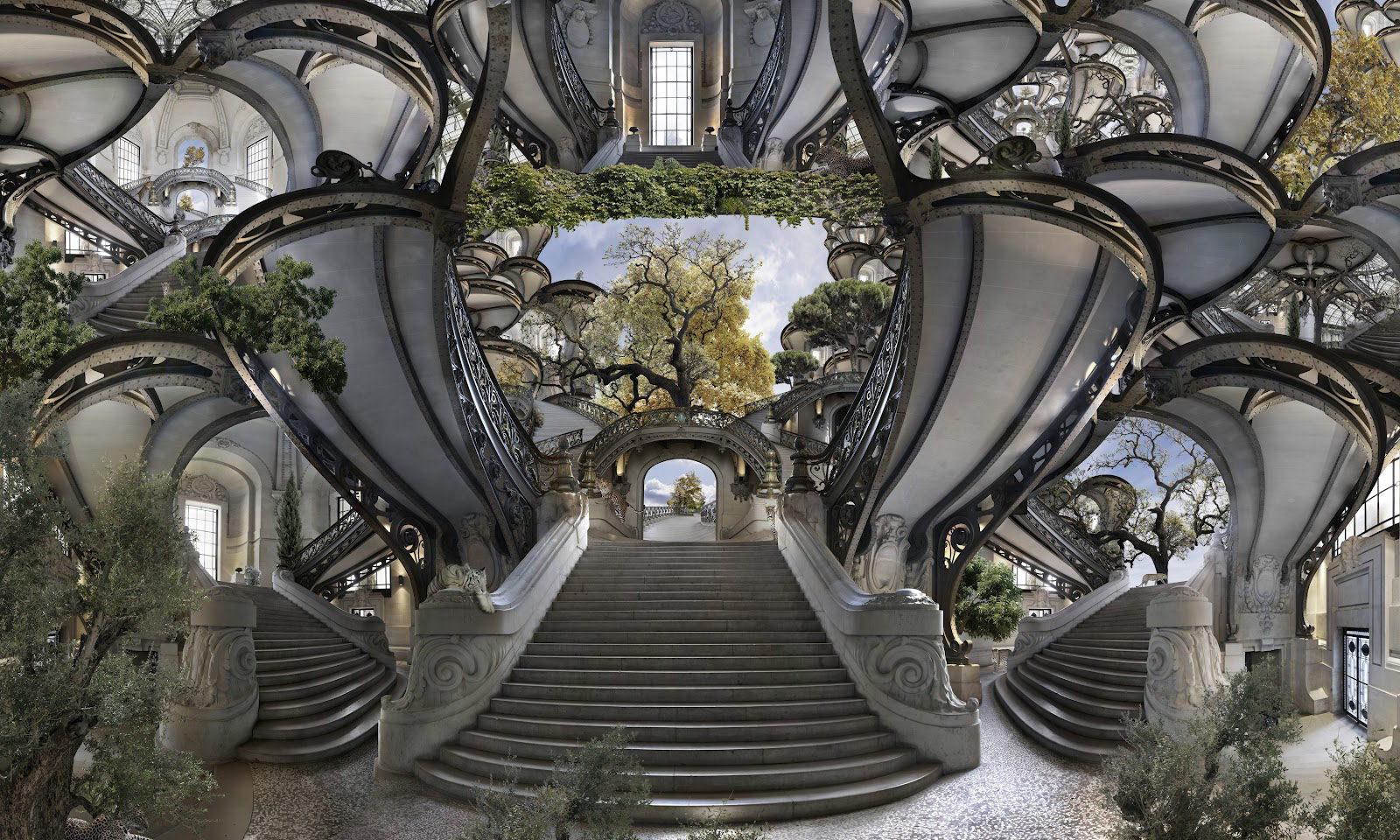 Although photography artists are forced to choose between close-up or wide-range shots, Rauzier avoids this dilemma, and creates the possibility of using both. Although his work appears like a photograph of a single scene, on closer inspection viewers discover hidden details such as architectural features and animals in nature. He strove to capture "the panorama and the macro view all at once, to stop time and to have the possibility of viewing all the details of a static image." Rauzier's work transforms reality, they fascinate with their scale and take the viewer on a journey through the visible world. Rauzier uses thousands of high-resolution close-up images and collages them into monumental photos, maintaining focus and sharpness of the smallest detail. Rauzier carefully composes each element, creating his own supernatural man-made world. Using digital technologies, he cuts and pastes tree trunks, branches, leaves and many other objects carefully collected to inspire a new fantastic landscape, a kaleidoscope or a baroque masterpiece. He weaves a magical space to embody surreal visions, to lead the viewer past fantasy. He strives to transform the world according to his dreams, wishes and anxieties and to recreate the magic and secrecy of ancient legends and stories using 21st century media. Rauzier's second solo exhibition at Gallery Nev is composed of three sections that offer a section from the artist's own "Utopia," "Arches," "Ideal Libraries" and "Andalusia" prove that artists can create unique photographs with numerous details and vision beyond what is seen.
Born in 1957, Rauzier lives and works in Paris. He began his photography career in fashion and advertising. During the last decade, he began to take an interest in artistic photography and held exhibitions at the world's most prominent venues such as Foundation Annenberg in Los Angeles, MoMA in Moscow, Palais des Beaux-Arts-Lille Museu de historia Nacional and Rio and Brasilia Modern Art Museum. He won the Arcimboldo Digital Photography Award in 2008, APPPF Award in 2009 and Eurazeo Award in 2011.