Organized with contributions from the Beyoğlu Municipality, the "We are Aware of the Capable Hands" exhibition, consisting of works by autistic children, has opened in Istanbul.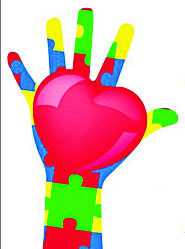 Students with disabilities performed a mini concert during the opening ceremony, which was attended by teachers, students, parents and municipal officials. Speaking at the opening of the exhibition at Kafe Mecra, the Beyoğlu Municipality Mayor Ahmet Misbah Demircan said that the virtuous people are those who have embraced the bittersweet moments of life and its challenges accordingly. Stressing that the municipality cares about the future of children and Turkey, Demircan said: "We do not forget about the autistic and disabled children. This is virtuous behavior. Planning the future along with everything we have, embracing the pros and cons along with our disabilities is something that civilized societies can manage. Therefore, I would like to thank everyone who contributes to this; it was meaningful. You really brought us into a different world."
Speaking to Anadolu Agency (AA), Ortaköy Life Special Education Job Application Center Director Ibrahim Çınar stressed that April was celebrated worldwide as Autism Awareness Month, and said: "On this special occasion, we have planned to organize an exhibition in order to raise awareness regarding autism. The exhibition will stay open until the end of April."
Çinar said children created their displayed works in the school's workshop. "We have a crafts workshop. We have their paintings, glass paintings and wood paintings there. These are the works created by our 12 students. They are made by autistic students between the ages of 16 and 23 as well as children with mild and severe mental disabilities. We are a new school that has been operating for two years," he said. Kafe Mecra's manager, Zafer Tahmaz, said they have been operating as both a cafe and an art and culture center."Along with the cafe's activities, we also organize cultural and artistic events here. Since April is Autism Awareness Month and April 23 was Children's Day, we wanted to organize a different event. In collaboration with Ortaköy Life Special Education Job Application Center, we will display the works made by their students here for a week. Our aim is to raise awareness about autism. There are many projects around the world related to autism," Tahmaz said.