It has been 400 years since the death of the English poet and playwright William Shakespeare. To honor his legacy, it is important to take a closer look at him and remember why, even after nearly half a millennium, he is still considered the best.
The world's most famous bard wrote 37 plays, 154 sonnets and a couple of long narrative poems during his lifetime. Due to a lack of recorded information about his early life, his exact date of birth is unknown, although it is widely believed that he was born on April 23, 1564 in Warwickshire and died on April 23, 1616 at the age of 52. By the end of the 16th century, he was already a reputable actor, playwright and a shareholder of a theater company in London. Ever since, he has been regarded as the best poet in the English language and his works have been translated into numerous languages. His plays are by far the most widely performed ever and today we are no less enthusiastic about celebrating his excellent works of art. But how is this possible? What makes him so different from his fellow authors? How was he able to produce literary works that have outlived him by such a degree?
First and foremost is undoubtedly his rhetorical skill. He had a superb way of intensifying every single emotion, whether important or not. His excellence in metric structure and expressing the least significant thoughts in the most eloquent way has fascinated audiences. The rhymed lines have great depth when read and, when heard, it sounds like a beautiful song. When seen on stage, one cannot not help but feel enchanted, and it is inevitable to feel the pull of his world where every speaker, without exception, is a grand orator.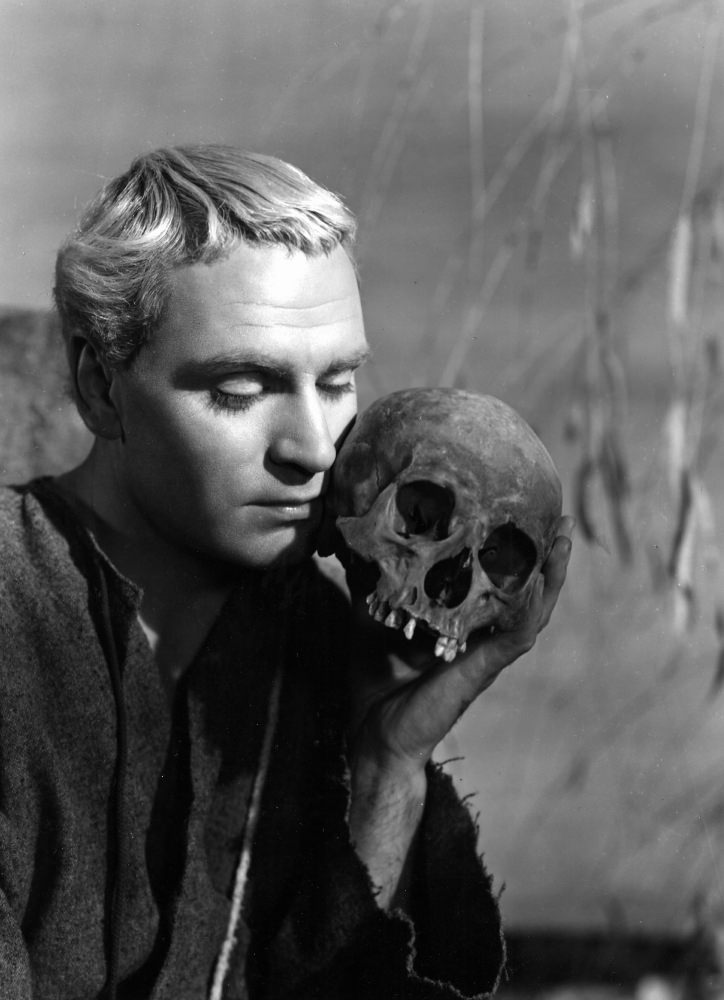 Laurence Olivier in "Hamlet," 1948
Furthermore, when we look at today's colloquial speeches, it is obvious that we lack taste. In an age of technology, today's quality of communication gets reduced day by day. We no longer have time for long, deep and meaningful conversations, but only for hurried, shortened and to-the-point sentences. Shakespearean characters, however, give long speeches and express their deepest desires in the most eloquent way. We find ourselves in those speeches that we thought we did not have time for. Today, people cling to Shakespearean diction because of its effortless and simple beauty.
To continue with demonstrating his difference from others, it should not be forgotten that he gave the English language another outlook. It is impossible to count all of his contributions to the world's literary canon. He added over 1,700 new words to the English language, and we still use a great number of the words and phrases he invented 400 years ago. It is astonishing to know how much he actually shaped the way we speak today. He was not afraid of mixing up words or affixes when needed. This artistic freedom he took allowed him to create a new set of well-put expressions. For example, the phrase "catching a cold" comes from his play "Cymbeline," the term "fair play" is from "The Tempest" and he used the noun "addiction" for the first time in "Othello." He carved the way for subsequent authors and marked a high standard for the future of playwriting. It is needless to say that without his literary brilliance the English language and its literature might not be what they are today.
Another thing that made him immortal is that as well as being gifted with literary talents, he was also very smart with business. After all, theater was his business. He knew his audience perfectly and the subject matter they would enjoy. It should be kept in mind that many of Shakespeare's plays are actually from famous Greek and Roman myths. By using quite well-known families and historical characters, he not only kept the ancient Greek and Roman tradition of retelling the incidents of reputable families, but he also gave his audience something they knew by heart.
In addition to the ancient stories, he told of his time's issues and political figures as well. He frequently discussed the political situations in England by implication. He changed the setting and played with the names of the royalty so that he and his company did not have to worry about any prohibitions. By doing so, he also made it possible for the audience to engage in the plays more. He criticized, mocked and sometimes praised many kings and queens quite shrewdly. Since the audience knew all the puns, double entendres and implications, the jokes were twice as funny and the tragedies twice as touching.
He did, however, not write his plays just for a select few. Theaters were very famous in Elizabethan England and they were usually jam-packed. Shakespeare was well aware of who was watching his plays. Because of 17th century English class distinction, the audience varied in terms of social background. He balanced the subject matter with diction very aptly. For instance, he perfectly knew how to write intellectual and hilariously funny characters at the same time. The language was elevated, but not in an incomprehensible way. So combined with the known characters, as mentioned above, his art was reachable and very enjoyable. Therefore, his plays could speak to anyone who attended, despite their background.
Last but not the least, Shakespeare was able to reach many different people from different places because he is a universal artist. One testimony of Shakespeare's universal impact on the masses is the fact that even though Turkish audiences were first introduced to his plays quite late, his stories and characters still resonated very well with the public. To elaborate, it should be noted that the first attempts at Turkish translations of his plays were made in the late 19th and early 20th century. Some excerpts from one of his most famous plays "Hamlet," were translated first, and maybe this is the reason why whenever Turkish speakers hear the word "Hamlet," the first they think of is the opening lines of Hamlet's famous soliloquy: "To be or not to be, that is the question," just like English speakers. This shows how quickly Turks were able to access his plays. A country that was apparently ready to embrace these magnificent lines once again demonstrates his powerful influence.
2016 may mark the 400th since Shakespeare's death, but he is still very much alive. He is in classrooms, on stages, in movies, on television, in children's books and many other realms. His works have been retold continuously either onscreen or in print. Everyone knows one or two lines from his works by heart. For his countrymen, he is a source of pride, and for the world, he is an inspiration. His diction is an end-point for every poet out there. Indeed, he is not dead. In fact, he is with us every time a young lovers decide to elope, a tyrant bullies his people and a young man wants to avenge his father's death, but most importantly, Shakespeare is with us every single time the audience stands up to once again applaud his exquisite work.