Landfill and the disposal of solid waste into the sea, with or without permission, has destroyed a great majority of species surrounding the Prince Islands, including unique corals, Alcyonacea, sponges and sea pens. Extraordinarily colorful corals and Alcyonacea observed only four years ago have died or disappeared completely.
The desertification of the sea bed is the theme for the "There is life in the Marmara: But for Now-2" exhibition, which opened in Büyükada on June 18. Photos by underwater photographer Ateş Evirgen and video from Serço Ekşiyan reveals what is happening in the sea and to the life sources, vividly and dramatically. The exhibition will stay open for a year.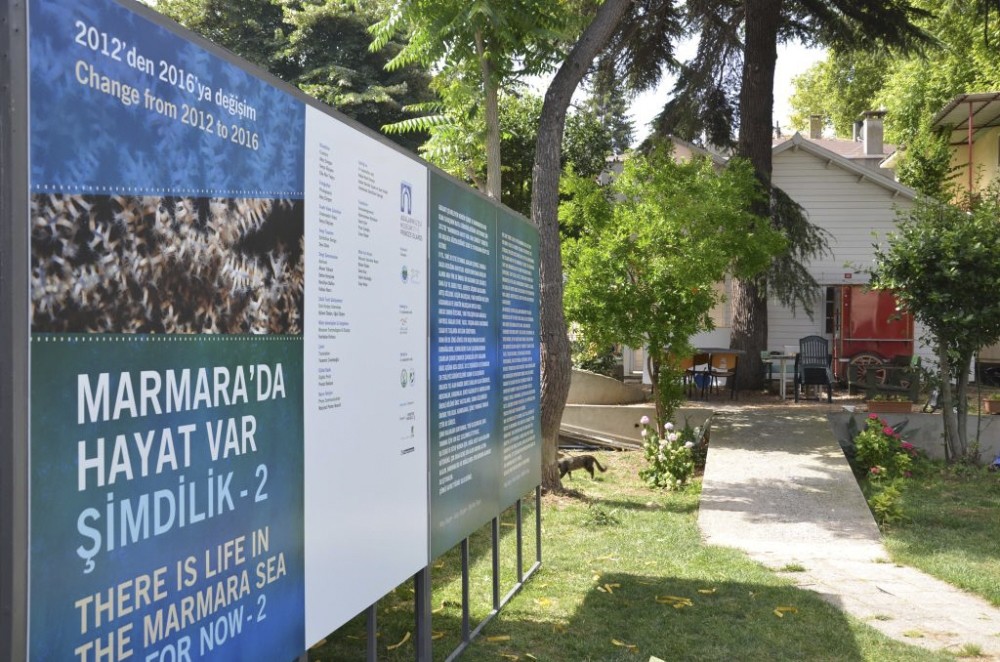 Nur Eda Topçu from Istanbul University Faculty of Marine Sciences, one of the curators of the exhibition and renowned for her studies on corals, describes this desperate situation, saying: "Several coral species surrounding the Prince Islands resisted all the challenges until summer 2015, and it was possible to see dense biomes. However, recent and successive problems broke the resistance of the corals and other species. These elegant creatures that managed to survive up until 2015, though gradually decreasing in number, started dying during the summer months, due to the solid waste that has excessively increased in the water."
Regarding the source and outcome of this subsidence, Topçu said, "The source may be the bottom muds left around the islands during the correction works around Kurbağalıdere and Kemiklidere, the subsiding of the red-tide rises during spring 2015, the discharging of the rocks exploded during the restructuring of the Yassıada coastlines, and the coast-filling works gradually increasing around Istanbul's coastlines. Along with the increase in the subsidence, the creatures eating the organic materials hung in the water, such as the corals, sponges, and bivalve mollusks also known as pen shells, all chocked to death. Some became ill due to the low level of oxygen and were covered with bacteria and fungus. It is impossible to see either sea pens on the sand or soft corals on the rocks of the islands. The skeletons of the Alcyonacea are still visible." Topçu stresses that we should not despair, as the soft corals and sea pens might come back and the Alcyonacea living at a certain depth still persist. She warned that it will take a long for those who are gone to come back, and we should take this opportunity to preserve their habitats.
Topçu said: "The areas where dragnet fishing is restricted should be expanded to cover the southern coast of the Prince Islands, Yassıada, Sivriada and Fisher's Island (Neandros), and the old dragnets left in the sea should be removed. Meanwhile, by refining the terrestrial and industrial waste water around Marmara Sea, their discharge deep into the sea should be well-planned and implemented."