Baksı Museum in Bayburt's Bayraktar village was founded in 2010 and awarded the 2014 Museum Award by the European Council Parliamentary Assembly. It will host the extraordinary solo exhibition of its founder, Professor Hüsamettin Koçan, early next year.
Speaking to an Anadolu Agency correspondent, Baksı Museum founder Professor Koçan said that the museum has kept its doors open to visitors since the day it was founded and it has hosted several exhibitions of various artwork forms.
Professor Koçan informed that the museum was getting ready to host an international exhibition inspired by the lands that it was founded upon. Koçan was happy to inform art lovers that one of the first exhibitions Baksı Museum will host in early 2017 is his own solo exhibition, which he had prepared for his 70th birthday but was unable to display in 2016. He further said that they handed the exhibition to Swiss curator Barbara Pollo in order to help the exhibition gain an international identity.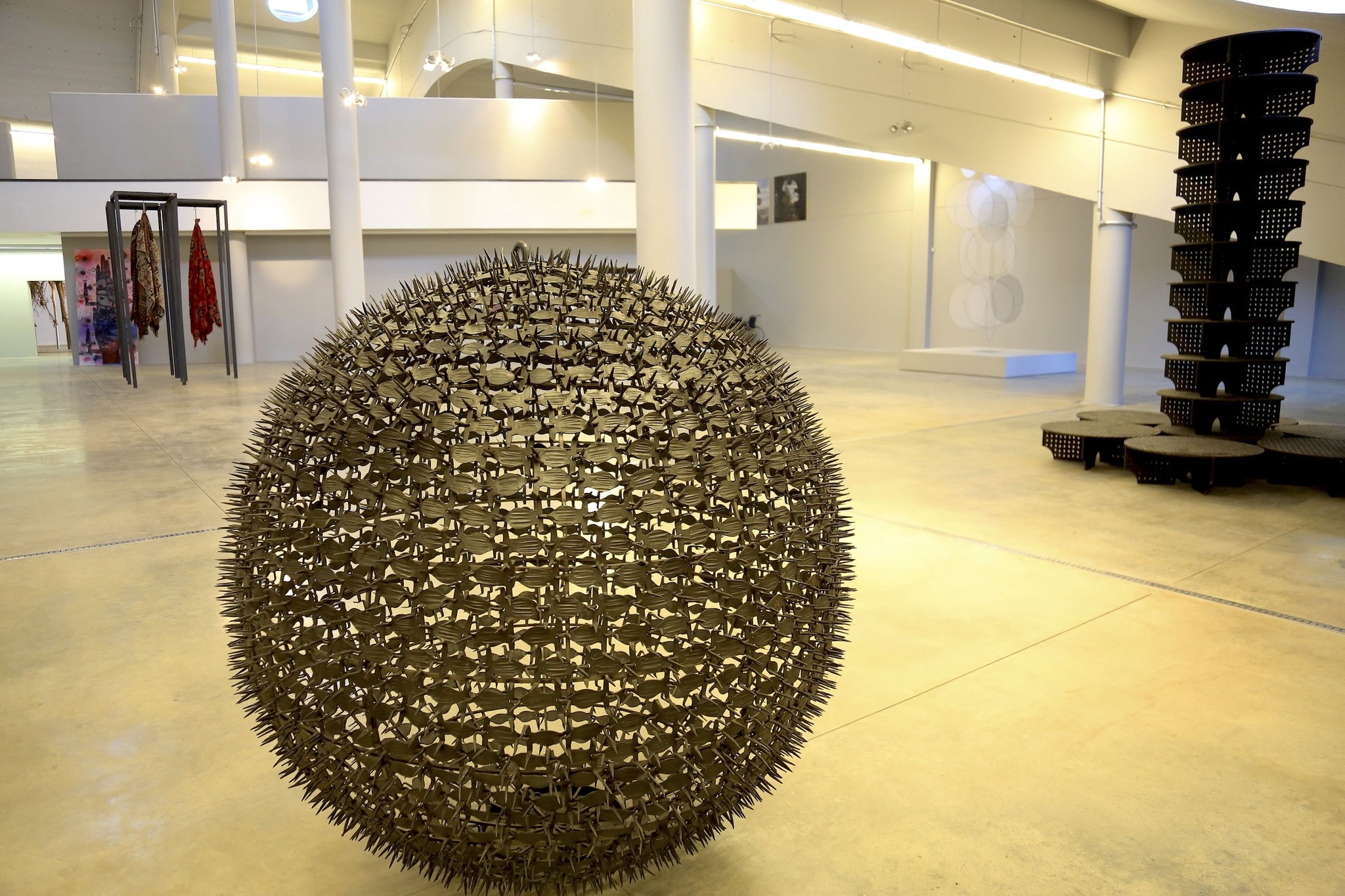 Koçan who reinterpreted his childhood memories in his hometown with contemporary art said, "Perhaps, this is the first time that an artist will hold his own solo exhibition at a museum he has founded."
"Back in my childhood, all meals were cooked in tandoor (a kind of clay oven dug inside the ground) and it was also used as a heater in winter after it was covered with a wooden piece and a rug. This is one of the things that a 70-year-old man remembers from his childhood in a village. The village witnessed long lives, dreams, relationships and stories."
Koçan further stated that one of the objectives of the exhibition is to draw attention to the migration that began in the 1960s.
"The main reason behind immigration to big cities was people's desire to have good economic conditions to feed themselves. I tried to build a tower using floor tables that the villagers used to have their meals on. I put the tables on top of each other and drilled holes in the middle of them in order to emphasize the fact that people wanted to fill these tables all the time and deliver my message to my audience," Koçan said.
The artist also said that the exhibition is in a way a passage to his interests, memories and pieces of his life. He said that he aims to take his audience on a journey through art by bringing the concepts of tradition and the future together.
Stating that his exhibition focuses is on the "hook," Koçan continued, "The hook is an incredible tool which was designed by blacksmiths to protect dogs that were assigned to protect people from wild animals. When we study this tool up close, we see the genius of blacksmiths. This design shows us the creative mind of blacksmith as well as creative capacity. The artists enlarge the design of this tool and create sculptures. I believe that craftsmanship feeds contemporary art and this is a good example."
Koçan said a part of his exhibition is dedicated to "roots" and he places installations making reference to this idea.
"This exhibition is the embodiment of a new text for my language of art, which is composed by bringing objects that have a special place in my life. The variety, colorfulness and calmness of this exhibition are fed from life itself," he said.
The artist said the exhibition will feature a series of paintings. The display is about a girl called Sona who was given for adoption when Koçan was a little boy living in Baksı village.
"I created a series about Sona's life. She is a part of my memory from when I was 8 or 10 years old. In this display, I used a lot of hand motifs. For me, the hand is a very important and meaningful organ. In my view, the hand inspires vision. That is why we not only see what we like but also touch it. We touch the things we like in order to make them ours. Hence, I painted a series of paintings focusing on the hand and its sensibility."