In the days following last Saturday's terror attacks in Istanbul, an image haunted me as I wandered along cold Istanbul streets. It was a dark, impressionistic, red view of the same city that had been shaken by violence days before, but the painting dated from the late 19th century. The mood of that work, "Constantinople, Twilight," is melancholy: Istanbul waking up to a new day as its mosques and trees are covered by layers of red. The artist, Felix Ziem, knew quite a few things about the moody days of this city: For two months he had lived in Istanbul after all. His favorite neighborhood was Pera, and it is only fitting that "Wanderer on the Sea of Light," an exhibition devoted to his works, is on display at Pera Museum.
On July 18, 1856, the 35-year-old Ziem arrived in a city that had been unsettled by war and conflict. The Crimean War had just ended, and officers celebrated the event in a banquet organized by Sultan Abdülmecid in Dolmabahçe Palace. Many foreign personnel stationed in the city in connection with the war were heading home.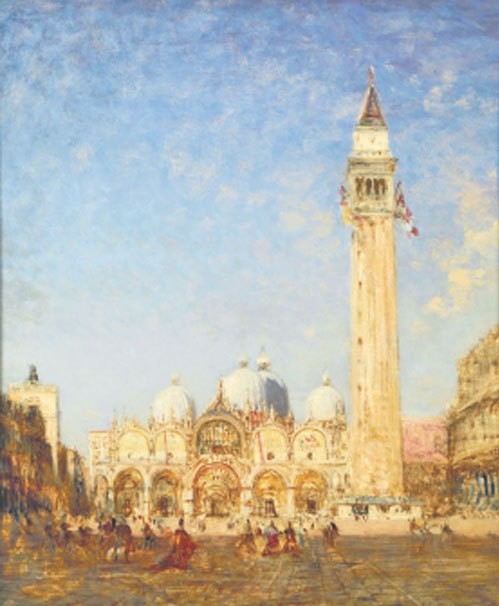 Piazza San Marco and Campanile
As an up-and-coming artist, Ziem had long wanted to travel to Istanbul - that newly discovered exciter of imagination in the West. Ziem had even painted a view of Istanbul 14 years prior to his visit, having created the image from an illustration. In the mid-19th century, artists like Delacroix were offering views of Istanbul to the French art world, distinguishing themselves from fellow painters through their exotic subjects.
In his essay for the exhibition catalog, Frederic Hitzel writes how Ziem "began to discover a buzzing city... For the two months running from July 18 to September 18, 1856, Ziem would tour the city, especially the Old City incognito, far from halls of Western embassies settled predominantly on the heights of Pera. During this season, Istanbul was relatively deserted as the Ottoman viziers and dignitaries move to their Bosphorus yalis to avoid the summer heat, while the wealthy and the Western diplomats resided in lavish summer villas at Tarabya and Büyükdere."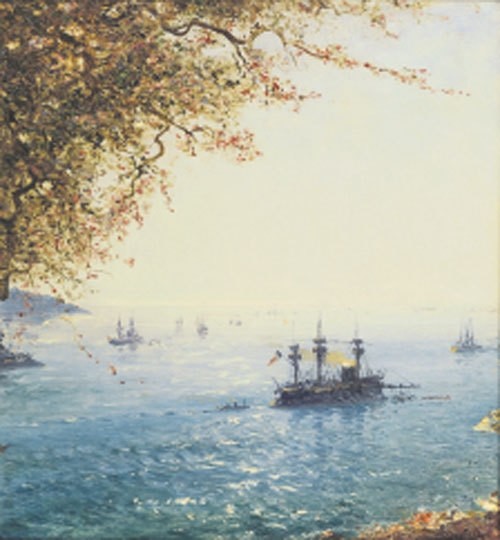 Villefranche, Riviera
According to the exhibition's project manager Barış Kıbrıs, it was around this time that Ziem started making lots of drawings that he would use as a reference for his oil paintings throughout his career. "Among these paintings there are some panoramas of the Petit-Champs Cemetery, which is very close to the Pera Museum building where his works are being exhibited," Kıbrıs told me. "After his return to his country, combining with his imagination Ziem used these drawings very freely to form the compositions of his oils. As an artist searching for the special light of the cities he painted and a lover of sunsets, he surely must have observed the setting sun on the Golden Horn from Pera. So he made drawings of the boats, monumental buildings and the local people. He was interested in İstanbul for a long time. Painting and making drawings about the city as early as 1842, he searched for the picturesque. In his oils he recreated the views always with a feeling of serenity."
In one drawing, Ziem focuses on Hagia Sophia; in another he offers a view of a mosque and a vivid street. He is particularly interested in parks, taking apparent joy in depicting Istanbul's trees. He draws kiosks by the sea, stilt houses, moored boats docked at a pier and caiques sailing through the Bosporus. He meticulously draws masts and sails, and there is joy in looking at his study of a cypress tree.
"Ziem is considered a pre-impressionist painter," Kıbrıs said. "He was never a part of the impressionist movement, but with the use of free style brush strokes and lively colors, his choice to give less importance to the clarity of the contours and trying to catch the light, Ziem's works paved the way to impressionism. He was a member of the Barbizon School of artists, who gave new importance to landscape painting and usually taking the Fontainebleau Forest as a studio favored painting in open air that also made them forerunners of impressionism. On the other hand for Ziem, after sketches and drawings made in the open air, painting was always something to be finished in the studio. And there is also a difference in depiction of time in the works of Ziem and impressionists. For impressionists, especially like Monet, changing time is something to be captured basically with the depiction of light. Ziem's depiction of light is related to the picturesque, which gave his paintings a
sense of timelessness." According to Kıbrıs, depicting Istanbul accurately or producing visual documents of the city are not among Ziem's interests. "Nor was he interested in a kind of orientalist approach to produce images with an emphasis on eroticism or violence. Ziem was a man of his time, and as an artist, he was in search of something he called the 'light of the Orient.' Travelling and searching for an ideal state are by themselves romantic acts. Ziem painted orientalist landscapes. The demand in the art market towards oriental subjects was something supporting his quest."
In these unsettling times for the city, his vision may prove therapeutic for Istanbul locals. "Looking through Ziem's eyes to Istanbul may remind us of the peaceful beauty one can find within ourselves," Kıbrıs said.